GETTING SMOKED BY THE KING
Livebaiting Spring Kingfish: It Doesnít Get Any Better Than This!
by Capt. Jon West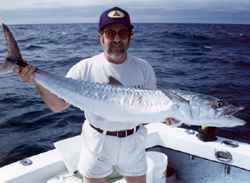 My charter clients for the day had never caught kingfish before. Jim and Virginia, a couple of urban ranchers from South Dakota, were accomplished freshwater anglers but had never played the saltwater game. They travel to Canada every summer to salmon and muskie fish and spend ample time in their own home state chasing smallmouths, pike and perch on various country lakes, but never, ever, had the tickled their toes in the brine.

Somehow, somewhere, they saw an article about kingfishing and decided that next spring when they brought their kids down to Disney World and to see the folks in Tampa, they would pop over to Indian Rocks and sample a day of what sounded like a pretty fun fish to catch.

"I heard they pull pretty hard," is what I remember Jim telling me. A statement that would turnout to be the underestimate of the day.

They arrived at the dock at 6 a.m., coffee and donuts in hand. It was a cool spring morning, jacket and pants kind of weather. Just enough nip to let you know itís kingfish season. Imagine your typical spring morning in Florida then by nine a.m., the sun is above the horizon and you are down to your shorts and T-shirt.

We caught bait in the dark around a local bridge. Giant shad (or menhaden) and mullet were our target. We were after big, smoker kingfish, 20 pounds and up, and our baits were big as well -- at least 12 inches long and a pound a piece. With several throws of the 12-foot net, I had enough baits in the 60-gallon well for a good day of livebaiting.

Big kingfish are attracted close to west coast beaches in the early spring. They spend their winters in the Keys, their summers in the panhandle and in the spring and fall they school in giant packs just off our coast. The big smokers, fish that can reach a weight of 50 or 60 pounds, are almost always caught within two miles of the Pinellas beaches. The smaller fish or "schoolies" (six to 15 pounds) travel in large schools and are usually most abundant in 40 to 80 feet of water some 10 to 20 miles offshore.

You can either catch lots of small fish by targeting the offshore reefs and wrecks or fish the beaches for the big hog. You wonít catch as many fish as you do offshore but the ones that do eat are sure to be trophies.

Jim and Virginia wanted to catch a smoker. (My sentiments exactly).
Click on above photos for larger version,
remember to use your browser's back button to return.

Next Page



You can contact Capt. Jon West at:
Phone: (727) 545-1692
E-mail:

[email protected]


Current Fishing Report on CyberAngler
or visit my Web Site
Capt. Jon West, JAWS TOO Fishing Team

Back to Fishing Articles
---
| Articles | Fishing Reports | Tournaments | Fishing Guides | Flyfishing |

| Travel | Marketplace | Weather | Jump Aboard | Feedback |
| Fishing Links | Forum | Search | Home |

---
Copyright © 1997-1999, CyberAngler
Questions and comments: Please use our Contact Form.