GETTING SMOKED BY THE KING
Livebaiting Spring Kingfish: It Doesnít Get Any Better Than This!
by Capt. Jon West
(page 3)
Jim picked up the rod and smiled in disbelief as line melted off the reel.

"Just let him run," I told Jim. "Just let him do his thing. If he turns around, reel as fast as you can."
"That fish is an easy 40," I remember yelling, as I ran to the bow, untied the anchor rope (it was tied to a throw jug) and threw the jug over. I started the boat and we chased after Jimís fish. It was still taking line as I goosed the throttle strong.
The fish ran a good 350 yards before slowing down. Jim calmly worked the fish toward the boat with long pumps and winds. It was give and take. Every time it seemed like we were gaining, the fish exploded on another short run. After 15 minutes of back and forth, back and forth, the fish was boatside.
It was the king of a lifetime. Definitely a 40-plus, maybe even 48 or 49 pounds. I gaffed the giant fish and with two hands, pulled it aboard.
One bait, one bite, one trophy.
The couple was stoked. Jim was shaking with excitement.
"What a fish, what an incredible, incredible fish," he kept saying, shaking his head back and forth. He couldnít close the fish box. He just stared at the bright silver fish in all its glory, reached in the food cooler and cracked an ice cold one.
"Itís happy hour somewhere," he said.
"For sure," I replied, shaking his hand one more time as I readied another rod.
"Now itís your turn, honey," he told his wife.
"I don't know," said Virginia, biting her lip, "that was pretty crazy. I don't know if I can handle catching a fish that big."
"Ahhhh, the ladies ALWAYS catch the bigger fish," I said. "It happens every time."
I didnít lie. Jimís fish was 47 pounds. She caught his bigger sister, a 51 pounder.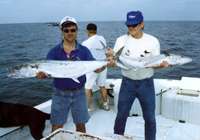 As big fish bites go, we ended up with an incredible day. Six fish over 25 pounds and six other fish on that either pulled the hooks or bit through the wire. And we never wandered more than a mile from the beach.
And then there was the smoked fish spread at the captainís party the next day.
But thatís another story altogether.
Come on down to the west central Gulf region and check out a little livebait kingfishing. It will be a day you wonít soon forget.
Ė Capt. Jon West (813) 545-1692
Click on above photos for larger version,
remember to use your browser's back button to return.


Previous Page


You can contact Capt. Jon West at:

Phone: (727) 545-1692
E-mail: fishtout@aol.com
Current Fishing Report on CyberAngler
or visit my Web Site
Capt. Jon West, JAWS TOO Fishing Team

Back to Fishing Articles
---
| Articles | Fishing Reports | Tournaments | Fishing Guides | Flyfishing |

| Travel | Marketplace | Weather | Jump Aboard | Feedback |
| Fishing Links | Forum | Search | Home |

---
Copyright © 1997-1999, CyberAngler
Questions and comments: Please use our Contact Form.