Kokomo
In The Florida Keys
by Capt. Steven Holmes
Editor of the Jacksonville Fisherman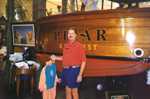 In the days of old when the Spanish Galleons and Pirates roamed the seven seas, the name Islamorada was said to mean the Isle of the Devil. This was due to the numerous shallow coral reefs that lie 2-7 miles offshore and the numerous ships whoís final resting-place is now along the seaward side. When Christians started settling the upper Keys and lighthouses were installed on the 7-mile reefs. The settlers did not change the name but rather changed its meaning to Isle of Flowers, after the lovely flowers that naturally grow there.

In recent years the Beach Boys immortalized the upper Keyís with the song Kokomo, and the tourists commercials have refereed and described it as The Paradise of the Americas Caribbean. For me I was fortunate enough to be born in south Florida with neighbors owning vacation cottages in Islamorada who would invite me to come along with their kids for vacations. Today it feels like I am returning to those childhood days every time I return. While the islands have grown up considerably it still has a pace all of itís own. For this reason I find it best to only plan weeklong trip to the keys. It takes me a few days to unwind and slow down to the Caribbean step.

June is known as the Silver King month with Giant Tarpon abounding in the 10 foot deep channels on the west side of the islands and the passes coming in from the Atlantic. Passes of particular interest are the north and south side of Matecumbe Island, especially Indian Key pass. Bonefish have moved onto the flats, Grouper and Yellow tail are darting among the reefs, Dolphin schools have just migrated in close (400-500 ft deep water, approximate 8-10 miles offshore), and Snook, Red, and Trout are waiting for you in Evergladeís backcountry. Add this to the excellent 30-50 ft. deep crystal clear water reef diving and the hardest thing you have to think about is deciding where to go each day.

For those of you who have never fished the keys I want to basically say that the same five basic principles of fishing locally also apply to the keys. Fishing is strength forward and somewhat easy and the hardest part of fishing the keys is learning your way around.

Some great spinning and bait-casting fishing is available for anglers fishing with light and medium light tackle. Use a weightless hooked live shrimp for Bonefish on the flats or small feather jigs for Snapper in the grass flats are the best approach. The best fishing spots for Snapper tend to be on the flats near Mangrove Islands around shoals and other structures. Bone fishing on the sandy high-tide Atlantic side Matecumbe Island beaches is excellent. Best lures are small 1/8 and ¼ oz feather flats jigs by Gulfstream lures for Bonefish and for the backcountry Snapper I like the new Mirr-O-lureís plug because it does an outstanding job of imitating a small baitfish in distress. I used the universal color of a red head and white reflective body 44MR11and Karen used the black back and white reflective body 44MR22. Because we were using light 10 lbs. test line I tied on a peace of limp abrasion resistant 20-lb. leader using an Albright knot. (They didnít get the name Snapper for nothing)

One of the easiest methods of fishing the crystal clear waters of Floridaís Keys reefs is Feather Jigging. Itís so simple; the only hard part is not knowing what you will catch next. Mangrove and Red Snapper, Mackerel, Grouper, Barracuda and a number of other species all fall for the allure of the jig fluttering toward the bottom. Gulf Stream lures feather jigs come in all sizes. Work the light 1/8 & ¼ oz just like you would normally work a jig and grub here in the shallow waters. Offshore fishing the 7-mile reefs (20-40 Ft. deep) I used a ½oz to 1oz white or yellow feather jig. The way you fish them is to allow it to flutter to the bottom and jigged up and down. Itís that simple. Add a peace of shrimp for flavor and smell and you have a lure that just cant loose. Itís the imitating of an expiring fish in distress near the bottom that gets the most action.

I want to tell you about some backcountry fishing Karen and I spent a morning having a blast. Karen was using a medium light action 6í G-Loomis spinning rod with 10lbs-test line and I used a 6í G-Loomis medium action bait-caster with 12-lbs line. We were catching Mangrove Snapper and got into a school of Barracuda. That morning we must have caught 15 Barracuda measuring up to 4 ft. fishing with the small Mirr-O-Lures plugs. The Barracuda just could not resist the top water lureís action. Just add a peace of wire or 30-lbs. tests leader and hang on.
SALTWATER FLY-FISHING:
This ever-growing sport was brought into existence in the backcountry waters of the Keys/Everglades. Since then almost every species has been added to the catch list available for the Fly fishing enthusiast. Most common backcountry catches for fly fishermen are Snapper, Trout, Bonefish, Barracuda, Reds and one of my favorites Snook. Since this was my first time to take fly equipment with me I went to our area authority Capt. John Bottko of the Salty Feather for advise on what line weight equipment I should take. He said that considering the mixed backcountry species I was after I should use an 8-9 weight G-Loomis GLX or GL 4 rod and a quality reel.

This article was reprinted from Jacksonville Fisherman August 98
Click on above photo for larger version,
remember to use your browser's back button to return.

You can contact Capt. Steve at:
SouthWind Charters
904-825-1784
[email protected]

Back to Fishing Articles
---
| Articles | Fishing Reports | Tournaments | Fishing Guides | Flyfishing |

| Travel | Marketplace | Weather | Jump Aboard | Feedback |
| Fishing Links | Forum | Search | Home |

---
Copyright © 1997-1999, CyberAngler
Questions and comments: Please use our Contact Form.