St. Augustine's Salt Run
By Capt. Steven Holmes
Contributing Editor at Large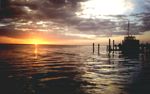 The flood tidal waters lay flat as glass as the rising sun still obscured by the sand dunes to the east is casting an almost eerie orange glow over the waters of Salt Run. The air was warming quickly, prompting Frank and me to shed our light windbreaker jackets while we scanned the surface for signs of activity. Minutes later when the sun began to peer over the sand dunes, the silence starts to break. At first it was just a single fluttering, then another. And then as if by some magical signal, all of God creation came alive. The surface of the water was bustling with swirling daring baitfish and below the surface the water was boiling then erupting with the activity of scattering baitfish.

This is what we had come for. This is what getting up at 4:30 am is all about. Capt. Frank Bolin who charters out of St. Augustine and Crescent Beach knows this area better than Ė well you know the old saying Ė the back of his hand. Frank fires a cast across the churning water, but instead of retrieving his grub across the surface were all the activity is, he instead letís it sink. Then when the light 1/8oz. Jig-head and Salt Water Assassin grub combination touches bottom, he starts a retrieve utilizing a slow twitching motion on his 7 ft medium light G-Loomis rod. Within the first few cranks of the reel I see him setting the hook on a brawny muscular fish that immediately starts to take drag. Finally after what seems like an eternity but is actually only seconds we identify our quarry. Itís a Trout and "ho boy" what a Trout. This one will keep him busy with the reel and me occupied with maneuvering the boat in an attempt to keep him out of the oysters and breaking his line for the next few minutes.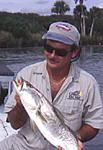 After a quick photo session we both take pride in watching this Gator Trout swim away no worse for her morning adventure. Frank knowing that I too am here to fish allows me to take the front of the boat, and using the trolling motor point the boat across the small flat area in search of another Trout or possibly a Red that feels like playing. Using a Calcutta 250 reel and 6 ft G-Loomis rod I start blind casting the sand bar with a Mirr-O-Lure 44MR22 lipped shallow diving lure. Frank keeps telling me I should change out to a Top Dog but I am one stubborn angler and keep working the 44MR. After cursing along and casting for what must have been twenty minutes I am finally rewarded with the first Red of the day. Nothing special just a 4 ponder but a Red never the less. All we need now is a Flounder and we have our triple and itís not even 8 oíclock yet.
Progressively we made our way into the back area of the flats. Knowing that Red and Trout can be spooked easily in the early morning silence I used the trolling motor only to control our drift. Within a few minutes, we make our way to the edge of an area that is surrounded on the north side with Oyster beds. The current was now flowing out strong. Looking easterly there were bare patches of grass where if your looked hard you might see a Redís tail just breaking the surface while waiting for his first meal of the day to come by.
I eased my rod up and fired my lure just ahead of a nice Red. The water while clear for NE Florida standers was still too stained to see the reaction of Old Mr. Red. Then almost as suddenly as he appeared, the Red disappeared. I casts my lures just past were I last saw him. But, just as suddenly as he appeared he was gone without a trace. We stood there for several minutes searching the last spot we saw him to no avail. Then as I turned to watch Frank land a 2 lb. Flounder my rod tip moved the lure and suddenly without notice my lure takes off against the current in the jaws of a Red.
Frank sayís "Nothing like being lucky" I respond with. I changed out the hooks with a new product from Daiichi called Death Trap Trebles, and I don't think he's getting away.
I thought to my self, this is going to be easy. But, as I begin putting pressure on him the shallow water explodes with commotion as my light 10-lb. test line departs from my reel. I continue holding the rod high to keep the line off the bottom and possibly Oysters as I enjoyed the battle my worth opponent was giving. As most Reds often do he made two attempts in different directions before even thinking of giving up and since the Red was already exhausted when Frank Boga griped him we quickly de-hooked him while keeping him in the water and sent him on his way.
It was now just 9 a.m. and we had landed two small but respectable Reds one Trout and one Flounder. With our triple already conquered we fired up the Merc and try to decide what direction to head. Frank wants to head south toward his stomping grounds of the fabled Pelicier Creek for possibly upping our slam with a Snook. While I would not mind heading toward Pine Island to find a larger Red. An area I normally take my charters too. With both possibilities' holding some good possibilities for the remainder of the day we flipped a coin as to what direction to head on the ICW.
Click on above photos for larger version,
remember to use your browser's back button to return.

You can contact Capt. Steve Holmes at:
SouthWind Charters
Phone: 904-825-1784
E-mail:

[email protected]
Web Site: http://southwindcharters.com/

You can contact Capt. Frank Bolin at:
Phone: 904-471-3573
E-mail:

[email protected]

Back to Fishing Articles

---
| Articles | Fishing Reports | Tournaments | Fishing Guides | Flyfishing |
| Travel | Marketplace | Weather | Jump Aboard | Feedback |
| Fishing Links | Forum | Search | Home |

---
Copyright © 1997-1999, CyberAngler
Questions and comments: Please use our Contact Form.