White Marlin Double Header - Solo
By Steve Kaiser
On Monday 11 August 1997, my 23' SeaCraft "Venture" returned to Pensacola on one engine after experiencing starboard engine failure en-route to the 100 fathom curve in search of White Marlin. Needless to say, my crew of long time Navy friend and close fishing buddy, Wally Coupe, along with my oldest grandson---15 year old Travis Black---were not too excited about our no fishing day.

I did lots of trouble shooting that afternoon, and found the problem was a broken set of points. Upon replacing points and successful turn-up in the yard (on the trailer), called Travis to reschedule trip next day. He gave me a tentative yes, and as Wally was not available Tuesday, I told him he could bring a friend. So it looked like a go for 12 August. At 2230 Travis called to announce friend could not make it and asked if they could both go Thursday instead and besides he had some other things to take care of. So I told him OK and said I would probably not go Tuesday as it was a little late to call someone then.......Well this was the event that set things up for me to go billfishing alone......that's like by myself.

I didn't set the alarm for Tuesday AM, but tossed and turned, just thinking about should I go alone. I had a life-long dream of catching a billfish SOLO, so when I awoke early that morning and observed the weather to be ideal, I decided to do it alone. It was probably not the best of headwork items, but having celebrated my 66th birthday just two days before, thought if I am ever to pull this off, I had better get on with it. Besides, I had been a Navy Pilot all those years.......so what's the big deal. So I launched at first light and was on my way to the Nipple(point on the 100-fathom curve closest to Pensacola). Observed a magnificent sunrise on the run out. Auto-pilot was working great. Would never have even thought about going SOLO without that auto-pilot.


Had five lines in the water by 0725. Was extra cautious in getting gear set up. I wore the rod belt (belly band), had two gaffs uncovered on each side, in easy reach, pair of gloves on the engine box, and just played it a little bit safer. Abeam the Nipple (about two miles East) at 0805, had a strike on the starboard flatline. Was trolling four plastics and one ballyhoo behind a small blue/white Island Girl lure. As I went for the flat line rod the starboard outrigger went off . . . . . that was the ballyhoo. No hook-up and had not yet identified the kind of fish. Started working the lure to tease the fish back on and it appeared as though the ballyhoo was no longer there. Well about that time the port outrigger went off. This time I could see a White Marlin dorsal fin. Still no hook-up. Took the rod in my hands and tried to tease him back. Mr. Whitey hit a few more times but just couldn't get em' hooked-up. Finally put the rod back in the gunnel holder, thinking the attack was all over with and nothing to show for it. About that time that same port outrigger rod with knuckle-head bowed up, and I had #1 White Marlin hooked-up, taking line and jumping.Talk about adrenaline flowing! Put the rod in the belly band and kept it clear of the other four lines. After a pretty long run, managed to pull the throttles back to slow ahead idle, and finally got the fish stopped. Then all of a sudden the starboard outrigger (Island Girl with probably no ballyhoo) bowed up and line started singing off. That clicker was magic to my ears. I just watched in shear amazement at what was happening. Never touched that second rod. Concentrated on #1 White, and just enjoyed watching #2 White jumping and taking line. When I got #1 under control put one engine in neutral and worked the fish closer to the boat. Sometime during this period I placed the rod in the gunnel holder always making sure I had tight line, and I reeled in the two flat lines quickly. Decided not to fool with the center way-back line. Back to #1 and worked him closer to the boat. #2 White remained bowed up and appeared to have a good hook-up. As the double line broke the surface decided this was the time to put the gloves on. Returned rod to gunnel, went slow ahead idle on both engines. Continued keeping tight line as I got the gloves on. Back to the belly band. Finally got Whitey #1 up to the swivel. Slowly brought the rod butt to the deck and hand-over-hand worked my way up the rod to the leader. Once I had the leader in hand was a "piece of cake". Billed that baby as I had done so many times before. Playing things extra cautious, boating the fish seemed the safest bet. As he lay on deck thrashing about I removed the knuckle-head hooks, tagged him, and even had presence of mind to get a picture. Adrenaline flow was at a max. Fish was on deck for about 10-12 seconds. Meantime Marlin #2 is still bowed up and things are lookin' good. Talk about being excited. Wanting to get to #2 ASAP,I picked up fish on deck by bill and tail section and tossed him overboard. He started swimming smartly when he hit the water.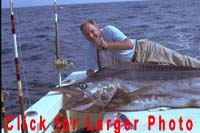 Then proceeded to reel in #2. I was pretty tired at this time but kept on reeling. Could hardly believe what was happening. Rod stayed bowed up and I carried out the same procedures as with the first fish. When I got the leader, fish got a little frisky but finally got the bill in my hands. Brought him onboard, and did about the same as with the first fish. He remained lit-up and quite active, and the on deck time did not appear to hurt him. He, too, swam away smartly on contact with the water.
It was hard to believe what I had just accomplished. I was about as excited and as happy as any human being could be. As I glanced around the boat there were rods everywhere and four Remoras lying on deck. I called on the VHF just to tell someone what I had just pulled off. Gem Dandy, another Pensacola Big Game Fishing Club boat answered up. By the tone of my voice they knew there had been some real excitement aboard the Venture. Adrenaline was still flowing strong, but I was one happy guy to put it mildly.
A double hook-up of White Marlin successfully completed while fishing by yourself is the highlight of my fishing days. Is this a great time........or what!
Steve Kaiser
CDR.USN,(Ret.)

Back to Fishing Articles
---
| Articles | Fishing Reports | Tournaments | Fishing Guides | Flyfishing |

| Travel | Marketplace | Weather | Jump Aboard | Feedback |
| Fishing Links | Forum | Search | Home |

---
Copyright © 1997-1999, CyberAngler
Questions and comments: Please use our Contact Form.