Night Slamming
Grand Slam on Fly – Under the Lights
by Captain Scott Graham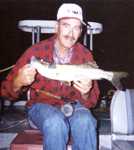 Lightning slices through another hot summer night on the Intercoastal area near Johns Pass on the west coast of Central Florida. But not to worry this light show is just a distant reminder of the storms that raced through just before nightfall. Just ahead bait fish are scurrying in the glare of one of the numerous "Snook" lights trying to avoid the trademark snap, crackle, pop of feeding snook. I fight off the buck fever as I manage a perfect cast up current of the light ring. My plan is to bring the fly from the darkness into the edge of the light without illuminating my fly line in the process. Everything is going according to plan as several dark objects rise out of the depths to examine my offering. Then to my surprise a flash comes out of nowhere and engulfs the fly. I recover and manage to clear my line without stepping on it just when the quarry makes the first attempt to get under the dock. After a few tense moments and a near stand off this unseen opponent makes a run for deeper water. I can't help but to smile as this old boy is playing on my terms now having left the security of the pilings.

But, something seems different about this snook. Maybe its that he hasn't jumped yet and would rather slug it out in the deep? In any case, this fight is almost over now as I've got him rolled up on his side and ready to be lipped. But wait, something's wrong with this snook. Mmm, a spot on the tail? Yep, my suspicions are confirmed as I lift a 30" redfish in for a better look. No wonder he didn't jump. I knew something was amiss. A redfish on the fly at night.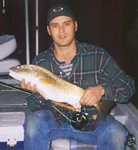 Up to this point, I had guided clients to hundreds of snook in Venice and points south in the 20"-24" range with larger fish a rarity. Also, there is the occasional trout, jack crevalle or ladyfish thrown in for variety. But redfish? That was news to me. So, I just wrote the experience off as a pleasant coincidence. But on successive trips to this area a pattern began to emerge as I continued to catch nice reds on a regular basis. Also while chasing the reds and the snook I discovered certain lights that consistently produced large trout. Until this time, the reds and the trout were just incidental catches while targeting snook. But then I thought, "Mmm, Snook in the 24"- 30" range, Reds 20"- 30" and Speckled Trout from 17"- 22" - all on the fly at night." Now that's a slam! So I began booking trips on that basis, and it seems to be going over well as it adds a whole new dimension to night fly fishing.
So maybe you already know the ropes of fly-snooking the dock lights or maybe all this is new to you, but you would like to get in on the fun. Well, here are a few pointers that can get you started enjoying this very enjoyable form of fly fishing.
First, I would like to discuss where. To those who have never tried this form of fishing I would suggest that you target the Venice area first. Now the reason for this is you have a shot at catching a number of snook there even though they are a little on the small side on average. But repetition is what you need to learn the ropes of fly casting in the dark and the other nuances of hooking and landing snook from around docks before targeting their bigger brothers to the north. Now, if you have any questions about this feel free to contact me, but from here on, we will deal with the task at hand "Night Slammin."
Now the first thing you will notice, and one of the best things about night fishing the Johns Pass area, is that there are hundreds of lights so there's plenty to go around. The bad thing is that there are all these lights and you have to weed through to find out which ones are productive. There are a few things to look for in a light that will clue you in on what it has to offer. When looking for a Snook light, you need to look for good flow of current. That is not to say that a light with poor current will not have snook on it. Often times lights with little current will have snook on them but they tend to be much fewer in number. When there are a lot of snook on a light there seems to be a competition factor between the fish as they often race to the fly like a bunch of sea gulls fighting over a piece of bread. To the contrary a single snook on a light will often sit down deep where you can barely see him and will show little interest in your offerings.
More. . . Next Page


Click on above photo for larger version,
remember to use your browser's back button to return.

You can contact Capt. Scott Graham at:
17454 Hwy. 301
Dade City, Florida 33523
E-mail:

[email protected]
Phone: (352) 567-0543
or visit his Web site:
In The Wild Outfitters
Back to Flyfishing
---
| Articles | Fishing Reports | Tournaments | Fishing Guides | Flyfishing |
| Travel | Marketplace | Weather | Jump Aboard | Feedback |
| Fishing Links | Forum | Search | Home |
---
Copyright © 1997-1999, CyberAngler
Questions and comments: Please use our Contact Form.