whipping ceramic plugs in Java

Posted:
Fri Sep 08, 2006 2:12 am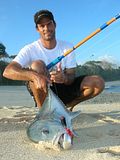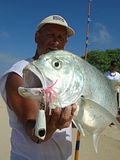 Just returned from Java Indonesia where I was the first guest at Jungle Ulua Fishing Adventures, a land-based shoreline fishing charter. I was there for 5 days. The fishing was spectacular to say the least. Pictured are the guides Cyrus Boyum and Michael Owen aka Big Dog. Many of the spots are so full of fish, that have no pressure from fishing, that 1st and 2nd casts are nearly always productive. I think the smallest fish landed were in the 8-10 pound range and the largest was close to 50lb. There were many that spooled us that were 50-100+lbers. The guides, used Penn 8500's loaded with 50lb. Fireline. I used Shimano Sustains (8000 and 5000) with 30lb. and 20lb. Fireline. We all had 60lb. wire leader. I used Sevenstrand. They crimped and I used the figure 8 knot. I used my lures and they also used mine plus Crocadiles and large wooden plugs. But most fish caught and hooked up that spooled us or cut off were on my ceramic plugs, 3oz. and 1.5oz. Mark White Lures hook up ratio to the other lures of at least 10-1.
I would recommend 1 week at the G-land surf camp and then do the fish camp or vice versa. The food is great at both camps. You can email them for any additional questions, dates, etc.
jungleulua@gmail.com
I will be putting additional pictures and video on my web site asap. Aloha, Mark
_________________