GETTING SMOKED BY THE KING
Livebaiting Spring Kingfish: It Doesnít Get Any Better Than This!
by Capt. Jon West
(page 2)
Our plan was to head out Clearwater Pass and take a left (south). We would run about a mile to an area of coral bottom where schools of baitfish are known to attract big kings. Locals call it the Sandy Key hard bottom.

After marking a few schools of bait near the bottom I proceeded to anchor the Jaws Jr., a 27-foot inboard center console with a sweet little Yanmar diesel in her. She cruises at 25 knots, burns three gallons an hour and rides like a dream. She attracts fish like no boat Iíve ever seen and a new tower provides great shade for those Florida afternoons.

After situating the hook, I proceeded to the cockpit and my fish-calling duties. I started a chum slick of diced sardines and shad, clipping small pieces of fresh baitfish and letting them fall into the water. Occasionally I would squeeze a few small, live sardines and toss them out behind the boat. The tide carried the scent and action of freshly mauled sardines throughout the area. Any kingfish in the neighborhood would soon be knocking.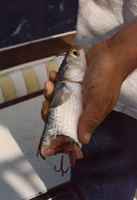 I grabbed a rod, netted a fresh shad from the well and nose hooked it to a small wire stinger rig. The rig consists of 16 inches of #3 wire with a 1/0 livebait hook Haywired to it and a 4 inch trace of #4 wire with a #6, 4x treble hook attached. Thatís the stinger part. The wire is for the hundreds of razor-sharp teeth the kingfish have. Their jaws are like diamond plated saber saws. Wire is a necessity.
As is a reel that can hold at least 400 yards of 20 pound test and has a silky smooth drag system. Smokers swim up to 35 miles an hour and can dump 300 yards of line before you even think about pulling the anchor and giving chase. I fish Shimano TLDís with Star Kingfish special rods and Triplefish 20-pound camo line. Calcutta Baits makes a consistent, dark wire that seems to work a little better than most.
Anyway. Enough of the technical stuff.
I grab about a two-pound shad, nose hook him to the wire leader and drop him in the water.
What a dream bait. With 20 feet of line to cruise and a small balloon so we can watch where heís going, the bait shot away from the boat like a fish on a mission. The blue balloon chased behind him (imagine crappie fishing with a 14 inch minnow) and provided us with a visual fixation.
Watch the balloon and good things will happen.
Just as I clicked the reel in gear and started to place it in the holder, I saw the flash. I only had one bait out and already we were into fish. The shad swam to the top and began pacing in giant circles around the balloon. He was about to get eaten and he knew it.
My first indication of how big the king was his boil. It was 10 feet across, like someone dropping a piano out of the sky. He chased the shad around but wouldnít eat him. This king had to be 40 pounds, maybe 50. The big smoker chased the shad around for 30 seconds, at one point, knocking the shad two feet in the air with itís nose.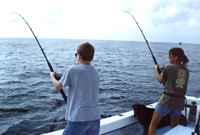 "This is like watching Mutual of Omahaís Wild Kingdom," said Virginia, rising from her bow seat to a closer view in the stern. "You know the one, where the leopard toys with the gazelle."
And then it was launch time. Just 60 feet from the stern, where the three of us sat slack-jawed and in awe, 60 inches of kingfish exploded from the water. Not just a jump, but a full launch, some 15 feet over our heads -- with our shad hanging out of its mouth. As the fish crashed into the water, the rod doubled over and the drag began screaming.
Click on above photos for larger version,
remember to use your browser's back button to return.


Previous Page | Next Page



You can contact Capt. Jon West at:
Phone: (727) 545-1692
E-mail: fishtout@aol.com
Current Fishing Report on CyberAngler
or visit my Web Site
Capt. Jon West, JAWS TOO Fishing Team

Back to Fishing Articles
---
| Articles | Fishing Reports | Tournaments | Fishing Guides | Flyfishing |

| Travel | Marketplace | Weather | Jump Aboard | Feedback |
| Fishing Links | Forum | Search | Home |

---
Copyright © 1997-1999, CyberAngler
Questions and comments: Please use our Contact Form.