Guntersville Lake Big Largemouth Bass this winter!
Capt. Reed Montgomery
January 3, 2013
Guntersville - Freshwater Fishing Report

Guntersville lake is currently at full pool on January 3 2013. Water temps are near 50 degrees. Air temps today are in the mid-50's with a low of 25 degrees predicted for Friday morning.
Slow fishing calls for slow fished lures following this week's cold front. Heavy rains recently have muddied up the lakes headwaters and most major feeder creeks are muddy or heavely stained. The lower lake is the clearest.
Best lures vary, clients of Reeds Guide Service have used many types of lures recently, that have helped them fool some nice bass, some weighing up to 7 pounds.
Most bass have been caught on lures such as creature baits, jig combos, ten inch worms rigged Texas-style, spinnerbaits, deep diving crankbaits and rattling lipless lures.
The Alabama Rig and swim baits rigged on jig heads of 1/2 ounce, continue to fool some very big bass, fishing in and around deeper water.
Anglers can even look for a possible topwater strike or two by the end of next week's warming trend.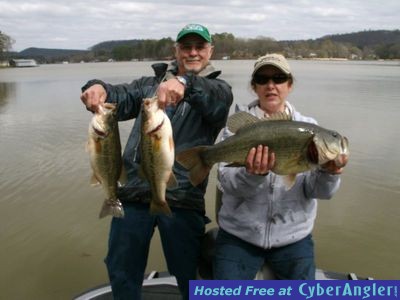 Thanks and Good Fishin' Reed Montgomery, owner of Reeds Guide Service Birmingham, Al. Website www.fishingalabama.com "Guntersville Lake's oldest, professional bass fishing only, guide service, guiding on Guntersville lake and all of Alabama's lakes for over 40 years."
Guntersville Fishing Forecast:

The weekend of January 5th and 6th calls for cool mornings of 35 degrees and daytime highs in the mid-50's with partly cloudy skies.
Next week's warming trend of highs showing low-to-mid 60 degree weather, begins around Wednesday, January 9th and should warm things up by the weekend of January 12 and 13th!
Target Species:

Largemouth bass
More Fishing Reports: