Book Your Chinook Trip Now!
Capt. Noel Gyger
February 17, 2011
Terrace - Freshwater Fishing Report

Weekly Fishing Reports (Smithers, Terrace, Kitimat, Prince Rupert and Meziadin North)
Noel Gyger February 6 to February 13, 2011
Dear Fishing Friends:
SUMMARY: We had normal winter weather this week which means good Steelhead and Trout fishing.
The Skeena River is in good shape but full of ice flows and frozen over in spots. Be very careful walking on the ice ledges! There may be some Steelhead wintering over in some locations. The Trout and Dolly Varden Char are available year round.
The Kalum River is in good shape and fishing for Steelhead is excellent.
The Zymoetz (Copper) River is in fair shape and fishing for Steelhead is slow. The upper section closed for fishing on January 1st.
The Lakelse River is in fair shape and fishing for Steelhead and Trout is fair. Lake ice fishing is good. Beware of thin ice!
Kitimat River: The weather in Kitimat has been a bit warmer and we have received rain rather than snow. A few hard-core Trout fishers have been out catching Trout. The Kitimat Combo is the more productive method of fishing for Kitimat Trout.
Douglas Channel: The Douglas Channel was very quiet as the Recreation Halibut Season remains closed. A few boats wondered out to do a little Crabbing. Important Halibut Information at the end of my Report. Check out the Ron Wakita report below.
Prince Rupert has fantastic Winter Chinook fishing, weather depending. If you would like to book a comfortable, warm Charter Boat for Winter Chinook and Dungeness Crab in Kitimat or Prince Rupert please contact me [email protected] anytime.
There is a New! guiding and fishing destination for 2011 being developed in the far northwest of BC and Alaska Rivers where you can: "fly fish for and catch salmon, steelhead and trout until your arms will feel like they will fall off!" Click on the Fishing Report BOOKMARK "Gary Miltenberger - New Destination Stikine River plus a dozen more rivers" BOOKING NOW for 2011
________________________________________
River Reports
Note: fishing reports for the Bulkley, Morice, Kispiox, Babine and Meziadin Rivers North are posted "in-season" only.
Kalum River Is in good shape both upper and lower end and fishing for Steelhead is excellent. Both spin and fly is working well. Reminder: Bait ban Jan 1 – Mar 15
Lakelse River Is in fair shape and fishing for Steelhead is fair.
Lakelse Lake Ice fishing for Trout is good.
Skeena River The Skeena River is full of ice flows, ice ledges and is frozen over in some locations.
Please be careful walking on the ice. Fishing for Steelhead is over. There may be some Trout available.
Zymoetz (Copper) River The water is in fair shape. There are some ice flows. The river is frozen over in some locations. Fishing for Steelhead is slow. Reminder: No fishing above the sign at the transmission line crossing (below) Zymoetz Canyon Jan 1 – June 15. You can still fish below the sign all winter.
_______________________________________
Fishing Guide and Tackle Shop Reports
Summary for Skeena and Tributaries
Fishing This Week
GOOD
Type of Fish Caught
River: Steelhead, Cutthroat Trout and Dolly Varden Char.
Ocean: All five species of Salmon, Halibut, Bottom Fish and Dungeness and King Crab for ocean.
Largest Fish of the Week
River: 15-pound Steelhead from the Kalum River. Ocean: none reported
____________________________________
Ron Wakita: Reliable Guide and Charters, Kitimat BC
Website: www.kitimatfishingguideandcharters.com
Home Hardware Tackle Shop
E-mail [email protected]
Phone 250-632-1275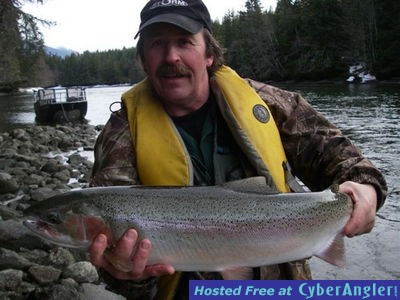 Kitimat River The weather in Kitimat has been a bit warmer and we have received rain rather than snow. A few hard core Trout fishers have been out catching Trout. The Kitimat Combo is the more productive method of fishing for Kitimat Trout.
The Kitimat Combo is a Bubba's Bait Barn www.bubbasbaitbarn.com/ Dew Worm comboed with a Berkley www.purefishing.com/ Power Bait 3" worm float fished with a Gibbs www.gibbsfishing.com/ Float. We are receiving a fair amount of rain and the forecast is for a little snow.
Douglas Channel The Douglas Channel was very quiet as the Recreation Halibut Season remains closed. A few boats wondered out to a little Crabbing.
Special Report:
Feb 6 Glen Kilcup of Fishawk Guiding reports, "Yesterday Bruce Miller and I snuck out with the jetboat on the upper Kalum....(good boating conditions) and we were able to get into a decent days fishing. Gibbs www.gibbsfishing.com/ Silver Koho 65 and copper Ironhead spoons were the winning factors. We saw about a half a dozen anglers who had walked in on various runs."

Thank You to everyone for providing info and photos to this Fishing Report.

We are booking for the 2011 Fishing Season. Anyone interested please contact Noel [email protected]

Thank You to everyone who provided Photos and info to this Fishing Report.

We are booking for next year. We are also offering Gift Certificates for Guided Driftboat Trips, Jet Boat Trips and Saltwater Charters. These would make excellent Gifts anytime.

Good Health, Good Fishing

Sincerest regards, Ron Wakita
[email protected]
www.kitimatfishingguideandcharters.com
___________________________________________
Advertise on the Noel Gyger Website and Weekly Fishing Report and grow your revenue
Want rates for sponsorship? Just go here www.noelgyger.ca/advertise.htm
Check the website stats for yourself: www.noelgyger.ca/stats

It is a "good" idea to advertise online because Canadians spend more time on their computers than watching television. They spend 18.1 hours per week online compared with 16.9 hours watching television. Go here to read the survey www.cbc.ca/consumer/story/2010/03/22/consumer-tv-online-web-internet-viewing-habits.html
My GOAL is to increase TOURISM
You do not have to be a fishing guide to benefit from advertising on Noel Gyger's website. All tourism businesses, tackle businesses and others will benefit.

over 25 years promoting tourism and fish guiding experience
join your consumers on an angling journey of a lifetime
communicate your unique brand awareness to new and existing consumers
noelgyger.ca provides you with this opportunity with a limited time website advertising offer at reasonable prices
gain an edge over your competitors in this ever-expanding market
_____________________________________
Conservation
February 8, 2011 - New From TheCanadian.org http://thecanadian.org/ : A Closer Look at Closed-Containment; Rafe on BC Politics & Environment; Ray Grigg; 3 Upcoming Events
"Closed-Containment Salmon Farming Highlighted at Seafood Summit" by Damien Gillis
A panel discussion on closed-containment salmon farming at last week's global Seafood Summit, held in Vancouver, highlighted both the encouraging progress of the emerging industry and the real challenges it faces to becoming large-scale competitor to open net pen farms. Notably, it reinforced a recent shift in the discussion. As one participant summarized, "The conversation has gone from, 'Is it feasible?' to 'Where is it going to happen, how soon, and how much can it grow?'"
http://thecanadian.org/k2/item/520-closed-containment-salmon-seafood-summit
Rafe: Time Enviros Tune into BC Politics
"It is time for all environmentalists to start looking very seriously at BC politics because after the NDP convention, we'll be in the countdown to the next election. Even though the election will still be two years away, that will be the time we who care about environmental values must start turning it up, notch by notch."...Rafe runs down the environmental/energy policy creed of the contenders for party leadership and BC premier.
http://thecanadian.org/k2/item/521-time-enviros-tune-into-in-bc-politics
Ray Grigg: Predicting the Future
In this latest edition of Ray Grigg's "Shades of Green" series, the author discusses the work of Dr. Bruce Bueno de Mesquita, a highly sought-after politics professor at New York University who employs game theory and mathematical models to predict the future...with a 90% success rate. What do the professor's predictions say about our ability to stick to emissions reduction targets and adequately address climate change?
http://thecanadian.org/k2/item/512-predicting-the-future-ray-grigg
Three Upcoming Events:
-Feb 16: SpOILed - The Vancouver International Mountain Film Festival hosts an evening on the proposed Enbridge Pipeline. Multiple films and superb guest speakers - including Ian McAllister, spirit bear guide Marven Robinson, and photographer Garth Lenz. Feb 16 - 6:30 pm @ Centennial Theatre in North Vancouver (2300 Lonsdale Ave). For more info: http://email.incontrolsolutions.com/t/ViewEmail/y/EAC1A08D0D88DD4B
-Feb 19: Two "Take Back Our BC" events - Port Alberni from 1-3 PM @ ADSS Auditorium; Tofino from 7:30-9:30 @ Clayoquot Sound Community Theatre.
We need your continued support to do what we do - please take a moment to contribute to our work: http://thecanadian.org/donate
_________________________________________
Highway Webcam – Terrace BC
Go here: www/111.html" target="_blank">http://images.drivebc.ca/bchighwaycam/pub/html/www/111.html to view road conditions. This one is near Terrace BC and is located at the junction of Highway 16 and Highway 37, looking east on Highway 16. The image will update every 15 to 30 minutes.
_________________________________________
Preliminary Salmon Outlook for 2011
Prepared November 24, 2010 by North Coast StAD and Institute of Ocean Science
Preliminary forecast of status (version 1)
Categorical, not quantitative
Status and targets are based on a variety of approaches including expert opinion
Skeena Region Outlook
Chinook
Lower Range - below target
Upper Range - near target
Coho
Lower Range - conservation concern
Upper Range - abundant
Sockeye
Lower Range - below target
Upper Range - abundant
Chum
Lower Range - conservation concern
Upper Range - abundant
Pink
Brood escapement good, above average returns expected.
Cast here to view the full report and learn the details:
www.noelgyger.ca/articles/2011-salmon-outlook.pdf
__________________________________________

Noel Gyger 96 fishing video clips on YouTube
Check out Noel Gyger fishing video clips
www.youtube.com/profile?user=noelgyger Over 465,714 uploaded views.

Help me plan my guided fishing trip
What do I want to fish for (Salmon, Steelhead or Trout)? When is the best time? What is the best way to fish for them? How long is the guided day? Do we fish from a boat or walk and wade? What kind of boats do the guides use (drift boat, jet boat or raft, etc)? What have other anglers caught at this time? Are there any pictures? What was the biggest fish? What was the weather like? How do I get there? What do I need to bring? Are there any testimonials? YES, go here www.noelgyger.ca/testimonials.htm for testimonials.
To start to answer any of the above questions and more please check out the Past Fishing Reports webpage at www.noelgyger.ca/past-fishing-reports.htm There are links there that go back to fishing reports from 1996 right up until today. Who should I contact for more information? Contact Noel Gyger he will be more than happy to help you. [email protected]
___________________________________________

Marketplace
Contact me [email protected] anytime to post your items. There is no charge for a posting. Here are the latest postings:
Rod Days for Sale
For Sale: 50 Skeena River, section 2, classified rod-days for $2000. These rod-days come without the license. Without license means they can be sold only to guides that already own Skeena 2 rod-days. Contact Noel Gyger for more info.
For Sale : Commercial Recreation Tenure #740801
Hi Noel, Kori and I have tenure up for sale. The area is from the upper Skeena and Bulkley from the bridge just above the Suskwa down stream on the Bulkley and then from there down stream to Prince Rupert taking in most of the tribs: Copper, Kalum, Lakelse, Zimacord, Exstew, Kasiks, Khyex plus over to the Kwinamass. Great for Rafting, Bear and other Wildlife viewing, River boat rides, Plus all the First Nations villages between Hazelton and Prince Rupert. If you are interested Call me Stan Doll 250-635-4686 or cell 250-638-2893 or e-mail at [email protected]
Fishing Vehicle For sale: 2003 Nissan Xterra 110,000 km. Excellent condition, very well maintained
Asking $15,500 obo. For more info. please email Mike: [email protected]
Wanted to Buy
Notice to Fishing Guides who own Classified Rod-Days: I know of someone who is looking to purchase rod-days and license for Skeena 2, Zymoetz (Copper), Ecstall, Kalum and or Gitnadoix Rivers. Contact Noel Gyger and I will put you in touch. [email protected]
Real Estate
Beautiful Log home right next to the famous Kitimat River
Kitimat BC A True Fisherman or Wilderness Lovers Dream Home. 2 minutes to Kitimat River Boat Launch. 3 Bedroom 2 full bathrooms, 2 Levels 1000sq/ft each plus 500sq/ft loft. 1000sq/ft detached heated shop with games room, plus second storage shed on extremely private tree'd lot. Beautiful cozy log cabin style home. Heated floors, many updates, New spa-steam-shower-tub, plus separate stand up shower in main floor bathroom. Loads of potential. Western Red and Yellow Cedar logs, 12"-20"" round. Unique Home. Asking $350,000. Please contact Noel Gyger for more information [email protected]

Terrace, BC This property is a ten minute drive from the Terrace/Kitimat Airport part way between Terrace and Kitimat. Near Mount Layton Hot springs, within 45 minutes of internationally acclaimed Shames Mountain, 15 minutes from 18 Holes at the Skeena Valley Golf Club, and central in all directions from world class salmon fishing, mountain biking, hiking or kayaking. This property features over 400 feet of sandy beachfront. While approximately 25 acres is left forested, the balance has been levelled and prepared for your dream home, or potential development. This property is home to local wildlife, including Moose, Deer, and perhaps the occasional Spirit Bear, plus countless smaller mammals and birds. This property is truly a one of a kind natural treasure. Properties of this quality rarely become available, act now! Contact Noel for more info. [email protected]
For Sale: Beautiful one level 4600 sq. ft. home on Skeena River Front 22km East of Terrace, BC
4.92 acres, fenced/landscaped around home. Click here to watch a 14 second video clip www.noelgyger.ca/video-clips/normandy-video-clip.wmv that shows the best gravel bar fishing for Salmon and Steelhead just out your door with stunning mountain views. Fruit trees, flowers, lawn. House was built in 1994 and has 4 bedrooms (so spacious, it could be 6 or more), 3 bathrooms, jacuzzi tub, fireplace, security system, double garage, tool-shed, storage buildings. The kitchen and dining room are open to one another and adjoins the family room where all the windows draw you in to look out over the Skeena River. The properties adjoining both sides of this home belong to the crown, so your privacy is assured. Suitable as a private home, B&B, lodge, or a private conference centre. Appraised at $640,000 discounted to $475,000 (fully furnished) for quick sale. Contact Noel Gyger for more info New! Oct 27/10 [email protected]
Terrace, BC With over 3200 feet of river front, panoramic mountain views, beautiful natural spring on the property, mobile home and guest cabin, barn, stable, workshop, gardens, a 5 1/2 acre area that was formerly a vegetable growing plot that supplied the local area and has been fallow for several years now. May be organically certifiable. Pick your fishing spot along the riverfront, with several different good looking options available. Clear views of the Seven Sisters range, plus mountains to the East, West and South as well. Located 76 KM East of Terrace this is literally a piece of Paradise on Earth. The balance of the property carries up the ridge toward the majestic peaks on the South side of Highway 16. Perfect as a small farm or build your dream home. Contact Noel for more info, maps and more photo's [email protected]
Wanted to Buy
I have a client who is interested in property of 5-10 acres or larger on the Skeena River or one of the tribs, not too far out from Terrace BC. Need winter access, hydro and phone connection, or at least wireless coverage. He wants to be able to walk down to the river with his Spey rod and fish, so Skeena 4 would be ideal, but no farther than USK. If you have larger acreage that is sub-dividable to suit my client please Contact Noel Gyger [email protected]
Contact me anytime [email protected] to post your FOR SALE river or ocean front property. Retirement folks from around the world are looking for this type of investment where they can fish the rest of their lives and still be close to home! There is NO charge for a posting. My FISHING REPORT AND WEBSITE has world wide reach. Monthly average: over 600,000 server requests handled.
View current postings www.noelgyger.ca/recreation-retirement-waterfront.htm
Hi Noel, I have a client/friend that I've been fishing with in the Terrace and Smithers area for the past 10 years. We have been looking recently at land in order to put up a small fishing cabin but we've noticed that most land listings in the Terrace area are for large plots. I was wondering if you know of anyone that has a larger plot of land on the Skeena (around Usk would be perfect) that would be interested in subdividing out a section of about 1 or 2 acres. Walking access to Skeena would be nice but not necessary.
I would be able to handle the legal work and associated costs to subdivide, so I just need someone who might be interested in selling off a small piece of their land that they aren't using. Also, it would need to have vehicle access which we could do by registered right of way across sellers prop if unavailable otherwise. Contact Noel Gyger if you have such property and I will put you in contact with the buyer. [email protected]
B&B's For Sale
Sooke, BC Ocean Wilderness Inn This breathtaking 4.6 acre oceanfront property boasts a private setting with small creek towering trees and lots of wildlife for photographers and nature lovers. The beautiful walk on waterfront is almost a full mile of private beach. The home offers 9 very large bedrooms with large bathrooms. The fir floors blend into the log theme of the home, everyone who visits feels at ease in this comfortable home. Current owners have done extensive renovations to keep the property in top condition. The home has been featured in several publications and is well known for its great meals, crystal clear water, spectacular gardens and customer service. Enjoy spectacular views from the hot tub. Just a few minutes drive to fabulous salmon fishing and surfing beaches. Contact Noel Gyger for more info [email protected]
Quadra Island, BC Moon Shadows B&B 4500 square foot home on an acre of beautiful gardens, lots of room for toys in barn and storage shed. What a wonderful life choice with the ocean at your door step and fabulous Islands and inlets to discover while sailing or kayaking, fabulous fishing, clamming and oysters. Just a wonderful way to enjoy life while raising your family. Home is fully operational as a B&B, and is being sold with all furnishings, bedding and kitchen tools as the current owners are leaving the province. Contact Noel for more info [email protected]
Sooke, BC Coopers Cove Guest House Beautifully appointed 6 bedroom 7 bathroom waterfront B&B. This spectacular B&B was featured on Oprah for its gourmet cooking classes. Fabulous large professional kitchen, wonderful grounds complete with herb and vegetable gardens, and two hot tubs. Home is steps from the Galloping Goose Trail leading into the heart of Victoria. Contact Noel for more info

To view the items currently listed please cast to: www.noelgyger.ca/market-place.htm
____________________________________________
Website Sponsors

Redl Sports www.redlsports.com
Normark www.rapala.ca
Simms www.simmsfishing.com
Tuf Line www.tuf-line.com
Baitrix www.baitrix.com
Pure Fishing www.purefishing.com
Ace Line Hauler www.acelinehauler.com
Islander Reels www.islander.com
Lyman Lures www.lymanlures.com
Scotty www.scotty.com
Bubba's Bait Barn www.bubbasbaitbarn.com
Gibb-Delta www.gibbsfishing.com
Shimano http://fish.shimano.com
Power Pro http://powerpro.com
G.Loomis www.gloomis.com
Kitimat Lodge www.kitimatlodge.com
Breck's www.brecksinc.com
Pro Troll www.protroll.com

Dolly's Fish Market www.dollysfishmarket.com
¬¬_____________________________________________
Contact information
GOOD LUCK and GOOD FISHING!

Yours sincerely, Noel F. Gyger

Guided Fishing Adventures and Weekly Fishing Report
E-mail: [email protected]
Home Page: www.noelgyger.ca
Fishing Reports: www.noelgyger.ca/past-fishing-reports.htm
Sign-up for Weekly Fishing Report: www.noelgyger.ca/subscribers_form.htm for Smithers, Terrace, Kitimat, Prince Rupert and Meziadin North
RECORD SALMON & STEELHEAD Spin or fly-fishing
RIVER, LAKE, STREAM or OCEAN!!!
RSS feed News Bulletin www.noelgyger.ca/recreation-retirement-waterfront.htm
RSS feed Itunes Podcast www.noelgyger.ca/itunes.xml
Follow Noel Gyger updates on Twitter: http://twitter.com/guided_fishing
"You meet the nicest people on the river banks"
To sign-up to receive these fishing reports to your personal e-mail in-box go here: www.noelgyger.ca/subscribers_form.htm
It is NOT too late to book a guided river or ocean trip
RIVER FISHING Lots of day bookings available this winter on the lower Zymoetz (Copper) River. The BEST fly fishing for Steelhead in the world awaits you. Contact Noel to book NOW! [email protected]
OCEAN FISHING Winter Chinook and Crabbing in the Kitimat Harbour is red hot right now. To book warm, covered charter boat please contact Noel Gyger anytime. Phone 250-635-2568 E-mail [email protected]
More Fishing Reports: