Coho over BUT Steelhead continues...
Capt. Noel Gyger
November 2, 2008
Terrace - Freshwater Fishing Report

The photo of the week shows Nick Johnson with a huge wild BC Steelhead posed by pro angling guide Gill McKean. Brief summary in Nick's own words:

Master Guide: Gill McKean of Westcoast Fishing Adventures (who put me on 2x20lb+ Steelhead that day on the fly and about 10 Steelhead the day before)
Moral Support: Mike Johnson and Tim Johnson
Steelhead Size: 27lbs
Pattern: Purple egg sucking Leech
Date: October 17th, 1:23pm
Battle Time: 36 minutes
For the "full" story please scroll below…
================================
Noel Gyger – Guided Fishing Adventures and Weekly Fishing Report
4012 Best Street, Terrace BC V8G 5R8, Canada
Tel/Fax: (250) 635-2568
Cell: (250) 631-2678
E-mail: [email protected]
Home Page: www.noelgyger.ca
Fishing Reports: www.noelgyger.ca/past-fishing-reports.htm
RECORD SALMON & STEELHEAD Spin or fly-fishing
RIVER, LAKE, STREAM or OCEAN!!!
================================
Home Page: www.noelgyger.ca

Noel Gyger - WEEKLY FISHING REPORT dated October 26 – November 2, 2008
(Number 95)

Dear Fishing Friends:
SUMMARY: Angling for all Salmon, in our rivers, is over for another year signified by the Coho closure on October 31. In general I think it was a good year. Steelhead is the only target fish now along with the smaller resident Cutthroat and Dolly Varden Char. Even with the rain we've had the rivers have stayed in shape and the fishing for Steelhead has been very good especially on the Kalum and Zymoetz (Copper) Rivers. The snow line is low and most of the rain has stayed in the mountains as snow. Please check out the Ron Wakita detailed report below.


New Video Clip:
Rob Vodola and I went fishing on the Kalum River on October 25, 2008. We hooked over 11 Steelhead and landed 8 in high water conditions (no bank to fish from). Cast here for a direct link to the Video Clip 0056 Rob Vodola - High Water Steelheading New Oct 27/08

NOTICE: as of November 1, 2008 Noel Gyger WELCOMED sponsors and advertisers on his website. You don't have to be a fishing guide to benefit from advertising on his website. All tourism businesses and others will benefit...just ask him. Let him prove it to you. Communicate your unique brand awareness to new and existing consumers. Gain an edge over your competitor in this ever-expanding market. Cast here for more information and pricing. Cast here to check out the "new" Sponsors webpage.
LIST OF "New" ITEMS POSTED ON THE WEBSITE THIS WEEK:

one New item re sponsors and advertisers welcomed now November 1/08
one New item posted on "Conservation" November 1/08
one New item posted on "Special Guided Fishing Trips" October 27/08
one New video clip posted on "Video Clips" October 27/08


NOW BOOKING FOR 2009 Let me know if I can be of service to book you with the "best" fishing guide and/or fishing lodges for both river and ocean. There are NO extra charges to book through me, just a lot of free information and advice from a person with years and years of fishing and fish guiding experience. It is like hiring two guides for the price of one. I will promptly answer your questions and concerns. Cast here http://noelgyger.ca/special-guided.htm to read more of what I have to offer.
NOTICE: BOOK EARLY and save money! The Canadian Dollars is low right now. Which way will the Canadian Dollar and the exchange rates go? The answer is no one knows. The Canadian Dollar is low at this time (Oct. 27) A typical Weekly Lodge Package for 7 days/6 nights/5 days of guided fishing will cost $3500 Canadian Dollars in 2009. With the current exchange rate it will now cost $2697 in United States Dollars. A savings of $803. I would suggest you BOOK NOW before exchange rates go the other way. Cast here for current money conversion rates. Contact me anytime for package details.
Many people book three trips per year to our area; one trip in the spring (March-April-May), one trip in the summer (June-July-August) and one trip in the fall (September-October-November). They love having the same guide but fishing for different fish in different areas.

Be sure to check out my website at www.noelgyger.ca for news bulletins, mid week fishing updates, conservation, my history, quality waters strategy, special guided fishing trips, video clips, scenic river photos, wildlife photos and others, comments from past guests, informational articles, archived fishing reports from 1996 through 2002 and a sportfishing market place. I hope it meets with your entire satisfaction.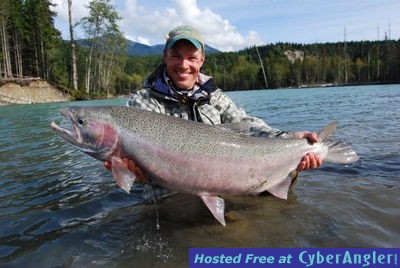 FISHING GUIDE REPORTS FOR THIS WEEK ARE FROM:

Ron Wakita
Gill McKean
CURRENT REPORT and summary for Skeena and Tributaries:

TYPE OF FISH CAUGHT: Steelhead and Trout for river. Salmon, Halibut, Bottom Fish and Dungeness Crab for ocean.

Thank you for using barbless hooks.
FISHING THIS WEEK:
POOR FAIR GOOD EXCELLENT

LARGEST FISH OF THE WEEK: Specie: 20-pound Steelhead. Angler: Rob Vodola Where: Kalum River

WEATHER: Periods of rain. Windy. High 8. Region normal: Max. Temp. 6 degrees C. Min. Temp. 3.6 degrees C. Sunrise 7:39 AM Sunset 5:57 PM

WEATHER REPORTS VIA TELEPHONE: Environment Canada taped messages constantly updated, giving current conditions and three-day forecasts. Terrace 250-635-4192 Kitimat 250-632-7864 Prince Rupert 250-627-1155 Smithers 250-847-1958.


For current Terrace weather information please cast on:
www.theweathernetwork.com/weather/cities/can/pages/CABC0292.htm?ref=wxbtnold

WATER CONDITIONS: Skeena is in good shape. The Zymoetz (Copper) River is in good shape. The Kalum, Kitimat and smaller coastal streams are all in good shape.

CURRENT WATER HEIGHTS FOR:

SKEENA RIVER:
http://scitech.pyr.ec.gc.ca/waterweb/fullgraph.asp?stnid=08EF001

KITIMAT RIVER:
http://scitech.pyr.ec.gc.ca/waterweb/fullgraph.asp?stnid=08FF002

SKEENA RIVER: is in good shape. Fishing for Steelhead and Salmon may be slow as most runs have gone through already.
KALUM RIVER: is in good shape. Good numbers of Steelhead are in the river now.


This is a Classified River year round and can be guided from March 15 through October 15 only. The Steelhead record is 32-pounds. To see a photo of this fish cast to: http://noelgyger.ca/records/Record003.jpg The angler is Dennis Therrien.
ZYMOETZ (COPPER) RIVER: When the water is in shape lots of Steelhead are being caught with both the fly and spin rod.

AREA RIVER RECORDS: Chinook Salmon: Skeena River, 92.5-pounds; Kalum River, 85-pounds; Kitimat River, 74-pounds; Steelhead: Skeena River, 45-pounds; Coho Salmon: Skeena River, 27-pounds.
CURRENT REPORT and summary for Northern Coastal Rivers:
Fishing Report from: Ron Wakita of Reliable Guide and Charters
KITIMAT RIVER: Retention for Coho salmon on the Kitimat River closed Oct 31st which officially brings salmon fishing on the Kitimat River for 2008 to an end. Trout fishing on the Kitimat River will continue through the winter and into the spring depending on the weather but salmon fishing is now done.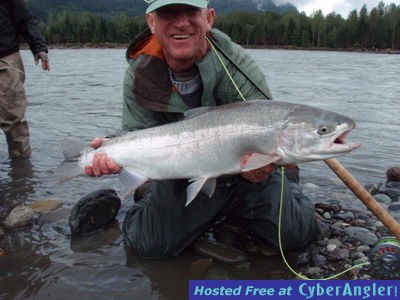 The Kitimat Hatchery brood collection crew will be collecting their brood stock to continue enhancing the Coho on the Kitimat River. Stock assessments will also be in progress to determine the size of this year's Coho return. It will be interesting to review the results of the numbers of Coho that made it to the spawning beds.
We are so fortunate to have the Kitimat Hatchery on the Kitimat River. The Kitimat Hatchery enhances Cutthroat trout, Steelhead, Chinook, Chum and Coho stocks on the Kitimat River. The management and staff of the Kitimat Hatchery should be recognized for the amazing job that they have done.
DOUGLAS CHANNEL: A few boaters ventured out to doing a little crabbing and to check if the winter springs were in the Kitimat Harbour. No winter springs were reported this week but as one boater noted "Remembrance Day is the day were I always start to do well for winter springs". We will soon see if his theory proves to be true. Stay tuned. Tight Lines. Ron Wakita
Cast to this link for Kitimat tide tables www.waterlevels.gc.ca/cgi-bin/tide-shc.cgi?queryType=showRegion&language=english®ion=1
Fishing Report from: Westcoast Fishing Adventures
Hey Noel thought you might want to show this one off as it was a world
record fish that is recorded in the IGFA book in 2004!!
I did not push this fish out as it was just too heavy!!
The measurements were 41 and a half length and 21 and a half girth!!
Landed by Andrew Fairclough of England on an 8 weight T&T fly rod on 12lb test. This was his second ever steelhead on the fly his first was landed just minutes before a junior of just 15- pounds and he was happy with that until Moby came along ! Thanks. Gill
This fish was weighed with an official IGFA scale and it weighed 34-pounds.
FISHING REGULATIONS WEBSITES:
2007-2009 BC tidal waters and freshwater Salmon fishing information:
www.pac.dfo-mpo.gc.ca/recfish
Effective April 1, 2007 to March 31, 2009

2008-2009 Freshwater Fishing Regulations Synopsis:
www.env.gov.bc.ca/fw/fish
Effective April 1, 2008 to March 31, 2009

NOTE: For In-season Regulation Changes posted on the web check the above URL's
GUEST FISHING PHOTOS:
*** If any of you have special fishing photos, testimonials, scenic river photos, wildlife photos or articles I would love to see them.
More info for this weeks Photo of the Week:
Hey Noel & Gill, Great trip, incredible experience. Here's how it went down:
"It was a dark and stormy day, the rivers were angry my friend. As I plodded towards the river's edge I saw the beastie poke its head above the water and give me a long, tough stare. Intimidated I was, perhaps even scared, but not a coward. The water slowly crept higher as I waded deeper into the raging current. Finally I settled in water about mid thigh height. Cast after cast, fly after fly. The beast was winning this battle of patience.
And then it happened…
A big slow roll on a twitching leech pattern as it swung across the run. The line tightened and the #7 weight creaked and moaned under the increasing pressure of the big fish. What ensued will only ever be known by the river, the fish, and me (and Gill, my father, and my brother). I can tell you it brought me to the highest elation, only to drop me back down to the lowest valley, minute after minute. The dual lasted days, a test of wills. Muscles burned, profanities flew, teeth grinded. And then it was over. The big beast came to rest in the net and I collapsed on the river bank.
When I came to, the sun was out. I slowly got my bearings and yet the beast was still there. He allowed me a few brief pictures before he continued back on his epic journey to create more gigantic offspring. I see now that fishing northern BC for Steelhead in the Skeena/Nass systems cannot be described, it can only be experienced."
Angler: Nick Johnson
Master Guide: Gill McKean of Westcoast Fishing Adventures (who put me on 2x20lb+ Steelhead that day on the fly and about 10 Steelhead the day before)
Moral Support: Mike Johnson and Tim Johnson
Steelhead Size: 27lbs
Pattern: Purple egg sucking Leech
Date: October 17th, 1:23pm
Battle Time: 36 minutes
So there you have it. It may not be exactly how it happened but I prefer to remember it that way. Feel free to take/leave what you want. Take care, Nick Johnson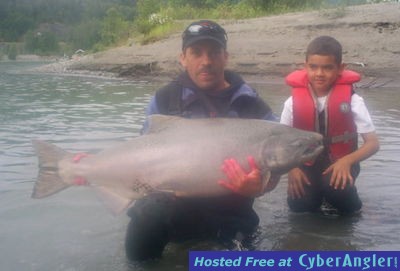 ---------------------------------------------------------------------------------------------------------------------
The following is an "important" conservation message from my friend Jeff Bright:
Steelhead Anglers,
A quick — and tasty — Skeena steelhead conservation opportunity that I believe is deserving of your attention:
Attached are an information sheet and an order form for SkeenaWild Certified Smoked Salmon. SkeenaWild Certified is a pilot project combining efforts of SkeenaWild Salmon Inc., Gitxsan band fishers and the North Coast Steelhead Alliance. The project goal is to create a market for high-quality, high-value SELECTIVELY harvested sockeye salmon.
How does this benefit Skeena steelhead? Unlike the gillnet fishery at the mouth of the Skeena, a smaller-scale selective net fishery gives by-catch steelhead much, much greater odds being released alive. Comparatively, the impact to steelhead stocks is negligible.
I fully support this change in thinking about how sockeye are harvested in the Skeena. And I can vouch for the quality of the product; my first order arrived this past week and it is delicious. I urge you to place an order and help create demand for SkeenaWild Certified, selectively harvested sockeye. According to the project flyer, all proceeds are re-invested in Skeena wild salmon conservation.
Bon appetit & good fishing! Jeff Bright www.jeffbright.com
Cast here for more detail and colour poster
Cast here for order-form
Catch & Release formula:
- Chinook: girth squared x length x 1.54 divided by 1000 (inches)
- Steelhead: girth squared x length x 1.33 divided by 1000 (inches)
MARKETPLACE (Sportfishing related items only please) Contact me anytime to list your items
Buy, sell, trade or swap your item or items by listing them here today
Your Ad will receive LOCAL, REGIONAL, NATIONAL and INTERNATIONAL exposure:
• Your Ad will be posted on my website
• Your Ad will be promoted in my Weekly Fishing Reports
• Your Ad will be posted on other websites who host my fishing reports

Examples of what to list: Boats and accessories, Motors, Vehicles, Air Craft, Rods, Reels, Tackle, Real Estate (i.e. fishing lodge), Rentals (Cabins Cottages), Lakeshore, Tourist accommodation, ATV, RV's, RV sites, Taxidermy, Books, Magazines, Videos, Photographs, Antiques, Artwork, Clothing, Employment, Trade/Swap and Wanted, Help Wanted, etc.

To view the items currently listed please cast to: www.noelgyger.ca/market-place.htm
To receive my WEEKLY FISHING REPORT and PHOTO via e-mail please send your name and e-mail address to: Noel Gyger [email protected]

GOOD LUCK and GOOD FISHING!

Yours sincerely,

Noel F. Gyger

Back to: http://noelgyger.ca/past-fishing-reports.htm

Home page: www.noelgyger.ca

Terrace Fishing Forecast:

Coho over but Steelhead continues...
Target Species:

Steelhead
More Fishing Reports: