Guided Spey Fly Fishing for Steelhead
Capt. Noel Gyger
September 8, 2008
Terrace - Freshwater Fishing Report


The photo of the week shows Troy Adams, a long time guest of Andrew Rushton of Kalum River Lodge, with a huge wild summer-run Skeena River Steelhead. This fish was measured and with the catch and release formula the fish was estimated to weigh 23.5-pound.
================================
Noel Gyger – Guided Fishing Adventures and Weekly Fishing Report
4012 Best Street, Terrace BC V8G 5R8, Canada
Tel/Fax: (250) 635-2568
Cell: (250) 631-2678
E-mail: [email protected]
Home Page: www.noelgyger.ca
Fishing Reports: www.noelgyger.ca/past-fishing-reports.htm
RECORD SALMON & STEELHEAD Spin or fly-fishing
RIVER, LAKE, STREAM or OCEAN!!!
================================
Noel Gyger - WEEKLY FISHING REPORT dated August 31 – September 7, 2008

Dear Fishing Friends:
SUMMARY: Weather has been near perfect all week with little or no rain. Temperatures have been on the cool side which is typical for this time of year. The river heights have been dropping all week making for some excellent fishing conditions. Tyee test fishery still showing good numbers of Steelhead, Coho and Sockeye moving through…best in many years. Coho are starting to enter the smaller Skeena River tributaries and fishing for them with fly or spin can be absolutely fantastic. Ocean fishing remains good as the Coho continue to migrate to their home rivers. The ocean charter guides seemed to have it dialed in where to fish for them. For the Kitimat River please read the detailed report from Ron Wakita of Reliable Guide and Charters.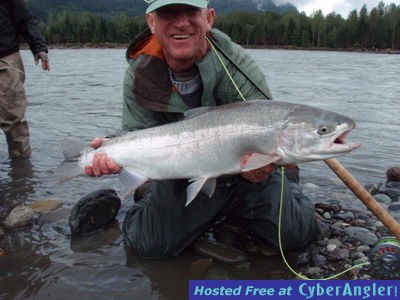 "New" Video Clip this week: Fly Fishing on the Skeena River is RED HOT right now and one can go through a lot of flies. Therefore you need to tie a simple fly quickly. Chad Black is a pro fly caster with both spey and single hand fly rods...and also really knows his stuff when it comes to fly tying. In this clip Chad shows a simple but effective pattern he calls "Skeena River Series". This one is tied in "bold" RED. The video clip is not cut or edited and shows it takes only about 2 1/2 minutes to tie. Cast here to watch the video under Tips and Techniques (Video Clip #0004) posted on Sept 3/08
2nd "New" Video Clip this week: Mid August on the Skeena River near Terrace BC is "prime-time" to catch Sockeye, Coho, Chum, Pink and Steelhead on the fly rod...all on the same day. WOW this is an absolutely fantastic fishery! This video clip shows Connor Sabo land and release a fresh Pink which is only a day in from the ocean. Cast here to watch the video under Pink Salmon (Video Clip #0002) posted on Sept 6/08
Correction: in last weeks report I mentioned that Andrew Rushton's client Troy Adams landed all five species of Salmon and Steelhead on the same day when actually he landed them during his trip.
LIST OF "New" ITEMS POSTED ON THE WEBSITE THIS WEEK:

- August 30/08 one video clip posted on "Video Clips" www.noelgyger.ca/video-clips-web.htm
- September 3/08 one video clip posted on "Video Clips" www.noelgyger.ca/video-clips-web.htm
- September 5/08 one item posted on "Conservation" www.noelgyger.ca/conservation.htm
- September 6/08 one video clip posted on "Video Clips" www.noelgyger.ca/video-clips-web.htm


NOW BOOKING FOR 2008 Let me know if I can be of service to book you with the "best" fishing guide and/or fishing lodges for both river and ocean. There are NO extra charges to book through me, just a lot of free information and advice from a person with years and years of fishing and fish guiding experience. It is like hiring two guides for the price of one. I will promptly answer your questions and concerns. Cast here http://noelgyger.ca/special-guided.htm to read more of what I have to offer.
Don't be disappointed - BOOK your preferred dates for fall Steelhead and Coho now.
Many people book three trips per year to our area; one trip in the spring (March-April-May), one trip in the summer (June-July-August) and one trip in the fall (September-October-November). They love having the same guide but fishing for different fish in different areas.

Be sure to check out my website at www.noelgyger.ca for news bulletins, mid week fishing updates, conservation, my history, quality waters strategy, special guided fishing trips, video clips, scenic river photos, wildlife photos and others, comments from past guests, informational articles, archived fishing reports from 1996 through 2002 and a sportfishing market place. I hope it meets with your entire satisfaction.
FISHING GUIDE REPORTS FOR THIS WEEK ARE FROM:

Ron Wakita
Tracey John Hittel
Ariel Kuppers
Randy Marshall
Andrew Ruston
Rob Vodola
CURRENT REPORT and summary for Skeena and Tributaries:


TYPE OF FISH CAUGHT: Chinook, Sockeye, Chum, Pink, Steelhead and Trout for river. Chinook, Coho, Halibut, Bottom Fish and Dungeness Crab for ocean.

Thank you for using barbless hooks.
FISHING THIS WEEK:
POOR FAIR GOOD*** EXCELLENT

LARGEST FISH OF THE WEEK: Specie: estimated 23.5-pound Steelhead Where: Skeena River Angler: Troy Adams

WEATHER: Sunny. Becoming cloudy near noon. Fog patches dissipating this morning. High 20. UV index 3 or moderate. High 17. UV index 4 or moderate. Region normal: Max. Temp. 19 degrees C. Min. Temp. 9 degrees C. Sunrise 6:53 AM Sunset 8:53 PM

WEATHER REPORTS VIA TELEPHONE: Environment Canada taped messages constantly updated, giving current conditions and three-day forecasts. Terrace 250-635-4192 Kitimat 250-632-7864 Prince Rupert 250-627-1155 Smithers 250-847-1958.

For current Terrace weather information please cast on:
www.theweathernetwork.com/weather/cities/can/pages/CABC0292.htm?ref=wxbtnold

WATER CONDITIONS: Skeena, lower Kalum, Kitimat and smaller coastal streams are in excellent shape.

CURRENT WATER HEIGHTS FOR:

SKEENA RIVER:
http://scitech.pyr.ec.gc.ca/waterweb/fullgraph.asp?stnid=08EF001

KITIMAT RIVER:
http://scitech.pyr.ec.gc.ca/waterweb/fullgraph.asp?stnid=08FF002

Note: It is always a good idea to check for "IN SEASON" changes to fishing regulations. www.pac.dfo-mpo.gc.ca/recfish/Freshwater/region6_e.htm
SKEENA RIVER: The water heights are back to normal and the fishing is GREAT.
KALUM RIVER: The water is in good shape. Good numbers of Coho (Silver) Salmon are coming in now. The Steelhead should not be far behind them.
This is a Classified River year round and can be guided from March 15 through October 15 only. The Steelhead record is 32-pounds. To see a photo of this fish cast to: http://noelgyger.ca/records/Record003.jpg The angler is Dennis Therrien.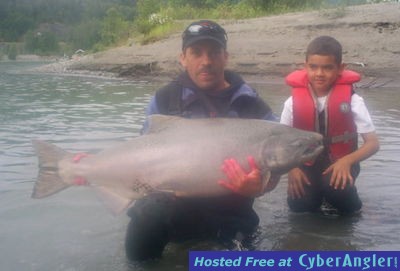 KASIKS RIVER: The Coho are coming now. Water is low so many of them are holding in the lower pools, deep cut banks and under submerged trees waiting for a shot of high water to move up.
EXCHAMSIKS RIVER: The Coho are coming in now. Fish the deep pools and cut banks as the fish will be holding in this area.
EXSTEW RIVER: The Coho are coming in now.
ZYMOETZ (COPPER) RIVER: The water is in excellent shape and good numbers of Steelhead are being caught with both fly and spin. This is the time to try a skating dry fly.

AREA RIVER RECORDS: Chinook Salmon: Skeena River, 92.5-pounds; Kalum River, 85-pounds; Kitimat River, 74-pounds; Steelhead: Skeena River, 45-pounds; Coho Salmon: Skeena River, 27-pounds.
CURRENT REPORT and summary for Northern Coastal Rivers:
Fishing Report from: Ron Wakita of Reliable Guide and Charters
KITIMAT RIVER: This week's Coho are starting to follow the same trend as the Kitimat Chinook, Chum and Pinks exhibited earlier.
The Coho are migrating through the lower Kitimat into the middle and upper holes of the Kitimat River. This is probably caused by the higher than normal river heights. Anglers who are either drifting or driving into the middle holes of the Kitimat reported the best catch numbers where as anglers fishing the lower Kitimat were only reporting Coho being caught on the incoming high tides. Smart money says to fish the lower Kitimat on the incoming high tide and then drive up river for the remainder of the day or drift.
It will be interesting to see what this weekend's catch results will bring with the Kitimat River dropping and the weather forecast for sunny weather. Stay Tuned to this Fishing Report.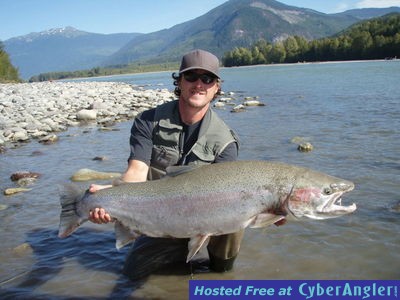 DOUGLAS CHANNEL: The best advice for fishing the Douglas Channel for Coho at this time of year is that if you are catching Coho in a certain area, stay on them! Fish and catch the Coho until the bite goes off. Then go pull the crab traps or go bottom fishing. The Coho this time of year are all on the move towards their spawning rivers. This is a normal phenomenon but will cause certain fishing holes to be very hot for shorter periods than earlier in the Coho season. This is the scenario with Money Point, Sue Channel and Jesse Falls. As reported in last week's report, these were the hot spots for Coho. This week, some boaters reported really good results at Money Point and Sue Channel others were frustrated by being there after the Coho had moved. As is the case with most fisheries, timing is everything. The same behavior applies to Jesse Falls. Jesse Falls was the hot spot for last weekend's Kitimat Chamber of Commerce Coho Derby but it was hard to find any Coho at Jesse Falls this week.
September 6. John from Blue Heron Charters fishing with clients Guy and Liza hooked three Halibut and landed two plus a bunch of Grey Cod and Rock Cod. John said, "it was a great day with flat water, sunshine, and a good catch of fish."
Todd Haynes of Nautical West Adventures was in the right place at the right time for his last two trips. Todd's last trips were of two and three day durations. He managed to limit out his clients with 24 Coho with the two day group and 32 Coho with the next group. Congratulations to Todd and his clients. They also managed to catch a bunch of halibut and bottom fish. John from Blue Heron Charters also produced halibut for his clients Guy and Lisa. They hooked three halibut, landing two and boated a bunch of Grey Cod and Rock Cod. Well Done John! Don Pearson, owner of Moon Bay Marina reported catching a halibut that he estimates well over one hundred and fifty pounds. Don promised to email me some pictures which I will include in a future report. Until next week…Tight Lines Ron Wakita
Fishing Report and Photos from: Randy's River Guiding


Randy reports excellent fishing was had by his 12 time repeat client Mr. Guy Gangl from Luxembourg. Guy was here fishing for 12 days. They fished multiple rivers using multiple techniques… plus one day on the ocean out of Prince Rupert. Guy mentioned he will be back next year for his 13th trip.
Fishing Report and Photos from: Steelhead Heaven
September 4. The Luck of the Irish Fishing Report Skeena/Kitimat BC
Attached are pics of this week's action. The Skeena and Kitimat systems have been in a high water log floating headache, BUT, we managed some of the best fishing for the conditions, 30 fish recorded for this group and we are happy the crew made the best of it. Fresh chrome Coho Salmon were the species we targeted and as you can see in the pics the fish are right out of the Saltwater.
Mr. Hyde is holding a northern Coho and his partner in the pocket, the lucky Lepricon, is all a laugh. As well Sylvia with a great smile and a fresh Coho to go with it. Not to mention Josef with a large Northern. The Spey casting pools were a dream for the group as our coastal micro-streams were full of aggressive Salmon to take a swung fly.


Openings are still available for the October run of Steelhead and Coho on Upper Kalum River so please contact Noel Gyger Now for all the details and book some dates, as we have space the 1st - 9th.
Photos and report from Tracey John Hittel of Steelhead Heaven
Fishing Report and Photos from: Kalum River Lodge
FISHING REGULATION WEBSITES:

2007-2009 BC tidal waters and freshwater Salmon fishing information:
www.pac.dfo-mpo.gc.ca/recfish
Effective April 1, 2007 to March 31, 2009

2008-2009 Freshwater Fishing Regulations Synopsis:
www.env.gov.bc.ca/fw/fish
Effective April 1, 2008 to March 31, 2009

NOTE: For In-season Regulation Changes posted on the web check the above URL's
GUEST FISHING PHOTOS:
*** If any of you have special fishing photos, testimonials, scenic river photos, wildlife photos or articles I would love to see them.
CATCH & RELEASE FORMULA: Chinook: girth squared x length x 1.54 divided by 1000 (inches) Steelhead: girth squared x length x 1.33 divided by 1000 (inches)

MARKETPLACE (Sportfishing related items only please) Contact me anytime to list your items
Buy, sell, trade or swap your item or items by listing them here today
Your Ad will receive LOCAL, REGIONAL, NATIONAL and INTERNATIONAL exposure:
• Your Ad will be posted on my website
• Your Ad will be promoted in my Weekly Fishing Reports
• Your Ad will be posted on other websites who host my fishing reports


Examples of what to list: Boats and accessories, Motors, Vehicles, Air Craft, Rods, Reels, Tackle, Real Estate (i.e. fishing lodge), Rentals (Cabins Cottages), Lakeshore, Tourist accommodation, ATV, RV's, RV sites, Taxidermy, Books, Magazines, Videos, Photographs, Antiques, Artwork, Clothing, Employment, Trade/Swap and Wanted, Help Wanted, etc.

To view the items currently listed please cast to: www.noelgyger.ca/market-place.htm
To receive my WEEKLY FISHING REPORT and PHOTO via e-mail please send your name and e-mail address to: Noel Gyger [email protected]

GOOD LUCK and GOOD FISHING!

Yours sincerely,

Noel F. Gyger


Back to: http://noelgyger.ca/past-fishing-reports.htm

Home page: www.noelgyger.ca
Terrace Fishing Forecast:

Good fishing from now until end of October should be good. The runs are strong this year...we are very lucky.
Target Species:

Coho Steelhead
More Fishing Reports: