Guided Steelhead Fly Fishing at its BEST
Capt. Noel Gyger
September 22, 2008
Terrace - Freshwater Fishing Report

The photo of the week shows Bill Pickard of England with a beautiful Skeena River wild Steelhead. The fish took a "string leach". He was being guided by Westcoast Fishing Adventures and says he has fished all over the world and left our country with awe and dreams of returning in 2009 to chase the finest fish to take a fly – STEELHEAD.
================================
Noel Gyger – Guided Fishing Adventures and Weekly Fishing Report
4012 Best Street, Terrace BC V8G 5R8, Canada
Tel/Fax: (250) 635-2568
Cell: (250) 631-2678
E-mail: [email protected]
Home Page: www.noelgyger.ca
Fishing Reports: www.noelgyger.ca/past-fishing-reports.htm
RECORD SALMON & STEELHEAD Spin or fly-fishing
RIVER, LAKE, STREAM or OCEAN!!!
================================
Home Page: www.noelgyger.ca

Noel Gyger - WEEKLY FISHING REPORT dated September 14 – September 21, 2008
(Number 89)

Dear Fishing Friends:
SUMMARY: Weather has been good and all the rivers are in good shape. Fishing for Steelhead and Coho Salmon is good using both fly and spin gear. The odd Chum Salmon is being caught on the Skeena river…and these are mean fighting fish! The lower Skeena tribs such as the Kasiks, Exchamsiks, Extew are very low. Running a jet boat in such low water is not a good idea. The Coho are holding in the lower pools waiting for a shot of high water to move up river. The Kalum is in great shape and fishing well for both Steelhead and Coho. The Zymoetz Copper is fishing well for Steelhead both spin and fly (dry fly). The Kitimat River is low but the guides still know where to go to catch Coho. Be sure to check out the detailed report from Ron Wakita.


On Tuesday, September 16th Gill McKean gave me a call and said let's go fishing! A good run of Coho (Silver) Salmon are in one of our local rivers. It took me about one second to say yes! Gill took his jet boat. His friend Mandy and her son Colton joined us. Mandy has never landed a Coho. Our GOAL was to help her do so...and she did as this video shows. Cast here for a direct link to the video clip: www.youtube.com/watch?v=nGA7ovjpRzk
I went fishing today with my friends on the Kalum River today Sunday, September 21.

Sisters Allanah and Shannon, hair blowing in the wind, as Robby Vodola "blasts" us around on the Kalum River. We stopped to fish at a few nice pools and landed both Coho and Steelhead. Stay tuned to the News Bulletin webpage next week to view a couple video clips of the Steelhead and Coho the girls landed. The fishing was FANTASTIC! Lots of fish were hooked and the jet boat ride was "out of this world" as we traveled just about the whole upper river right up into Mud and Kalum Lake.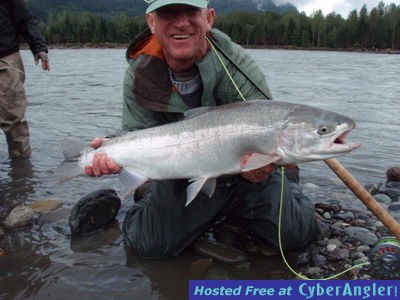 LIST OF "New" ITEMS POSTED ON THE WEBSITE THIS WEEK:
- September 17/08 one video clip posted on "Video Clips" www.noelgyger.ca/video-clips-web.htm
- September 18/08 one item posted on "Conservation" www.noelgyger.ca/conservation.htm
- September 19/08 one video clip posted on "Conservation" www.noelgyger.ca/conservation.htm
- September 21/08 one item posted on "Special Guided Trips" www.noelgyger.ca/special-guided.htm
NOW BOOKING FOR 2008 Let me know if I can be of service to book you with the "best" fishing guide and/or fishing lodges for both river and ocean. There are NO extra charges to book through me, just a lot of free information and advice from a person with years and years of fishing and fish guiding experience. It is like hiring two guides for the price of one. I will promptly answer your questions and concerns. Cast here http://noelgyger.ca/special-guided.htm to read more of what I have to offer.
Don't be disappointed - BOOK your preferred dates for fall Steelhead and Coho now.
Many people book three trips per year to our area; one trip in the spring (March-April-May), one trip in the summer (June-July-August) and one trip in the fall (September-October-November). They love having the same guide but fishing for different fish in different areas.

Be sure to check out my website at www.noelgyger.ca for news bulletins, mid week fishing updates, conservation, my history, quality waters strategy, special guided fishing trips, video clips, scenic river photos, wildlife photos and others, comments from past guests, informational articles, archived fishing reports from 1996 through 2002 and a sportfishing market place. I hope it meets with your entire satisfaction.


CURRENT REPORT and summary for Skeena and Tributaries:

TYPE OF FISH CAUGHT: Sockeye, Chum, Pink, Steelhead and Trout for river. Chinook, Coho, Halibut, Bottom Fish and Dungeness Crab for ocean.

Thank you for using barbless hooks.
FISHING THIS WEEK: GOOD
LARGEST FISH OF THE WEEK: Specie: 18-pound Steelhead – Eric Herrgesell. AND 18-pound Coho- Tommy Strom. Where: Skeena tributary

WEATHER: Showers ending early this morning then cloudy with sunny periods and 40 percent chance of showers. High 12. Region normal: Max. Temp. 16 degrees C. Min. Temp. 7 degrees C. Sunrise 7:19 AM Sunset 7:36 PM

WEATHER REPORTS VIA TELEPHONE: Environment Canada taped messages constantly updated, giving current conditions and three-day forecasts. Terrace 250-635-4192 Kitimat 250-632-7864 Prince Rupert 250-627-1155 Smithers 250-847-1958.

For current Terrace weather information please cast on:
www.theweathernetwork.com/weather/cities/can/pages/CABC0292.htm?ref=wxbtnold

WATER CONDITIONS: Skeena is in good shape. The Zymoetz (Copper) River is in good shape. The Kalum, Kitimat and smaller coastal streams are also in good shape.


CURRENT WATER HEIGHTS FOR:

SKEENA RIVER:
http://scitech.pyr.ec.gc.ca/waterweb/fullgraph.asp?stnid=08EF001

KITIMAT RIVER:
http://scitech.pyr.ec.gc.ca/waterweb/fullgraph.asp?stnid=08FF002

Note: It is always a good idea to check for "IN SEASON" changes to fishing regulations. www.pac.dfo-mpo.gc.ca/recfish/Freshwater/region6_e.htm
SKEENA RIVER: Good condition.
KALUM RIVER: The water is normal height and in good shape. Good numbers of Steelhead and Coho (Silver) Salmon are coming in now.
This is a Classified River year round and can be guided from March 15 through October 15 only. The Steelhead record is 32-pounds. To see a photo of this fish cast to: http://noelgyger.ca/records/Record003.jpg The angler is Dennis Therrien.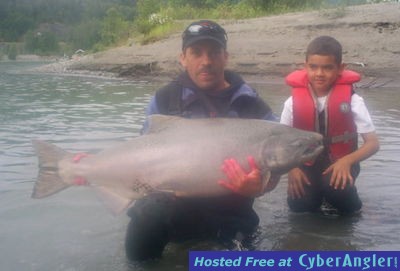 KASIKS RIVER: Lots of Coho are in now. The water is very low and the fish are holding in the lower pools waiting for a shot of high water to move up.
EXCHAMSIKS RIVER: Lots of Coho are in now. The water is very low and the fish are holding in the lower pools waiting for a shot of high water to move up.
EXSTEW RIVER: Lots of Coho are in now.
ZYMOETZ (COPPER) RIVER: The water is in great shape and lots of Steelhead are in the river.

AREA RIVER RECORDS: Chinook Salmon: Skeena River, 92.5-pounds; Kalum River, 85-pounds; Kitimat River, 74-pounds; Steelhead: Skeena River, 45-pounds; Coho Salmon: Skeena River, 27-pounds.
CURRENT REPORT and summary for Northern Coastal Rivers:
Fishing Report from: Ron Wakita of Reliable Guide and Charters
KITIMAT RIVER: The quirky trend of the Salmon migrating through the lower end of the Kitimat continues and is even more predominant during this stage of the Kitimat River's Coho run. The odd Coho has been caught in the lower Kitimat but the majority of Coho are being caught in the middle and upper sections of the Kitimat. The Powerlines have been hot a couple of days this week and cold on others. On Sunday my group boated one Coho at the Powerlines and two others hooked. Monday's reports of the Powerlines were good but Tuesday and Wednesday the bite was off. On Friday I drifted by and watched one angler land a Coho at the upper stretch completing his quota of two for the day. Wedeene Park has reported similar fishing results. We drifted by early in the week and there were anglers fishing from shore that had landed six Coho and lost another two. Other days the bite was off. Such is the nature of Coho fishing this time of year on the Kitimat. Coho can be enticed by the widest range of tackle. Coho can be caught on spoons, jigs, Hot Shots, spinners, float fishing roe, bottom bouncing roe, dick nites and cheaters. The task is to find where they are holding and then figure out what they are biting on. Sometimes a combination of tackle is needed to hook a bunch of Coho.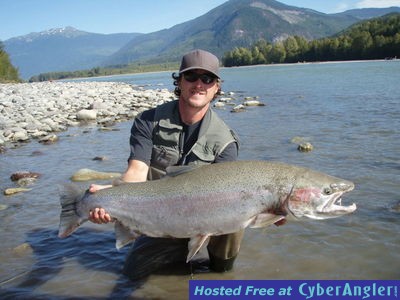 On Friday morning Al and I hooked the first Coho on a Hot shot #25 lost the second on a jig, and then landed the third Coho hooked on a jig. We then put out a Hot Shot 35 and landed the fourth Coho hooked. We fished other holes where Coho were jumping with Hot shots, Jigs, Roe with a float, Bottom Roe and spinners and they wouldn't bite any of the above. We then hooked and lost the fifth Coho hooked during this morning drift on a Hot Shot 35. Such is the nature of Coho fishing this time of year.
Just after writing the first portion of this report I was called to our tackle store. While I was there two anglers from Smithers reported hooking 16 Coho on the Hatchery Island in the Lower Kitimat. They were fishing early morning and the Kitimat area had a high tide at 5:30 A.M. They were fishing over a fresh run migrating on the high tide. They were heading back tomorrow morning to see if another run followed the same behavior on Sunday morning's tide. Stay Tuned to next week's report to find out if they caught anymore on the tide.
DOUGLAS CHANNEL: On each visit to the marina there are more slips empty as more boaters are trailering their boats and putting them away for the winter. The boaters that are still fishing the outer waters of the Douglas Channel are mostly fishing for Crab and bottom fish with varying success. Armando Santos and his wife boated a 77lb halibut in the Eagle Bay area. Cosby Smith and his fishing partner Arnold caught a bunch of Coho in the Fish Trap area. One winter spring (feeder Chinook) was caught in the Kitimat Harbour on Thursday morning. There were also reports of two Halibut caught in the Kitimat Harbour. With the good weather days limited this time of year it would be a good idea to get out on the water while the weather is still fairly decent.


Cast to this link for Kitimat tide tables www.waterlevels.gc.ca/cgi-bin/tide-shc.cgi?queryType=showRegion&language=english®ion=1
Fishing Report and Photos from: Nicholas Dean Lodge – September 21, 2008
Hello Anglers,
Low, clear conditions have been the name of the game during the past week in the Skeena region. Given that rain is a common feature during our Fall Steelhead season, it's been a little strange to have warm, dry, sunny weather. In some sense this is a welcome reprieve from the cool, wet Summer we've experienced, but this also makes for somewhat challenging fishing conditions depending on your target river. For Steelhead fishing, low conditions make it possible to fish dry flies and wet flies on a floating line, but when fishing for Coho in our favourite rivers, it means that river flows will be down to a trickle and fish will be spooky.
Still, several anglers fishing with us last week enjoyed good success, particularly on Skeena river tributaries. Tommy Strom, a determined angler from Norway, landed a gorgeous Steelhead in the 16-17 range, and discovered why Steelhead have such a good reputation for their fighting abilities. His friends Jan and Kjell also enjoyed some decent Coho fishing in addition to great Steelhead fishing. Eric Herrgesell (the joker of the group!), Corey and Matt Cherrstrom, and Howard Wilson were a pleasure to have at the lodge, and though fishing proved somewhat challenging on some days, each were able to experience the thrill of hooking into Skeena Steelhead.
Also, don't forget about our promotion for next year – if you book with Noel prior to Oct. 15th, 2008, you can take advantage of special pricing for the 2009 season. This is your chance to experience the take of a Skeena Steelhead and the anticipation of the grab, in a spectacular wilderness setting…
Until next week, tight lines and screaming reels,
Chad Black
Operations Manager
Nicholas Dean Lodge
FISHING REGULATION WEBSITES:

2007-2009 BC tidal waters and freshwater Salmon fishing information:
www.pac.dfo-mpo.gc.ca/recfish
Effective April 1, 2007 to March 31, 2009

2008-2009 Freshwater Fishing Regulations Synopsis:
www.env.gov.bc.ca/fw/fish
Effective April 1, 2008 to March 31, 2009

NOTE: For In-season Regulation Changes posted on the web check the above URL's
GUEST FISHING PHOTOS:
*** If any of you have special fishing photos, testimonials, scenic river photos, wildlife photos or articles I would love to see them.
CATCH & RELEASE FORMULA: Chinook: girth squared x length x 1.54 divided by 1000 (inches) Steelhead: girth squared x length x 1.33 divided by 1000 (inches)


MARKETPLACE (Sportfishing related items only please) Contact me anytime to list your items
Buy, sell, trade or swap your item or items by listing them here today
Your Ad will receive LOCAL, REGIONAL, NATIONAL and INTERNATIONAL exposure:
• Your Ad will be posted on my website
• Your Ad will be promoted in my Weekly Fishing Reports
• Your Ad will be posted on other websites who host my fishing reports

Examples of what to list: Boats and accessories, Motors, Vehicles, Air Craft, Rods, Reels, Tackle, Real Estate (i.e. fishing lodge), Rentals (Cabins Cottages), Lakeshore, Tourist accommodation, ATV, RV's, RV sites, Taxidermy, Books, Magazines, Videos, Photographs, Antiques, Artwork, Clothing, Employment, Trade/Swap and Wanted, Help Wanted, etc.

To view the items currently listed please cast to: www.noelgyger.ca/market-place.htm
To receive my WEEKLY FISHING REPORT and PHOTO via e-mail please send your name and e-mail address to: Noel Gyger [email protected]

GOOD LUCK and GOOD FISHING!

Yours sincerely,

Noel F. Gyger

Back to: http://noelgyger.ca/past-fishing-reports.htm

Home page: www.noelgyger.ca
Terrace Fishing Forecast:

This type of action can be expected well into the first or second week on November.
Target Species:

Steelhead Coho Silver Salmon
More Fishing Reports: