Skeena River Regional Fishing Report
Capt. Noel Gyger
April 27, 2009
Terrace - Freshwater Fishing Report

The photo of the week shows Noel Gyger and Rob Vodola with a nice Kalum River Steelhead landed on April 20th. YES, I catch em, once in awhile! Sometimes I think I have more fun watching other folks catch fish…just the old fishing guide in me coming out, I guess. Photo by Carey Braun

================================
Noel Gyger – Guided Fishing Adventures and Weekly Fishing Report
4012 Best Street, Terrace BC V8G 5R8, Canada
Tel/Fax: (250) 635-2568
Cell: (250) 631-2678
E-mail: [email protected]
Home Page: www.noelgyger.ca
Fishing Reports: www.noelgyger.ca/past-fishing-reports.htm
RECORD SALMON & STEELHEAD Spin or fly-fishing
RIVER, LAKE, STREAM or OCEAN!!!
RSS feed News Bulletin www.noelgyger.ca/newbulletin001.xml
RSS feed Podcast www.noelgyger.ca/itunes.ca
Follow Noel Gyger updates on Twitter http://twitter.com/guided_fishing
================================
Home Page: www.noelgyger.ca

Noel Gyger - WEEKLY FISHING REPORT dated April 19 – April 26, 2009

Dear Fishing Friends:
SUMMARY: The weather has been good with average day time temperatures and no rain after Tuesday. The rivers are on the rise as more snow melt comes down. Both upper and lower sections of Kalum River are in good shape. Check out my two reports below for April 20th and 22nd. The first Chinook are in the river now. They have been seen rolling in the lower pools. The main stem Skeena River is dirty and not fishable. Good runs of Steelhead are coming into the many isolated coastal streams and rivers. For the Kitimat River and Douglas Channel please check out the Ron Wakita report below.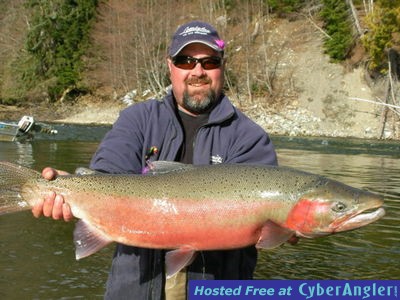 LIST OF "New" ITEMS POSTED ON THE WEBSITE THIS WEEK:
- One New item posted on "Conservation" April 22/09
NOW BOOKING: Let me know if I can be of service to book you with the "best" fishing guide and/or fishing lodges for both river and ocean. There are NO extra charges to book through me, just a lot of free information and advice from a person with years and years of fishing and fish guiding experience. It is like hiring two guides for the price of one. I will promptly answer your questions and concerns. Cast here http://noelgyger.ca/special-guided.htm to read more of what I have to offer.
Many people book three trips per year to our area; one trip in the spring (March-April-May), one trip in the summer (June-July-August) and one trip in the fall (September-October-November). They love having the same guide but fishing for different fish in different areas.

Be sure to check out my website at www.noelgyger.ca for news bulletins, mid week fishing updates, conservation, my history, quality waters strategy, special guided fishing trips, video clips, podcasts, scenic river photos, wildlife photos and others, comments from past guests, informational articles, archived fishing reports from 1996 through 2002 and a sportfishing market place. I hope it meets with your entire satisfaction. I am at your service.
CURRENT REPORT and summary for Skeena and Tributaries:

TYPE OF FISH CAUGHT: Steelhead and Trout for river. Salmon, Halibut, Bottom Fish and Dungeness Crab for ocean.

Thank you for using barbless hooks.
FISHING THIS WEEK: GOOD
LARGEST FISH OF THE WEEK: Specie: 20-pound Steelhead Where: Kalum River Angler: Rob Vodola

WEATHER: Sunny with cloudy periods. High 15. UV index 5 or moderate. Sunrise 6:07 AM Sunset 8:58 PM. Today's yearly average temperatures: Maximum 14 degrees. Minimum -1.1 degrees.

WEATHER REPORTS VIA TELEPHONE: Terrace 250-635-4192 Kitimat 250-632-7864 Prince Rupert 250-627-1155 Smithers 250-847-1958.

SKEENA RIVER: Is too dirty to fish. Fishing the clean seams of the tributary rivers is a good idea now.


KALUM RIVER: Is in good shape and rising slowly. Good numbers of Steelhead are in the river now. Spring runs of Steelhead should be coming in. Fishing for them with fly or spin tackle works well. Fresh early run Chinook (King) Salmon are expected anytime. We have caught them around mid April. Chinook have been seen rolling in the lower river.
April 20…Rob Vodola, Carey Braun, Mike Pederson and I fished the Kalum River on April 20th. Due to the steady rain (no wind) the water was on the rise (big time), lots of debris suspended in the water, which are the worst fishing conditions I know of. Despite these conditions Rob and I landed a Steelhead each (both female)…see photo of the week. Mike lost one close to the net. We, maybe, had another couple of chances. Mike's knees are still shaking! Fishing was good but the catching was a little slow.
April 22…Both upper and lower Kalum River is in great shape although very clean, sometimes too clear to hook a lot of fish…but Rob, Brent and I fished and we had a blast. I hooked 5 landed 2. Rob hooked 6 landed 3 and Brent hooked 3 and lost one close to the net. The fish landed were mostly dark males in spawning colours. The one female looked very nice. Females always look very nice, spawning or not.
This is a Classified River year round and can be guided from March 15 through October 15 only. The Steelhead record is 32-pounds. To see a photo of this fish cast to: http://noelgyger.ca/records/Record003.jpg The angler is Dennis Therrien.
ZYMOETZ (COPPER) RIVER: Is too dirty to fish.
Fishing Report from: Ron Wakita of Reliable Guide and Charters.
KITIMAT RIVER: We received heavy rain last weekend including Monday and the river level rose and was unfishable by Tuesday. I logged the height of the river on Tuesday morning when the Kitimat River was the highest it has been this Steelhead season. I logged the height again Wednesday morning 23 hours later and the Kitimat River had dropped 3 1/2 feet and was fishable.


Before the Kitimat became unfishable, John Love from Smithers reports landing a Steelhead on Sunday April 19th that weighed 19lb 11oz. below the washouts in the upper Kitimat section.
John said, "he was fishing with his fishing partners, Patrick Hudson took the first photo showing Norm Fallows landing the fish with the cradle and the second photo was take prior to release". Congratulations John,Patrick and Norm! And thank you for sending the pictures and details for the readers of this report to enjoy.
When the river is high and dirty she is unfishable these conditions usually entice fresh, silver Steelhead into the Kitimat River. When the river level drops and water clarity becomes fishable usually more fish have migrated into the system to be caught. This observation evolved as anglers started to catch very nice Steelhead on Wednesday. This is the case with most rivers in the North West.
Spencer from Terrace hooked three Steelhead on Wednesday and caught and released two silver Steelhead, one had sea lice. He was float fishing a pink worm in the middle section of the Kitimat River. "Mr. G" landed one on the upper section of the Kitimat on Wednesday as well.
Todd Haynes of Nautical West Fishing Adventures and fishing with his fishing partner, Patrick Havig hooked two Steelhead on Thursday landing one about 16lbs on the upper section.
On Friday, Todd and Patrick hooked five steelhead and landed four. Two of these are featured in this report. See the photos in Todd's report below. These were also caught in the upper section of the Kitimat.
Two Fishers using spey rods were in our Tackle store speaking to Ariel and they landed two silver Steelhead at Humphry's on Friday. Jason Bunn landed an 18lb chrome Steelhead at the Power Lines on Friday. The Kitimat Hatchery brood collection team reported having two bright Steelhead in their brood collection barge Friday. Mike Campbell reports catching a bunch of Trout.
I did a "homework drift" (is how I refer to pre-trips prior to clients) on Saturday. It was actually a multi purpose trip as I was fishing with my son Corey who is fifteen. We were also doing an ongoing training session rowing the drift boat. Corey had been rowing since he was twelve and we are evolving his rowing skills every year. This was also a quality father/son fishing day with a very good friend and associate guide, Marc Girard.

We drift from the Eighteen Mile bridge to the Big Spruce which is a very long drift (actually too long to fish effectively) but I wanted to show Corey and Marc the entire system. We hooked seven Steelhead but only managed to land two. The two we landed were very nice Steelhead, one was Big and the other was bright. Typical Male/Female scenario. The male was big and the female was pretty. The first Steelhead Corey landed below the second washout was on a float with two jensen eggs and white wool (one of my favorite rigs). Marc hooked it and passed the rod to Corey. Thank You Marc! As you will notice from the picture of Marc holding this Steelhead it is a little coloured and has been in the system for a while. We measured this Steelhead and the calculation worked out to 20.5lbs. It was a proud moment to watch my son land a twenty pound plus Steelhead even though he hadn't hooked it himself. We are both grateful to Marc. Corey hooked and landed the second Steelhead on a Hot Shot on his own. I had this hot shot custom coloured by Luhr Jensen. This was a bright female but no sea lice.


As we drifted into the middle and lower section we noticed the fish were brighter. Although we didn't land them we saw the colour of the fish while we were fighting them. We also focused our efforts to fly fishing in the lower Kitimat. I have a personal challenge that I call the "Triple Crown". The "Triple Crown" is to land a Steelhead on a Hot Shot, on tackle and on a fly in the same day. Corey had landed one on a tackle and on a Hot Shot so we wanted Corey to land one on a fly. We never did land one on a fly but "nothing ventured-nothing gained". It was a Great day of fishing with my son Corey and a very Good friend Marc.
As we drifted by the Power Lines Terry said that he lost a very bright Steelhead and his partner Dave landed a beautiful bright fish in the morning. Brice from P.G just landed a bright, hatchery Steelhead on the Hatchery Island this morning (Sunday). In fact I just received the info as I am writing this report.
ANGLERS BEWARE of a problem spot located just below Saw Mill in the "new Nalabila" channel. It is passable but stay to the left and make sure all the rods are low and are not hanging out of the boat (photo above is taken looking down stream).
The weather is bright and sunny and most of the Steelhead are bright and shiny.
Anyone interested in a Guided Trip on the Kitimat River for Steelhead with Reliable Guide and Charters please contact Noel: [email protected] 250-635-2568 and he would be more than happy to accommodate.
DOUGLAS CHANNEL: Jason Bunn reports landing a Halibut down the Douglas Channel. Jason said that he was going to email the picture and details of the Halibut but has not done so in time for this report. He probably went fishing.


Most boaters are reporting good numbers of crab and I spoke to one group from Vernon returning home with two halibut, a 24lb and a 10lb. chicken plus their limit of crab. These were not big Halibut but these folks were happy with their catch. They said "this was our first trip, the weather was good, the scenery was beautiful and we have fish to take home". Anglers are reminded that the shell must be left on the crab while transporting.
The Salt Water fishery will become more active as the weather is improving. Stay Tuned to this report for future updates.

Anglers are reminded of the "Great Prices" on our Instore Flyer. We will run Clearance and Hot Specials all season. Anyone wishing to receive these flyers on a regular basis please sign up for Noel's Weekly Fishing Report and there will be a current flyer posted on Noel Gyger's Fishing Report page as well as Noel's other website pages. If you have any questions regarding any of the product please email me at [email protected]

Our tackle Store: City Centre Hardware and Sporting Goods has many preseason specials. Please click here: www.noelgyger.ca/ads/Apri+14_2009_INStore_Fishing_Specials_FLYER.pdf to view our New! Updated instore flyer. It has some "HOT" deals!
Tight Lines!
May you be blessed with bright fish and big smiles!
Ron Wakita
Fishing Report from: Gill McKean of Westcoast Fishing Adventures
Morning Noel thought I would get my report in early as we are working on 20 days straight guiding it has been a fantastic season!
The photo above is of John Lundsten from San Diego, California this was his first ever Steelhead on the FLY as well as his first Steelhead ever!! at the young age of 70 what a fish and what a moment for us to share. Great job John this was his first and I don't think it will be his last!!
The fish are still coming in good numbers. We are seeing bright fresh fish every day! At the beginning of the week we had a hard rain and blew most Region 6 rivers out. On the bright side we saw bright shiny fish arrive on the dropping water. All I can say is Yeee Haaa! There have been a few reports of the Kalum producing a few early Chinook. The earliest I have landed a 45 pounder was April 14th. They wake you up on your steelhead gear.
All other rivers are producing good numbers of steelhead as well. Good luck
out there!!


We still have a few last minute openings for 1 or 2 persons. Call Noel 250-635-2568 [email protected] and he will hook you up!
Gill McKean, Fishing is our addiction - Guiding is our passion - Adventure is in our blood
Fishing Report from: Todd Haynes of Nautical West Sport Fishing – April 26th
Hi Noel, the Kitimat River has been fishing good all week, except for Monday. I have included a couple of pics. Lots of people are out enjoying this special fishery. Halibut and Crab fishing is a little slow in the Douglas Channel right now. I have heard the Chinook fishing out of Prince Rupert is really starting to pick up. The ones caught are not too big, around 20-pounds. Most of these fish are bound for the Skeena River where they will swim long distances to their home tributary waters. Take care. Todd Haynes.
AREA RIVER RECORDS: Chinook Salmon: Skeena River, 92.5-pounds; Kalum River, 85-pounds; Kitimat River, 74-pounds; Steelhead: Skeena River, 45-pounds; Coho Salmon: Skeena River, 27-pounds.


FISHING REGULATIONS WEBSITES:
2007-2009 BC tidal waters and freshwater Salmon fishing information:
www.pac.dfo-mpo.gc.ca/recfish
Effective April 1, 2009 to March 31, 2010

2008-2009 Freshwater Fishing Regulations Synopsis:
www.env.gov.bc.ca/fw/fish
Effective April 1, 2009 to March 31, 2011 (Note regs good for two years)
GUEST FISHING PHOTOS:
*** If any of you have special fishing photos, testimonials, scenic river photos, wildlife photos or articles I would love to see them.
Catch & Release formula:
- Chinook: girth squared x length x 1.54 divided by 1000 (inches)
- Steelhead: girth squared x length x 1.33 divided by 1000 (inches)
MARKETPLACE Sportfishing related items only please. Contact me anytime to list your items. There is no charge for this service.

Buy, sell, trade or swap your item or items by listing them here today
Your Ad will receive LOCAL, REGIONAL, NATIONAL and INTERNATIONAL exposure:
• Your Ad will be posted on my website
• Your Ad will be promoted in my Weekly Fishing Reports
• Your Ad will be posted on other websites who host my fishing reports

Examples of what to list: Boats and accessories, Motors, Vehicles, Air Craft, Rods, Reels, Tackle, Real Estate (i.e. fishing lodge), Rentals (Cabins Cottages), Lakeshore, Tourist accommodation, ATV, RV's, RV sites, Taxidermy, Books, Magazines, Videos, Photographs, Antiques, Artwork, Clothing, Employment, Trade/Swap and Wanted, Help Wanted, etc.


To view the items currently listed please cast to: www.noelgyger.ca/market-place.htm
To receive my WEEKLY FISHING REPORT and PHOTO via e-mail please send your name and e-mail address to: Noel Gyger [email protected]
The following are SPONSORS of this fishing report. Please check out their websites at your convenience. Thank you.
www.dartjigs.com
www.sportshrimping.com
www.halibut.net
www.outdoorbooks.net
Cast here: www.noelgyger.ca/articles/apr-13_2009-sales-special-halibut.net.doc to check out some super deals for Halibut tackle from Halibut.net


GOOD LUCK and GOOD FISHING!

Yours sincerely,

Noel F. Gyger

Back to: http://noelgyger.ca/past-fishing-reports.htm

Home page: www.noelgyger.ca
Cast here: www.itunes.com/podcast?id=303469913 to subscribe to Noel Gyger's Fishing with the Best podcast in iTunes Store

Cast here: http://twitter.com/guided_fishing to follow Noel Gyger's updates on Twitter
Terrace Fishing Forecast:

The weather is good. The steelhead fishing is good. We hope to catch Chinook (King Salmon) any day NOW...
Target Species:

Steelhead and Salmon
More Fishing Reports: