Terrace BC Canada Fishing Report For July 25, 2013
Capt. Noel Gyger
July 26, 2013
Terrace - Freshwater Fishing Report

Noel Gyger Fishing Report is LIVE online 24/7
Cast on this link to read the current LIVE Report:
www.noelgyger.ca/current-fishing-reports.htm
Don't miss a single update follow Noel on Twitter.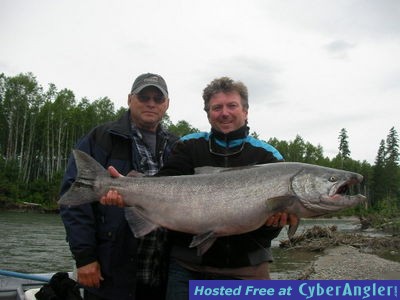 Weekend Fishing Forecast:
Had some rain throughout the week but the forecast for the weekend is mostly sunny with higher day time temperatures. Chinook fishing on the Skeena is very good. BEST season in years. WOW Skeena Chinook fly fishing is difficult as most of the fish are holding in fast flowing deeper water. Conventional fishing works best at this time. Tyee Test fishery shows a good run of Chinook. Kalum is good for Chinook on the lower end. Try fishing for Chinook on the Exchamsiks and Kasiks in the clean water below the highway 16 bridge. Kitimat River Chinook is slowing down but lots of Pinks. Chum are starting to show up. Upper Lakelse Trout fishing is good, but water is high. Lakelse River Bridge should be fishing well for Chinook. Sockeye are in the river now. Lake fishing is good everywhere. Ocean fishing out of Kitimat and Prince Rupert is excellent; so is Crabbing and Prawning. Good luck this weekend.
Pro angling guide Tracey Hittel of Kitimat Lodge holding his guest, Terry Pressacco's huge Kitimat River Chinook (King) Salmon. This fish was hooked with a Luhr Jensen Hot Shot.
Taking bookings now for: Gitnadoix, Kwinamass (April & May), Ishkeenickh, Kincolith, Zymoetz (Copper) class 1 and class 2 sections, Kalum and Skeena 2 plus all the unclassified rivers on the Skeena, Nass and coastal. Ocean out of Kitimat and Prince Rupert. If you are interested for a guided fishing trip please contact me anytime.
Hope you enjoy the LIVE Fishing Report: www.noelgyger.ca/current-fishing-reports.htm
Thank you for your interest in The Fishing Reports.
Best regards,
Noel Gyger
"You meet the nicest people on the river banks"

More Fishing Reports: