Fishing Report July 1, Ucluelet BC Canada
Capt. Sam Vandervalk
July 1, 2018
Ucluelet - Saltwater Fishing Report

The majority of the rod time was spent fishing along the rocks for Chinooks this week. The volume of salmon was down slightly but the size continues to rise and those anglers with patience were handsomely rewarded.
Squid fed salmon fought well above their weight class in our usual sposts. More chinooks into the mid twenties were taken than in prior weeks. White hoochies are the go to gear in Florencia when the Chinook are feasting heavily on squid. Pack a variety of white cuttlefish hoochie paterns as the fish can be very selective based on light, water clarity, and mood.
A size 3 cookies and cream was the staple spoon off Wya Point this week. The majority of chinooks at Wya came a half mile offshore fishing between 70-80 feet on the downriggers. If you don't find fish in the usual tack on the rocks, take a gander out to the weather buoy and give it a couple passes. Fishing around the buoy has been a steady producer for the last couple weeks.

Big bank produced volume of chickens (10-20lb halibut) this week. Hali West was the hot spot on the bank with double and triple headers lighting up the rods. Try a selection of jigs on your third rod as they keep the sole and dogfish at bay while offering the halibut some variety. Often the better sized halibut were taken on the jigs.
Check out www.salmoneye.net to book a fishing trip and www.tofino-info.com for area information.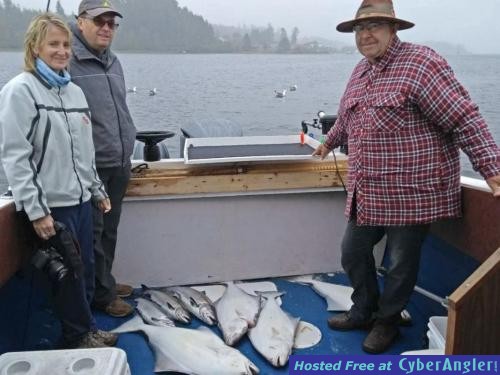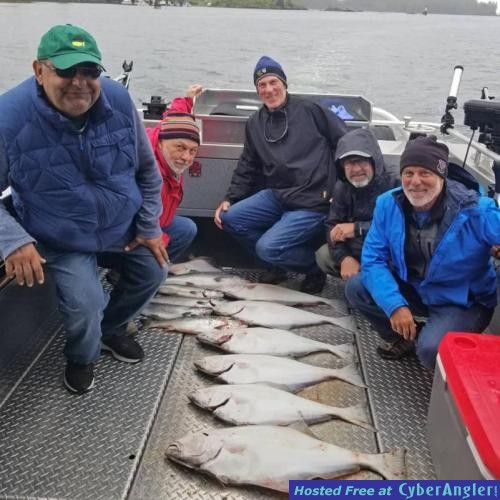 Target Species:

Chinook, Halibut
More Fishing Reports: