Ucluelet, BC Early May 2014 Fishing Report
Capt. Sam Vandervalk
May 16, 2014
Ucluelet - Saltwater Fishing Report

May Fishing Report
2014
>~~~~~~~~~~~~~~~~~~~~~~~~~~~~~~~~~~~~~

Early May 2014 Pictures.

Chinook Fishing:
This time of year Chinook are typically in the 7-20 lb range. This past Saturday guests caught 5 good size Chinook all between 14-22 lbs. The forecast for this season's returns is quite attractive, and we are seeing the first of the large Chinook run come past. You can probably expect anywhere from 4-10 Chinook per trip right now if you are just catching Chinook. The weather is starting to get better as well, which makes it easier on us all.
There has been good fishing close to shore which is great news for those sensitive to swells. Fishing has been good at both Great Bear Rock and Sail Rock.


Halibut Fishing:
There are good numbers of Halibut showing up around Long Beach Bank, as well as some near the shore. The size range will be anywhere from 12-60 lbs. Yesterday our guide Dan hit 5 halibut. The limit for halibut is 1 per day and 2 as the carrying limit.
There are ling cod around as well, so if you want a basket of fish, now's the time to join us!

Thanks for reading this newsletter. The videos from the last newsletter are below in case you need a little outdoor excitement! Please drop us a line if you would like to do any early season fishing. We expect great fishing for all of May and June.
Click here for our early season fishing package rates!
www.salmoneye.net/early-season-fishing-package/?utm_source=May+Fishing+Report+2014&utm_campaign=May+Fishing+Report+2014&utm_medium=email
See you soon!
Humpback Whales from Ucluelet and Tofino BC!
http://youtu.be/o__-z-lePjA
2013 Salmon Fishing Highlights! Enjoy!
http://youtu.be/BuYOD3UxTHI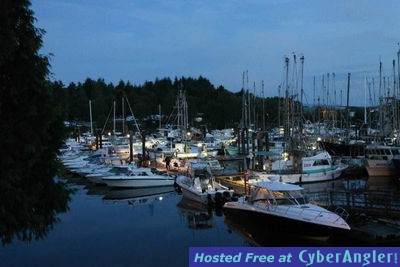 ---
Tags:
BC, Salmon Fishing, Halibut Fishing, Fishing Charter, Ucluelet fishing charter,

Ucluelet Fishing Forecast:

Great!
Target Species:

Chinook, Coho, Halibut
More Fishing Reports: