On Fire...
Capt. Kyle Taylor
June 4, 2016
Anna Maria - Saltwater Fishing Report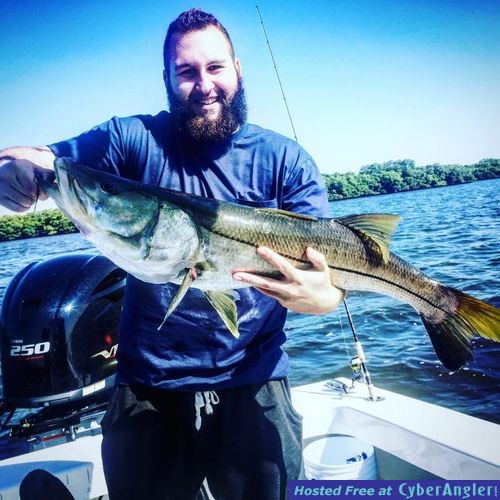 On Fire...
That's how fishing has been the past couple weeks...on fire. First of all, I'm sorry I haven't posted a report in a couple weeks, I've been extremely busy fishing and on most days fishing double trips.
Bait everywhere from the flats of Lower Tampa Bay, the Skyway Bridge, and Fort Desoto. Again, the fishing has been RED HOT. The Snook bite has been the most predictable, productive, and consistent. Over the past couple weeks we have caught well over 450+ Snook (video 1) (video 2) (video 3). Most have been in the 25" range but we have manged to catch a few that were bigger. The biggest Snook has been 42" (Picture) caught right after a rain storm just before Memorial Day. The Trout bite has picked up as well and most days we are limiting out on them. Towards the end of this last week we have started seeing more "gator" Trout show up and we have caught many over the 20" mark (Picture). The Tarpon bite has been hit or miss. Some days the Tarpon are feeding like its their last meal, eating everything in sight and some days we are lucky to get a couple hook ups. Several schools of Permit have showed up in Lower Tampa Bay and around Anna Maria Island. The only fish that we have had a hard time finding is Redfish. We have only managed to catch a handful of them over the past couple weeks and I'm not seeing them in the usual numbers for this time of the the year. All in all fishing has been extremely well and productive. If your are looking for a place to stay on your vacation to Anna Maria Island check out Island Real Estate for your accommodation needs.
If you are looking to book a fishing charter trip and are near Anna Maria Island, Bradenton, Longboat Key, Sarasota, or Tampa Bay book with Anna Maria Inshore Fishing LLC. call or text fishing guide Captain Kyle Taylor (941) 345-7182 AnnaMariaInshoreFishing.com
For photos and videos check out my Facebook, Instagram, Twitter, and YouTube pages.
More Fishing Reports: