May 19 Fishing Report Anna Maria Island On Fishy Business
Capt. Rick Gross
May 19, 2013
Anna Maria - Saltwater Fishing Report

The weather has been nothing short of spectacular here in southwest florida. Also the fishing is some of the best of the year. Tarpon are showing up in better and better numbers each week. And it looks to be a good season for the silver king. Pass crabs have already been flowing on the hard outgoing tides and this should make for some happy fish in the passes.
Kingfish are still here and may not fully leave until well into June this year.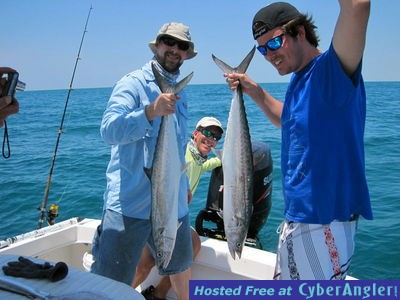 I had a few trips this past week and we managed kings on every trip.
Inshore snook are making there way to the passes for there annual spawn. I am happy to report good numbers of fish in almost all of the usual places.
Redfish have scattered in the last couple of weeks but with a little work you can still find fish that are willing to play tug of war.
Trout fishing should be coming to a peak in the next few weeks. There are more big trout around then I ever remember. Last but not least sharks of all sizes are around in bigger numbers this year. I do not like to kill these fish but they are sure a lot of fun on light tackle.
Thank You & Good Fishing!
Capt. Rick Gross
941-730-5148
More Fishing Reports: