Biscayne Bay Bonefish
Capt. Carl Ball
September 30, 2009
Biscayne Bay - Saltwater Fishing Report

Yesterday was your typical day of fun fishing out of Key Biscayne. We left the dock before there was any light in the sky. By the time we arrived at the first spot we could see every movement in the surface of the glassy slick calm water. We arrived before the wind to find a tail or a roller before the sun was high enough to illuminate the bottom. Since this was kind of an exploration trip, my expectations were relatively low, but the conditions sure were right.
At the first spot we found all kinds of bait and the place was alive. Then I saw the roll of a baby tarpon. It is a great day for me already, knowing how hard it can be to find a new fishing spot with lots of potential. Other than my anglers casting and presentation skills, I'm not too worried about catching one of the miniature jumpers. I'm happy about my find.
The hook stayed in this baby long enough to get it to the boat and take this picture.
We checked a couple other known tarpon spots and had some shots. They got on to us pretty quick and we never got a bite. By now though the sun was getting high and I was itching to check some spots for the highly prized Biscayne Bay bonefish. I must have been late to every bonefish party. We would get to a spot and see a school of fish and then nothing. We found six schools of bones and got two fish to the boat. It's probably the first time we caught bonefish that were bigger than the tarpon. I didn't weight the tarpon but it was 25 inches overall while the bones were 26 and 27 inches to the fork. I guessed the tarpon to be 5 lbs. and the bones to be 7 and 8 lbs.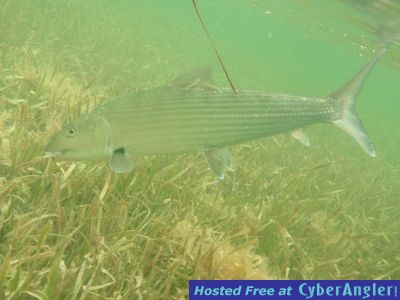 Of Course we wanted to get the slam in the worst way. However, Mother Nature didn't help with a solid upper level white cloud mass that never moved. The visibility was about as bad as it could get for spotting permit on the flats. I tried a couple spots for blind fishing but with no luck. Last week I was running into permit on accident this week I can't just get lucky.
Biscayne Bay Fishing Forecast:

Fall is here and the water temperatures are falling. The mullet are running, the shrimp are getting bigger, and fishing will be good. Chances for getting the grand slam this time of the year are good too. It's not too hot, it's not too cold and everything is eating as fast as it can before it gets eaten.
Target Species:

bonefish, permit, tarpon, snook, shark
More Fishing Reports: