Biscayne Bay-Turning Silver into Pink
Capt. Mo Estevez
September 26, 2010
Biscayne Bay - Saltwater Fishing Report

Our goal this stormy morning was to chase snook on Biscayne Bay's west side and enjoy the bounties of Fall in South Florida. Arriving at our first spot of the morning, we were surrounded by storms, lightning, thunder and a brief but beautiful sunrise. Our best effort revealed the sighting of a large snook but no hook ups. After having to run back to the ramp and wait out a lightning laden storm cell, we move on to spot number two. Numerous casts later with nothing to show for it but a couple of blow ups on our top waters we move on. At spot number three we find what we were looking for at the mouth of a creek , explosions with schools of mullet showering in an attempt to escape the sizable linesiders hot in pursuit. Cast, twitch, twitch, BOOM, the hook sinks in, the rod bends and the drag starts to scream. The fish darts back and forth but no jumps, hummm. A minute later a large barracuda comes to the boat. Geeze! More showering of bait deeper into the creek, another cast, twitch, twitch, BOOM. The scenario repeats itself with Mr. Barracuda beating the snooks to the top water bait. Time is running out so we move on. A few more spots later a thick school of pilchards makes the mistake of crossing our bow. Two quick throws of the castnet and I have what I need to change the direction of our morning.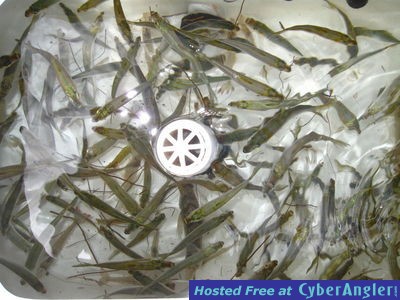 Arriving at one of the Oceanside finger channels, a steady stream of live pilchards begin to exit the livewell and the action and smiles start to materialize.
Thirty minutes and a few of these later we head back to the ramp.
Fall is here and so are the finger mullets. Although I didn't see the huge schools yet, they were around in almost all the areas I went to.
More Fishing Reports: