Good bonefishing in Biscayne bay and the keys
Capt. Alex Zapata
March 12, 2017
Biscayne Bay - Saltwater Fishing Report

Well, winter time is coming to an end and Spring is quickly approaching. We haven't had any serious cold weather but the wind has been blowing hard, which is typical during late February-march and April.
Lately, I have been bonefishing throughout the keys, from Biscayne bay all the way through Big pine key. The fishing in Biscayne and key largo has been pretty steady, even during days of lousy weather. In fact, those windy days, along with clear skies have been the best to find schools of mudding Bonefish. Most fish have been cruising and mudding hard during both tidal periods.
The bonefishing in the lower keys has been as good as it gets with big schools of bones in the 3 to 7lb range. These smaller lower keys Bonefish are usually very cooperative and easier to catch than the wily upper keys Bones.
The bonefishing will continue getting better as we get into spring time, and the water temperatures become more stable. Also, most angling pressure starts going towards tarpon fishing, leaving the bonefish flats empty for the anglers willing to turn the poons down and take advantage of the opportunity.
We have been seeing quite a few permit as well while working deeper edges. March is one of the best times of the year to fish for permit, before they move to the wrecks to spawn. Those windy days with blue bird skies in March can offer some world class permit fishing in Biscayne bay and the lower keys.
The tarpon marathon is about to start! I will be mainly flyfishing for these fish throughout the keys and the Everglades. I still have some openings in June. Give me a call and let's go after the big three!!
Hallam and Teresa bonefishing out of Islamorada. Their first time sightfishing for bonefish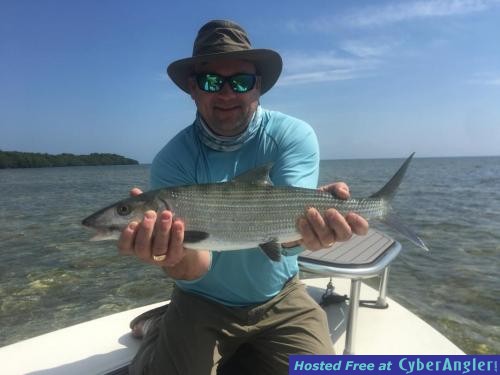 John smith caught his first bonefish ever in Biscayne bay

Capt Alex and fellow Capt Jeremy fisher having fun with some lower keys Bonefish

Capt Alex Zapata 
Flats fishing guide
IFFF certified fly casting instructor 
Miami, Everglades and the keys 
(786) 317-4733
www.silverkingcharters.com
silverkingcharters@yahoo.com

Biscayne Bay Fishing Forecast:

Expect the bonefishing to get better as spring time approaches. Expect good Permit fishing in March as usual (weather depending). Permit fishing slows down in April as most fish leave the flats and head to the wrecks to spawn. IT IS TARPON TIME!
Target Species:

Bonefish, permit, tarpon
More Fishing Reports: