Bonefishing in Miami and the keys -Fall weather in full swing
Capt. Alex Zapata
October 7, 2018
Biscayne Bay - Saltwater Fishing Report

Undoubtedly, Biscayne Bay and the keys are one of the most popular bonefishing destinations in the world. The Florida keys have earned a reputation of being a difficult fishery with highly educated fish, low numbers of shots and record size specimens. In other words, Biscayne and the keys are considered an "advance level" fishery for bones that offers quality vs quantity.
After the freeze in 2010, our bonefish population took a big hit, as well as the health of the areas they used for forage (the prolonged cold killed the grass at many areas). Between 2010 and 2015 we witnessed the bonefishing in south Florida go downhill tremendously. On the other hand, the redfish populations skyrocketed during that time. Mother Nature cycles I guess.
Well, things have turned around and now, we are having a harder time catching redfish and the bonefish are thriving throughout the keys. From Biscayne down to key west, the bonefishing has been as good as I've seen it in a long time.
This summer and fall I have spent a lot of time bonefishing all over the keys with very favorable catches and reports. Biscayne Bay has been producing double digit fish along with healthy numbers of smaller fish in the 3 to 5lb range.
I've seen more fish in islamorada this year that I remember in a very long time. However, these fish haven't been the monster islamorada bones we were used to hear about. Most fish we are catching around islamorada are between 2 and 5lbs. The good news are that they have been plentiful and we are seeing them and catching them in areas they had stop visiting several years ago.
The lower keys have also seen a tremendous improvement in numbers and size of bonefish. I have spent some days fishing down there with great success as well. The fish have been plentiful and some unusual big fish for those areas have been seen and caught.
I recently guided for a TV show down there and was lucky to find and catch some double digit fish for the camera. The show is called trophy taker outdoors and should be on air in the pursuit channel by the end of the year. stay tuned and check it out.
Fall weather patterns are in full force now. The calm days of summer are over and now we are experiencing higher winds (starting to come from the north) and cooler air temperatures.
The biggest tides of the year are starting to happen. Bonefishing can be tough with all that water but the fish can still be caught. Plan your trips around the lowest water and work the shallowest flats available. Permit love big tides and hard current. A fairly windy day along with good visibility is hard to beat for permit this time of the year.
Another great thing I love about fall is the bait migration. The schools of mullet and pilchards are starting to arrive in the bay, opening a new array of opportunities. Big jacks, tarpon, snook, sharks, ladyfish, snappers are the most common characters joining the party.
This is the time of the year I really love to fish for mutton snappers and grouper in Biscayne Bay. I like throwing the cast net, black out my livewell with bait and then go fish a shallow wreck in the bay. Mutton snappers are some of my favorite fish to catch and consume.
Hope my report was helpful to you. Give me a call and Let's go have fun!
Capt Alex Zapata
Flats fishing guide
IFFF certified fly casting instructor
Miami, Everglades and the keys
(786) 317-4733
www.silverkingcharters.com
[email protected]
🎣🐟🦈🐡🦀🐳🐬🐠🦐🐋
Follow us on Facebook
@silverkingcharters
Follow us on Instagram
@silverking_charters_


Byscayne Mutton snapper


Mangrove snapper


Snook caught on top water plug


Islamorada bonefish


Key west bonefish


Key west bonefish


Lower keys double digit bone


Snapper fishing in the fall


Filming in the lower keys


Islamorada bonefish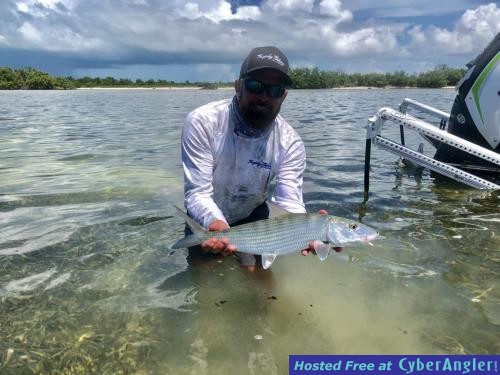 Filming in the lower keys


Ralph from Holland catching baby tarpon in Biscayne Bay
Biscayne Bay Fishing Forecast:

Fall time is here and the bait migration is in full swing. The mullet and pilchards draw great fishing in the bay for tarpon and snook, jacks, barracuda and sharks. Find the pelicans working the bait balls and you will be busy. Great time to load up on bait and catch snappers and grouper.
Target Species:

Bonefish, tarpon, permit, snook, snappers, barracuda, jacks
More Fishing Reports: