This was Epic!
Capt. Mo Estevez
September 25, 2020
Biscayne Bay - Saltwater Fishing Report

Well, this was epic! September 4, 2020
Last night I got a text from regular client Jake and Henry asking about fishing today and well I said yes and come Friday at 10:30am we were off for a 4 hour trip. These guys are always great so I knew this would be a cool trip but there was something coming I didn't expect. They asked me to catch fish they could eat and our first stop produced some fish but no keepers using live shrimp. The second spot worked out nicely with the guys catching some nice snappers, losing a few bigger ones and fish on every cast. We smoked through 60 shrimp in no time but with dinner in the well and live shark bait we headed south to the flats. BUT, along the way I noticed pelicans diving and I knew this was about to get real good. As I drifted towards the pelicans in 2 feet of water, I readied my cast net and by the time I was ready there was a school of pilchards so think they changed the color of the water. One throw of the net yielded all the bait I would need but I decided to throw a second time and had to dump half the baits in the water because the new was too full. WOW! Now the live well is blacked out and I run to a nearby channel I like and began to live chum. Well, withing seconds the water was boiling all around us and the guys absolutely wore out the fish. The landed mutton snapper, yellow jacks, big mangrove snappers, jack crevalles, horse eye jacks, and barracudas. It was awesome and it reminded me of fall fishing. Well, were just two weeks away from the beginning of the fall fishing and I think things may be changing sooner than expected.
Capt. Mo Estevez www.miamiboneFishing.com 786-853-1409 Follow me on Instagram @MiamiBoneFishing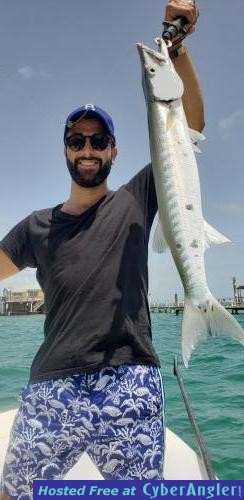 Target Species:

Mixed Bag
More Fishing Reports: