What an epic day today!
Capt. Mo Estevez
April 10, 2021
Biscayne Bay - Saltwater Fishing Report

I had Kevin today for a full day. We had tried to fish a few months ago but I was booked up but today was our day. Being tarpon season we started tarpon fishing and Kevin hooked four fish and landed two nice tarpon a 120lber and a manageable 60lber. What a blast watching Kevin hook and fight tarpon! Then we moved off to bonefishing where there were plenty of shots but they were being extra finicky today. When I was almost about to give up a fish moves in, Kevin makes a good cast and the fish is on! The day ended with Kevin catching a few mutton snappers including one for dinner. Wow, what a day!
Capt. Mo Estevez
786-853-1409
Follow me on Instagram @MiamiBonefishing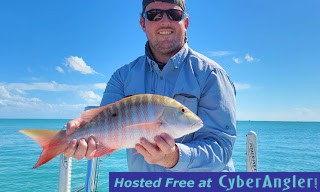 More Fishing Reports: