Late Summer - Early Fall Bonefish and Permit Fishing
Capt. Alex Zapata
September 15, 2016
Biscayne Bay - Saltwater Fishing Report

The fishing for bonefish and permit has been solid in Biscayne bay. We have been finding a good amount of tailing fish in the early Morning hours and cruising/muding fish through the day.
Eduardo joined me for a day of flyfishing in south Biscayne bay. We started the day looking for tailing fish and found a pod of 4 bonefish at the 2nd spot we hit. Eduardo placed a very good shot but the fish ignored our offering and spooked off. then we had 1 shot at a cruising permit that had better things to do rather than eating chicken feathers. Around mid day, we arrived to a flat with several fresh muds indicating the presence of fish in the area. We immediately started to spot bones and got rewarded releasing a nice 7lb silver bullet, taken out of good size school of muding fish. Then, we focused on permit, managing to get about 9 shots on fly but no takers. despite the lack of catching, that is a very good day of permit fishing on any flyfisherman's book.
If you are up to the challenge of catching these beautiful and smart fish on the long rod, give me a call and I will be more than happy to help you conquer the quest!!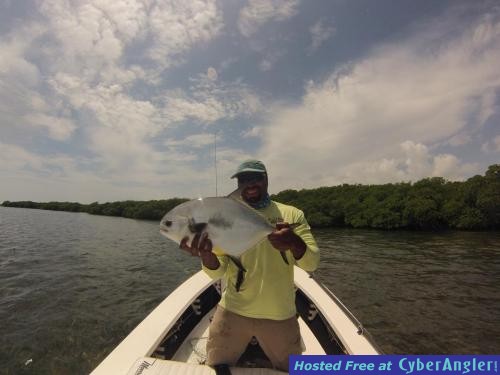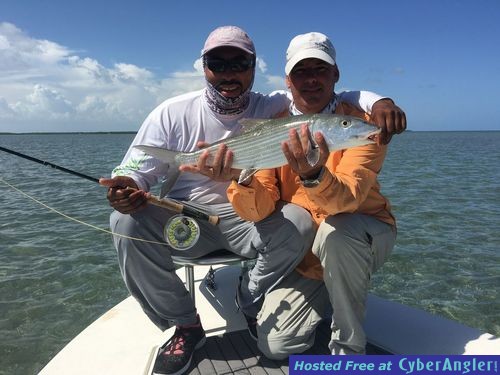 Biscayne Bay Fishing Forecast:

Bonefish and permit fishing will remain solid through fall. The fall bait run is starting to heat up and it's only going to get better as we head into October. Tarpon, snook, jacks, redfish, trout and snappers will be tight around the schools of bait in both, Biscayne bay and flamingo. The tarpon fishing is going to get excellent as more bait arrives to south Biscayne bay and the Everglades.
Target Species:

Bonefish, permit.
More Fishing Reports: