Spring time is here and the fishing is HOT!!!
Capt. Raul Montoro
March 17, 2009
Biscayne Bay - Saltwater Fishing Report

I finally have the time to sit down a write another fishing report. I haven't had a day off in three weeks, and I was well due for a day of rest. Unfortunately my days off consist of doing repairs on the boat, fixing trailer lights, and tying tarpon flies.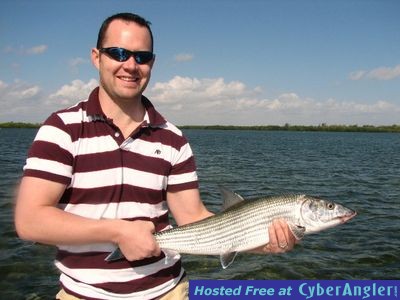 Most of my trips have been in Biscayne Bay chasing bonefish and permit. Spring is one of my favorite times of year to fish and thankfully most of the cold fronts have passed us and the water temperatures are finally warming up. The bonefishing has been phenomenal! The fish have been mudding and eating really well. This is a good time of year when you can have shots at fish all day long and for someone who has never fished in Biscayne Bay or the Florida keys, the more shots you have the better chances you have at a hook up.


I would say half of my tips have been fly trips and the other half fishing with spinning tackle. There is one thing that I can't stress enough, if you never saltwater fly fished or ever bone fished in south Florida, I highly recommend you practice as much as you can before you come down. This would make you much more comfortable on the bow of the boat and it will make your guide very happy that you have been practicing. You spend good money hiring a guide to fish for a day or two, so you really want to be prepared.


First thing you must be able to double hall your fly line. Second you must cast at least sixty feet accurately. Remember bonefish and permit are always moving, so spending a few day's a week casting in a park or your near by lake with some targets in place is a good idea Third you must be able to cast into the wind. Some of the best bonefishing is on windy days when you have clear skies. This past week there were quite a few fish between 12 and 14 pounds caught and it's was blowing a steady 15 to 20 MPH everyday.


Bonefishing and permit fishing is not easy, but not impossible. The more time you spend doing it the better you will get at it. There is a reason why they are in the top three of game fish that South Florida has to offer.


Now is a great time to try your shot at a bonefish or permit, and I highly recommend if you can do at least two day's it will definitely increase your chances at getting a giant!!
Capt. Raul Montoro
www.biscaynebayfishing.com
(786) 390-9069

Target Species:

Bonefish, Permit, Tarpon
More Fishing Reports: