Tarpon season 2019
Capt. Alex Zapata
May 13, 2019
Biscayne Bay - Saltwater Fishing Report

The month of May is all about tarpon fishing in south Florida and the keys. I've been out almost every day during April and May, chasing silver with clients. 95% of my clients come to throw flies this time of the year but I do a few live bait trips in the bridges and channels from islamorada down to big pine key.
I've been in Biscayne Bay only a couple of times doing some bonefishing in between tarpon shots with a lot of success. The bonefish have been around in good numbers along with some permit visiting the deeper edges of the flats while tarpon fishing.
We are already experiencing an early summer weather pattern with lots of thunderstorms and rain in the afternoon, followed by calm weather after the storms. Bonefish and permit love that calm period after all the mess and is not unusual to see lots of them happily tailing after the worst weather has moved out east towards the ocean.
Almost all these storms come west from land and work their way east towards the ocean side so know the body of water you're in, time the weather wisely and look for shelter if the storm is upon you, specially if there are strong winds, rain and lightning involved. Summertime thunderstorms can be very dangerous and a really nice weather day can turn into chaos in no time. Please be safe out there.
I still have some days available towards the end of June. Give me a call if you want to get on great tarpon, bonefish or permit fishing, flyfishing or light tackle alike.
Capt Alex Zapata
Flats fishing guide
IFFF certified fly casting instructor
Miami, Everglades and the keys
(786) 317-4733
www.silverkingcharters.com
[email protected]
🎣🐟🦈🐡🦀🐳🐬🐠🦐🐋
Follow us on Facebook
@silverkingcharters
Follow us on Instagram
@silverking_charters_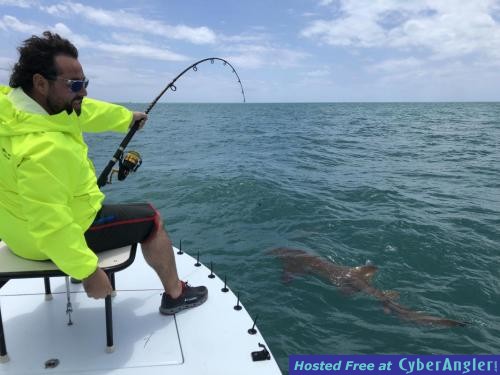 Bridge live bait tarpon by catch
Biscayne Bay Fishing Forecast:

The big numbers of migratory tarpon will be around until the end of June. Some fish will stay all the way through almost the end of July so don't write flyfishing for tarpon off in July if you couldn't make it in June.
Expect great bonefishing and permit fishing with very low pressure on the flats as the masses are still pursuing the silverking. By the end of June everybody will start to focus on summer time fishing for bones and permit again. I have always said it, summer time offers the best fishing we see all year for just about any species that swim in our waters. Book a trip in July, August or September and experience the amazing fishing that takes place in Biscayne Bay, the Everglades and the keys during the summer.
Target Species:

Tarpon, bonefish, permit
More Fishing Reports: