Two incredible trips today!
Capt. Mo Estevez
February 21, 2021
Biscayne Bay - Saltwater Fishing Report

Two trips today with completely different goals which illustrates the need to stay flexible and ready as a guide in Miami. My morning trip was with Eric and his father in law Jim and Eric wanted to try bonefishing. Jim on the other hand wanted to relax and hang out plus of course catch a fish. With the wind building as the minutes went by I took them to a spot where the tide was perfect and got to work. Ha, it didn't take long as Eric hooks up and the fish is running so hard and fast into the wind I had to crank up the motor and follow it. When the fight was over a 12lb bonefish was in the landing net recovering before we took pictures of this beautiful fish. Wow, what a start! After release Eric tells Jim "your turn next." and it wasn't long until indeed Jim was on to another solid fish! This time I didn't have to give chase but it smoked the drag and then a 10lb bonefish was safely in the landing net. Geeze! We wrapped it up and fished other spots to get away from the increasing wind.
My afternoon trip was with regular client David and Nicole from N.Y. I had plans for snook and general crazy fish catching action but David wanted sharks. No problem, we caught bait and hit the flats. We saw one shark, a massive lemon that came by the boat, turned on the scent and ate one of the baits and the craziness was on! A long tough fight later the 200lb lemon was next to the boat and released. We hooked another big lemon but it broke off and finished the day hooking a massive nurse shark that spit the hook.
Capt. Mo Estevez
786-853-1409
Follow me on Instagram @MiamiBonefishing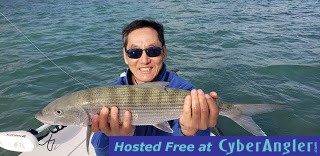 Target Species:

Bonefish
More Fishing Reports: