Boca Grande Dorado technique
Capt. Darel Carter
June 23, 2015
Boca Grande - Saltwater Fishing Report

THIS TECHNIQUE CAN BE USED IN THE GULF WHILE GROUPER FISHING ON THE DRIFT. IT WORKS!
My wife, brother and I arrived at Sand Sprit boat ramp (Port StLucie)at day light. I launched the boat and we pulled over to the bait boat to purchase live green backs. The bait boat was about 20' long and had two four-foot circular live wells in it. The bait is caught under a bridge at night then the boat and bait is moved south by trailer to Port St Lucie. He then launchers the boat back in the water to run fresh seawater through the tanks. This guy does this every day and sells about 3000 7" green backs for $ 1.00 each.
We bought 40 green back and we were headed to the bait catching area that was about 3 miles away. The bait that we bought was back up just in case they were not off shore. The bait catching went great. We used size 6 Sibiki rigs with 1.5 oz sinker attached to the bottom. The bait balls were huge at about 20 yards wide on top. We filled the bait well with thread fins, cigar minnows and scaled sardines.
Offshore we went to find a weed line the stretched from north to south. We stopped on the second line and set out three live baits on 7/0 hooks and 50lb mono leader. My wife was the first to hook up with a nice 42" Mahi Mahi. The Dorado came from a large thick matt of weeds. We also caught four short Mahi that were released.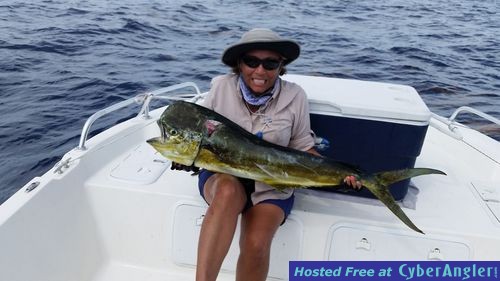 On another drift, we hooked up on a rather large Sailfish that was fought, filmed and photographed. The video is on my face book site facebook.flatsfishingguide.

We went through a dry spell with no hookups or sightings. Our next try was to move into shallower water for some bottom fishing. We had flat lines out as we bottom fished. Then the first hookup was my wife with a beautiful 44" Mahi. My brother hooked up at about the same time with a 42" Mahi.I had another big Mahi try to eat my bottom rig as I reeled it in. We put 4 Mahi in the boat in about 3 minutes. The first one that was put in the cooler popped the lid open and almost got out. My wife sat on the lid while stile fighting her first Mahi. What talent. No other fish after that.

If you want to charter a flats fishing trip out of Boca Grande, Placida or Punta Gorda area contact me (Capt. Darel Carter)at 941-456-0415 or visit www.hookedoncharters.com I can also make custom fishing rods.

Boca Grande Fishing Forecast:

Locate flats forecast is a buffet of fish using live bait. Spanish mackerel, sharks, blue fish, trout, flounder,red fish, snapper and snook. The bite has been hot just like the weather.
Target Species:

Trout, snapper, Snook, spanish mackerel, blue fish and flounder.
More Fishing Reports: