Fishing out of Boca Grande florida
Capt. Darel Carter
July 2, 2016
Boca Grande - Saltwater Fishing Report

May 31, 2016
My long awaited American Red Snapper trip was one day away. I had planed a first time American Red Snapper trip with my good friend Joe, out of Boca Grande. I had planed to meet Joe at Millers Marina (Boca Grande Marina) on June 1st to go out in his 34' Cabin style boat.
Aaron, Sheena and I planed to catch pinfish and meet Joe at Millers on May 31st to keep the bait over night. That went well with plenty of bait caught at Gasparilla pass with a cast net.
I had asked around and did some Google searches on a depth to start looking for Red snapper. One site advised at about 120' out of Boca. Then I got luck-real lucky. I repair rods for Fisin Franks and made a drop off of repaired rods. I asked in the shop and Mike said I know who to ask. He set me up to call a person that fishes a lot off shore. I called him before I left Franks and got invited over. I actually went on his boat and got five GPS number for red snapper spots. Unheard of.

We headed off for the first spot at daybreak. The weather was great and the seas were flat. The five numbers did not produce any fish at 138 feet. So we did what we normally do, start driving around and looking at the bottom. We found what looked like 5' rocks or something coming off the bottom. We anchored up and absolutely killed them. All five of us limited out on Red snapper and Red grouper by about 1pm. I caught the biggest red grouper (31.5")on a jig with Joes fishing rod. I got Joe good, I asked if I could us his rod behind him because it had a jig on it. I tossed it out on the first through and instantly got hooked up. It came off and I let right back down and hooked up again. It was a giant red grouper. Joe tolled me that that grouper was his. I agreed and told his I will clean it at my house. I gave him his fishing rod back. Ha Ha.
We caught the red snapper on bare jigs, jigs tipped with squid, live pinfish and cut squid. The biggest red snapper was about 27" long. Ed and I also caught a big keeper red grouper at the same time.
He hit Eds live bait then ate my jig. Yes, they were hungry. Two large (15.5") lionfish were caught. One on a jig and one on live bait.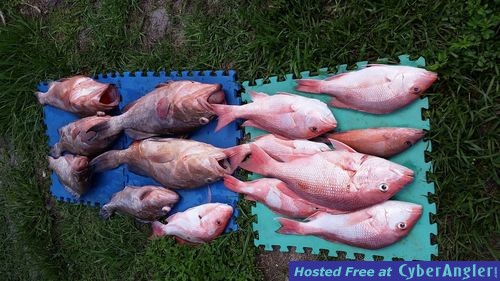 We trolled back in and I caught a small Kingfish on a ballyhoo rig.

Boca Grande Fishing Forecast:

My 10 yr old Grandson is in 1st place Cobia in the CCA Fl tournament and the 7yr old caught his 1st Goliath grouper (40" long). My customers out of Georgia caught a 37" Snook of a live time last week.
Target Species:

Flats fishing florida for snook, trout redfish and Tarpon.
More Fishing Reports: