SW FL-Bonita Beach: Big Drum, Grouper, Plentiful Snapper
Capt. Dave Hanson
March 18, 2013
Bonita Beach - Saltwater Fishing Report

Finally, a day with warmer temps, light winds and calm seas—That was just what frequent customers Ron Musick, Eddie Alfonso, and Dick Arnett were hoping for on Tuesday, 3/5, when we headed out to fish about twelve miles west of New Pass, with a bait-well full of live shrimp. And, what a glorious day it turned out to be. By about 2PM, the group had caught a 33-inch, 20-pound black drum, sixteen nice, keeper sheepshead to 17 inches, a dozen nice mangrove snapper keepers to 15 inches, and a keeper triggerfish at 14 inches. They also released a 28-inch, 10-pound gag grouper.
What a difference a day makes—Wednesday brought a new cold front, with small craft advisories, 25 knot winds and morning rain. I cancelled my offshore trip and remained in port.
Thursday, 3/7,was a no-go for offshore again, but it wasn't quite as windy as Wednesday had been, and there was no rain. Canadians, Jeff Perom and his two young sons, Charles and Ben, were well trained for tolerating the colder temperatures that began the morning, and they decided to fish inshore, since that sounded like more fun than cancelling the trip. The boys had fun using live shrimp to catch and release two crevalle jacks and six sheepshead to 13 inches.
Friday, though it was a bit sloppy first thing in the morning, calm seas returned, as did our lovely moderate temperatures. I fished nineteen miles west of New Pass with frequent customers, Jim McGrath and Bill Crockett. The guys used live shrimp to catch twenty-five mangrove snapper, and kept a dozen of those that ranged in size from 13 1/2 to 17 inches. They caught several different kinds of porgies, and released all but two whitebone porgies that were 14 inches long. They also caught a half-dozen nice sheepshead to 17 inches, but chose to release those, as they already had enough fish. They released a few yellowtail snapper shorts to 11 inches, along with grunts and several gag and red grouper shorts to 18 inches.
By Monday, rougher seas were here again and my offshore anglers were leery of the two-to-four footers predicted, but did not want to fish the backwaters. So that day was a no-go. Tuesday, 3/12, brought much worse conditions, with three-to-five foot seas, and my offshore trip for that day also cancelled.
Wednesday morning, 3/13, Jim Jambor, Jim Burton and two friends of theirs fished the backwaters of Estero Bay with me, where we puddle-jumped a bit to stay as sheltered from the wind as possible. The guys used live shrimp to catch twenty-five fish in all, releasing seventeen sheepshead to 12 inches, a crevalle jack, and a 13 ½-inch black drum. They caught and kept a 14-inch pompano and a 19 ½-inch redfish.
Thursday, winds howled and small craft advisories remained in effect. My offshore trip cancelled and, though I had several potential customers waiting for an opening to fish the bay, it looked like an exercise in frustration, with high winds and low tide, so I remained in port.
Friday morning, 3/15, I fished a catch-and-release trip in Estero Bay's backwaters with Garrett and Jill Zielinski. The couple used live shrimp to catch a two-foot long ladyfish, eight sheepshead to 14 inches, a brace of 13-inch black drum, and a crevalle jack.
Saturday morning, seas were calm, at last, and I headed out nineteen miles from New Pass with Justin Rupert and his dad, Dennis Rupert. We had a great morning of fishing, using live shrimp to catch nine nice whitebone porgies, all 14 to 16 inches, a 23-inch Spanish mackerel, a 20-inch kingfish, five porkfish and four large sheepshead to 19 inches. Had grouper season been open, we would have scored big with gags—We released four would-be-keepers to 24 inches. We also released six red grouper to 19 7/8 inches.
The photo shown is of angler, Richard Arnett with a 28-inch, 10-pound gag grouper, caught on shrimp and released on a recent offshore trip.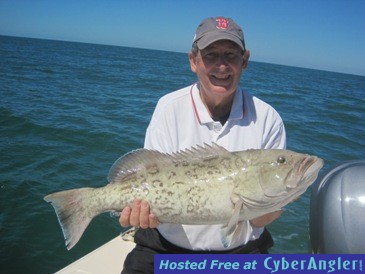 You can check out all of our shark and goliath grouper action videos at the following link:
www.fishbustercharters.com/fishing%20videos.htm
Bonita Beach Fishing Forecast:

Winds and seas are to be calmer into at least mid-week, than they have been recently. So, offshore fishing should be good for grouper, snapper, porgies, sheepshead, drum and lots of other bottom varieties biting well now. Inshore should be productive for redfish and sheepshead, as well as smaller snapper.
More Fishing Reports: