Tarpon and Snook
Capt. Bert Barkus
June 15, 2009
Chokoloskee - Saltwater Fishing Report

Well tarpon seem to be what have been the species most of my anglers are searching for at the present time.Their pleanty on the gulf side as well in the back country.
It isn't easy catching,but you just hsve to catch them at the right time for it to be a sucessful trip.
The snook bite is still on and were still in the 15 to 25 snook catch rate.
During the day were still having shots at the big guys crusing and maybe catching a 10 to 15 pounder.
The deer flys are pretty bad out back, so wear long sleeved shirts as well as long pants with shoes and socks.
The weather stability has been what we've been waiting for, and it's finally here.

Watch out for the afternoon storms,they have been bad.
So plan on going out early,and coming back early so you will miss those bad afternoon storms.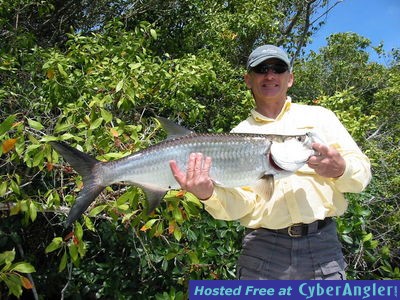 Capt. Bert Barkus
Lostmans5@msn.com
www.ChokoloskeeIslandCharters.com

Chokoloskee Fishing Forecast:

Better weather, and catching more fish as summer is just around the corner.
Target Species:

Snook,Tarpon,and Reds.
More Fishing Reports: