Small Cold Fronts Big Bite !
Capt. John Fischbach
November 17, 2015
Clearwater - Saltwater Fishing Report

Absolute Florida Flats Fishing Guide Service with Capt. Rich Knox reports with the 1 st sets of baby cold fronts couple with the shorter day's have the water tempertures hanging below 80* F, signaling the beginning of cooler weather to all the predator game fish on the inshore fishing flats ! Snook are migrating to there winter hangouts up the estuary systems, rivers, bayou's, deep creeks, and warm water natural springs that are havens for them during the cooler months, right now pilchards work best when available. Red-fish are on all the flats in good numbers, oyster bars shell points, mangrove lined barrier islands and in some areas up in the rivers on deep water docks. Big Spotted Sea Trout
are moving in and using the flats from the barrier islands to the inshore main-shoreline, pilchards are still the best bait going as all these species are looking to put on some winter fat to get them through, the pilchards are full of it and loaded with protein, Depending on the structure your fishing use a medium light spinning outfit in the 7-8 foot range rated for 10 to 20 lb. braided line with a fluorocarbon leader of 4-5 feet in length from 20-30lb. teat, all tied line to line connections finished with a live bait hook that varies in size to not impede your bait from swimming naturally ! Tight Lines !!!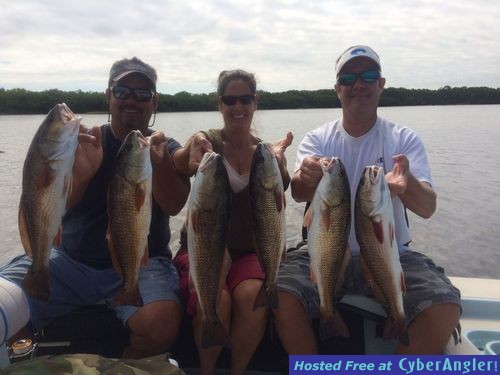 Clearwater Fishing Forecast:

As long as the big schools of pilchards hang around the fishing will remain very good !
Target Species:

Snook, Red-fish, Spotted Sea Trout
More Fishing Reports: