Black Drum, Sheepshead, Bluefish and Jacks all Available in Wint
Capt. Ron Presley
March 20, 2009
Cocoa Beach - Saltwater Fishing Report

A Day of Prospecting
This report covers the past several weeks where I had only a few days on the water. Each day, however, had something to offer in the way of winter fish. On one trip my good friend Capt. Chris Myers joined me for a little prospecting the day before a multi-boat event that included a trout, snook, and redfish tournament. We scouted various areas of the Banana River for fish. In the end we had found redfish, although they were not willing to cooperate with us on this particular day. We found black drum which were more cooperative and we found sheepshead willing to bite on fly.
Captain Chris is an excellent fly caster and was first to hookup. He cast a small black fly to a school of black drum we found around some docks. He commented that for the black drum he has had good success with this small fly worked slowly along the bottom.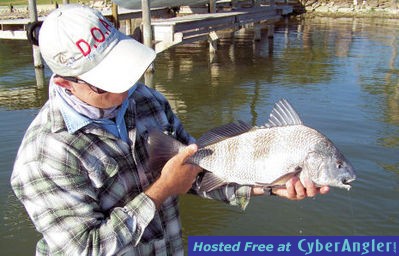 We also found sheepshead mixed in with the black drum. Having never caught a sheepshead on fly Capt. Chris decided to give it a go. Once again a small black fly was presented successfully to the sheepies and it wasn't long until he was hooked up. Now he has added yet another species to the many that he has caught on fly. Just a note in passing; sheepshead are know to be very tough to catch on fly so this was more than an average accomplishment.
Tournament Time
The next day we fished the above mentioned tournament. We both caught redfish and sheepshead and Chris added black drum. Unfortunately none of our fish were in the money at the tournament but it was a fun day on the water. The organizers raised $75,000 for a foundation called "Give Kids the World."
Jacks and bluefish are still active and available to catch. On one day I ran out of jig heads because the bigger jacks were chaffing my 15 pound leader and breaking off. I changed to 30 pound and caught a few more but the bites were greatly decreased with the heavier leader. With no more jig heads I had to improvise. I simple attached a 3/0 circle hook to my leader and pinned a Rip Tide 3" mullet thru the nose, bottom to top. (See picture). I add a split shot to the shank of the circle hook for weight and went on fishing. This rig worked well and lip hooked the fish were their rough mouths were unable to chaff the leader and cause it to weaken.
That's what it's all about. Good fishin'.
Capt. Ron Presley

More Fishing Reports: