Red Grouper time!
Capt. Zachary Hoffman
April 1, 2013
Crystal River - Saltwater Fishing Report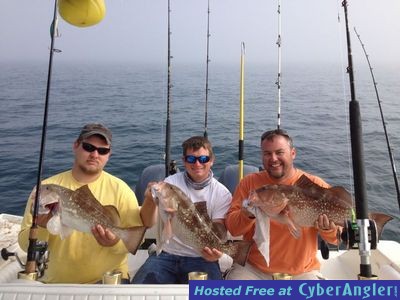 oday is the day I have been waiting for.... For 2 long months... Today Red Grouper opens and I will be running offshore charters in my offshore boat a-lot more. Inshore fishing is a-lot of fun but I always say "Offshore is where it's at." I do get the question "why pay more to go offshore fishing when I could just do an inshore charter?" Well when you go offshore of Homosasssa you see things you would never see inshore, different wildlife, different fish, and we always come back with a cooler full of great tasting fish. This month our focus will be on the Red Grouper and Amber Jacks, fishing 55-80 feet of water using big buck-tail jigs tipped with cut bait for the Red Groupers and live bait or vertical jigs for the Amber Jack. I went out the day before the season opened to pre fish with some friends and get on the grouper. The grouper were very plentiful and we ended up coming home with a cooler full of grunts for the dinner table (YUM.) Offshore prices start at 800, and that is for 1-4 people full day, out to where we are catching the Red Grouper and big Amber Jacks. This is a very competitive price when compared to other companies in the area, and around florida.
Inshore fishing is on fire right now too, we have been getting limits of trouts and a few reds and sheepshead on almost every trip, and there are a-lot of big trout and reds on the shallow flats. We have been having lots of success on DOA Jerk baits and Mirrolures. The bight has been best in the afternoon, but that will change toward the end of the month as the water temp comes up and stays up. Good luck, and I look forward to seeing all of you out on the water soon!
For booking information call Capt. Zach at 352 220 1184
Crystal River Fishing Forecast:

The fishing will continue to improve as the water temp rises, the trout will start to move out, already seeing a few out on the deeper flats
Target Species:

Red Grouper, Trout Redfish Snapper
More Fishing Reports: