April 2013 Backcountry Saltwater Mosquito Lagoon
Capt. Michael Savedow
April 6, 2013
Daytona Beach - Saltwater Fishing Report

After a very mild mid winter, March arrived with chilly winter conditions in east central Florida, dropping water temps back into the upper 50's for much of the month. Spring time is great for backcountry mixed bag fishing, returning from south Florida are the schools of inshore migrating gamefish eager to feed as they make their way north on an annual trip from winter haunts, following the rising water temperature change and ending up by summer as far north as the Outer Banks NC area. Joining our resident backcountry Spotted Seatrout, Redfish, Sheepshead, and Black Drum will be larger numbers of Jack Crevalle, Bluefish, and Ladyfish making for lots of fun rod bending. Light tackle free line fishing with live shrimp and soft plastic DOA lures are my main technique for fast action. Samantha pictured with a good Seatrout while on her family's mixed bag trip with me.
Mosquito Lagoon grass flats are our location of choice for hunting Redfish, now in a transition between winter and summer pattern for Reds, schools will be breaking up into smaller groups and some single fish as the water warms now that April has arrived. Larger amounts of bait fish also returning from the south will be targets of our attention as Reds and Trout have a habit of shadowing mullet on the grass flats as the baitfish root in the grass for algae, thus displacing shrimp, minnows and other easy pickings for the shallow water game fish. Local clients Derrick and daughter Katlin pictured, were with me recently on a chilly March morning hunting the flats catching a few good Reds and also a couple quality Trout.
We have great wildlife viewing during every trip here on the Florida Indian River, with Dolphins up close and personal, Manatee sightings on most trips, not uncommon to see a Bald Eagle soaring above, and a large variety of wading birds and Osprey every day.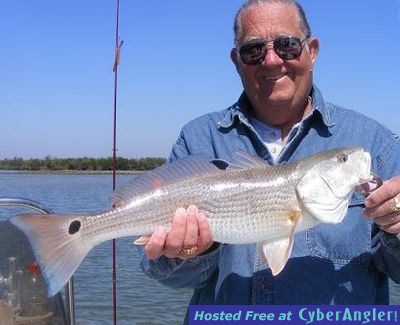 MY BOAT COMFORTABLY ACCOMMODATES 1 TO 4 ANGLERS
Located close to DAYTONA BEACH, NEW SMYRNA BEACH, ORLANDO, KISSIMMEE, DISNEY WORLD, SPACE COAST, COCOA BEACH, EAST CENTRAL FLORIDA. Saltwater Inshore Fishing. Feel free to contact me at any time with questions you may have about my fishing charters. Mosquito Lagoon Fishing Guide. Flats Sight Fishing, Inland Fishing, also Eco-Tours, Sightseeing, Bird Watching, Photography Trips.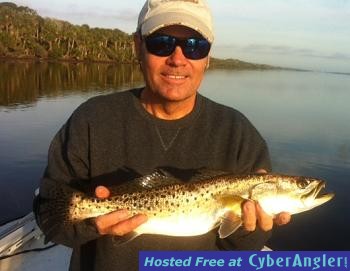 CALM WATER INSHORE SALTWATER FISHING – NO SEA SICKNESS
CALL ME ANYTIME AT 386-689-3781
CHILDREN ALWAYS WELCOME – FAIR PRICES
Capt. Michael Savedow
Edgewater River Guide, Inc.
386-689-3781
email> EdgewaterRiverGuide@cfl.rr.com
Website> http://EdgewaterRiverGuide.com

More Fishing Reports: