August 2019 New Smyrna Daytona Beach Mosquito Lagoon
Capt. Michael Savedow
August 9, 2019
Daytona Beach - Saltwater Fishing Report

The summer of 2019 is going great with lots of fun fishing trips, we catch lots of different species of fish on my backcountry variety mixed bag trips, the highlight fish are Seatrout, Snook, Black Drum and Redfish, but other good fish we catch more numbers of include Mangrove Snapper, Jack Crevalle, Ladyfish, Whiting, Pompano, and always some surprise catches too, this year some of the unexpected fish we have caught include Permit, Bonefish, Sharks, Scorpion Fish, Mutton Snapper, Horse Eye Jacks, and Cutlass Fish. Summer can have high species variety as some of the more sub tropical Florida species move a little further north during the warm time of year. Long time repeat clients from Georgia out with me recently on a father son trip caught lots of the different fish types top off by a pair of Photo and Release Snook, both on light tackle with big battles, fast work on photos to always get fish back in the water quick especially in summer with warm water and lower oxygen levels, son Lance with a 28" linesider…………
……….. and father Tory had to get a bigger one with a 29" Snook……………
Local Central Florida repeat clients from Mt. Dora came out again on a Seatrout targeting trip with live baitfish, also catching some good size Jack Crevalle and Snapper, Mike with one of his better Speckled Trout …………..
…………….and Tim with another nice Seatrout……………..
One of my trips was part of the Florida honeymoon plans for a couple of newlyweds from North Dakota, Alicia with a nice Black Drum …………….
………..and hubby Doug with another fun size Drum ……………….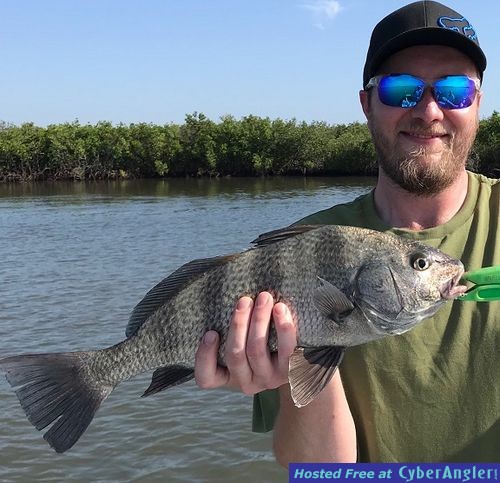 Jordan from Indianapolis caught one of the surprise fish which should not be this far north in Florida, a little Bonefish …………….
FUN FRIENDLY LIGHT TACKLE FISHING ADVENTURES
Indian River and Mosquito Lagoon Backcountry and Flats Fishing
CHILDREN ALWAYS WELCOME – FAIR PRICES
Near Daytona Beach, New Smyrna Beach, and Orlando, East Central Florida
CALL OR TEXT ME ANYTIME 386-689-3781
See my website https://EdgewaterRiverGuide.com
Capt. Michael Savedow
Edgewater River Guide, Inc. Since 2003
386-689-3781
https://EdgewaterRiverGuide.com
More Fishing Reports: