Redfish Galore and More
Capt. Joe Porcelli
February 22, 2013
Daytona Beach - Saltwater Fishing Report

Fishing has been off the charts the past two months. Massive schools of redfish have been pushed off the flats and are aggressively chewing baits like they have been fasting for weeks.
Bob and Rich Warner caught eight trout and many redfish up to 45 inches on a trip with me recently. I have been on the water every day last week and we had double and even triple hook ups every day. One of the reasons the reds are so schooled up is because the water had dropped out narrowing the playing field and concentrating the swimming space. When driven off the flats, they bunch up in massive schools because that is what they do from the time they are hatched. Safe in numbers! For the most part we have been tossing shrimp, hooked Capt. Joe style pinch the tail off and hook them in the tail. They stay on better this way and fly through the air better and they are already in their defense mode when you retrieve them.
Above are the Warner brothers and a 45" redfish!
Below: Capt. Joe displays an 8# trout!
We are also taking a good number of trout up to eight pounds on the flats. The smaller trout are in greater numbers in the deep holes but the bigger fish are on the flats. The smaller fish cannot tolerate the cold water like the bigger fish can. And the osprey has a harder time carrying the bigger fish away if he dives on them. It is a great time to be on the water and catching many fish while it is so shallow. But you should not run your usual route because chances are you are tearing up the grass beds and leaving prop scars.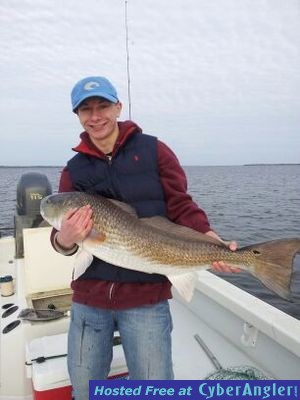 Josiah with a 43" redfish!
Some flounder are still around and your best bet is to cover ground bouncing a jig with a Gulp shrimp on it. We also caught triple tail this past week.
Remember! Think like a fish to catch fish.
Or just call me. 386 314 5656

Target Species:

Redfish, Trout
More Fishing Reports: