Fantastic Fishin' for the Fourth
Capt. Larry Pentel
July 8, 2014
Destin - Saltwater Fishing Report

Man, it sure was busy here at the beach for the 4th of July holiday. The weather was fantastic and the fish were biting. To make it even better we had a weather anomaly where the Gulf water temp dropped about 8-10 degrees around the 1st of the month. It made the Kings disappear but turned on the Grouper and Snapper bite as well as made it nice to jump in the Gulf on a 90 degree day !
We have had a lot of really great catches and it's hard to choose which pics to put up on the fishin' report. Here are a few with no other reason than to prove my old adage that Gals and Kids will always outfish the Guys if they are into it.

This group decided fishing here was better than back in Connecticut. As usual, the Gals highlined

These guys needed more nails, still more good fish in the box from this morning half day

Another Fantastic 4 hr catch. Mom and the kids crushed 'em

2 more ace fishergals with a fine double up catch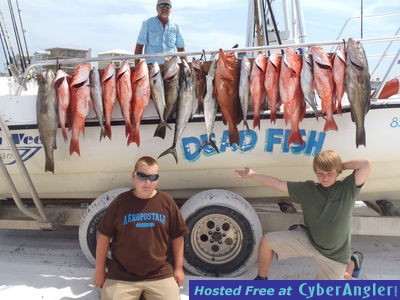 What a catch ! These 2 jr. anglers highlined the dads....

These gals got 'em ! Fine Snappers and Groupers

Proud of that cobia

Limit Red Snapper, King and a Blacktip on a quick 2 hr afternoon trip
The water temp has slowly slid back up and the Kings showed again today. I'm sure they will be hungry for the next few days as they get back into a "normal" water temp. I'm sure we will still be getting nice limits of Snapper ( at least through the 14th )and landing a few of the many Grouper that will be biting. I may just have to work a little harder and hit a few more spots than I did last week.....
I am booked up at Grayton for the rest of my time here in July but still have a few days open at Indian pass the third week of August to chase Tarpons and Tripletails. I'll be back to Seagrove/Grayton in time for the Labor day holiday and still have some open slots then as well.
Get out there and catch something !
Destin Fishing Forecast:

Hot Hot Hot !!!
More Fishing Reports: