Steady Fishin'
Capt. Larry Pentel
November 8, 2016
Destin - Saltwater Fishing Report

Like the title says, I have been steady fishing. A few breezy days that have shut us out or shortened the trips but I have been able to fish a lot more this fall than most years. The weather has stayed warm and very dry, keeping the Kings and Vermilions going strong but slowing down the Flounders and Jacks that are usually hot and heavy by now. I see this as a good thing, the fish have been doing this for thousands of years and they are going to show up when the temps are right for 'em. It'll be pretty great if we are limiting out on Flounders in mid January !
My folks over the past couple weeks have had some really great boxes of fish with big numbers of Vermillions but the Jacks and Mahi have just started to show and we really haven't targeted the Flounders (yet). Probably the biggest catches that have not made the pictures are the Triggerfish. Not only are they everywhere but a lot of 'em are BIG ! We seem to hit a few spots everyday that you can't even stay on and fish due to the sheer number of triggers around. Meanwhile the Feds say that they are underpopulated and overfished... oh well, if you trust the government I have not only a few bridges but also a couple boats I'd like to sell you.....
I digress, here are some pics to prove there are plenty of fish to keep still around !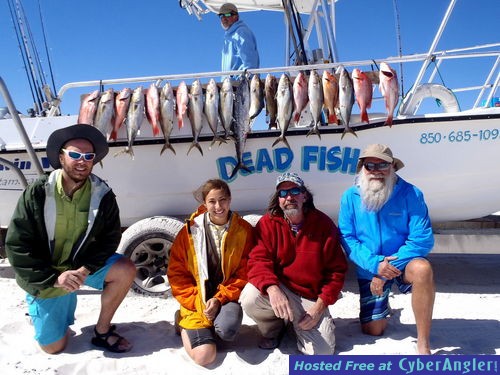 One of my "Fall Regular" groups that come every year to fill the freezer on day one of a 2 day weekend trip to SOWAL. It was the gals 1st time but the guys have a lot of years in.

Same group, day 2. The gal had it figured out and kept up with the guys after just a little experience on a beautiful fall day.

These guys had a great trip on one of my last afternoon trips of the year. Once the time changes I just can't run 2 and get it all done by black dark....

One of the pluses to working dark to dark though...A fall sunrise over the Gulf is always an great view...

A great weekday family trip with Kings and Vermillions filling the board.

A father/son regular group on that young mans birthday trip. At 10 years old (now) he can catch just about anything that bites with no help from any one other than moral support, he caught those Kings by himself !

These 2 1st timers were treated to a limit of Vermillions, a great King rally and some fine Mahi

Another 1st timer couple with a fine catch... these two will be back !

Another group of 2 that filled the board with Snappers and Kings

These fall regulars got handed a rough weekend. We came in early on this trip, getting a limit of snapper and jacks in less than 3 hours
There are just a few more days left to catch red snappers this year in Florida. I am actually looking forward to 'em being closed so we can chase some of these other critters on the pretty days !! My folks this coming Friday and Saturday are wanting a limit of Red's but I am hopefull we can get some Flounder time in here pretty soon....
I can see a family trip with the capt. getting to fish on a calm day here soon....
Capt. Larry Pentel
DeadFish
More Fishing Reports: