The Temps are Fallin' and the Fishin's Fine
Capt. Larry Pentel
November 9, 2017
Destin - Saltwater Fishing Report

We have had a great stretch of wonderful weather here at the beach. Until today it's been warm, sunny, calm and crystal clear water. We had a little front come through this AM and while the temps may drop a little the Gulf looks to stay quite fishable and the skies sunny for at least a couple more days.
The slightly cooler water has the bait all ganged up on the beach and the Kings have been steady eating them getting fat for fall. As always, some days better than others but we have been able to find a least a few every day and have had to leave 'em biting after a rally more than once 'cause we couldn't keep any more. After all these years I STILL get excited in a King rally. Plenty of Vermillions in 80'and beyond for a snapper dinner fix AND we got to keep TriggerFish last weekend in Fl state waters. I ran a couple charters as well as a family fun trip to put Triggers in the box and I must say it sure was nice being able to eat a few. Boy were they easy to catch too ! We have found the Amberines ganged up a couple trips and were able to limit out pretty easy when we found 'em but they just haven't showed up anywhere and stayed more than a day. The water drops a few more degrees and they should stick to a few of the bigger wrecks and rocks and not be moving so much. The Flounders have just started showing up. I caught 2 after catching bait 3 days ago and my charter wanted to look for 'em yesterday( pic below) so we made a quick stop on the way in and caught 3 right in front of Grayton pretty fast. By Thanksgiving they should be thick and one of my primary "target species" !
We had a camera man on the boat a couple times the past 2 weeks shooting episodes for "Fishing South Walton". I am told it is a 13 episode series set to run on the sportsman channel early next year. Luckily for me the fish bit well both days and my folks had great catches and a big time each day. Should be fun for me to watch from a different perspective !
Here's some pic's from my usual perspective from the past couple weeks.

My oldest daughter with a nice King she got on a short family play trip. We went and got a limit of Triggers but somehow ended up "having" to catch several Kings as well...

A couple of my regulars with a limit of Triggers, some nice Kings and ...look at that TripleTail in the middle. As soon as that fish came over the rail that gal said "That's MY dinner"

These guys had a great box full of Kings and Vermillions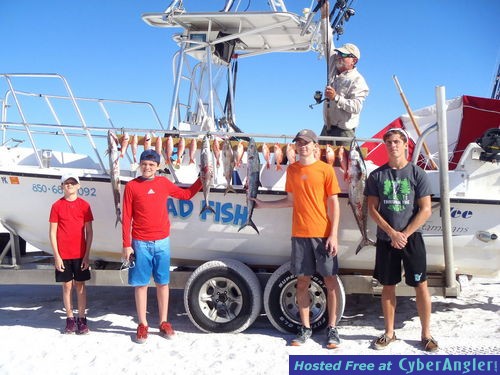 As did these boys with another pile of "M & M's"... Mackerel and Mingos...

These folks had never been before and not only had a big catch but got to be in a TV show while catching a limit of Jacks,a bunch of snappers and some Kings. Dad was impressed with how that big King pulled him all over the boat !

This family didn't get the numbers with the Kings but check out the size of that fish in the middle. that's Quality !

My ace jr, angler on his 11th birthday present trip. Not only did he get to catch his first Flounders but some fine Kings ( his favorite to catch). Plus, he gets to be in a TV show for his birthday. He got that 1st Flounder over the rail and told me that he had just caught a "mermaid", he'd heard about 'em and seen pictures but since he had never actually caught or seen a real one he figured they might not exist.....
Capt Larry Pentel
Dead Fish
More Fishing Reports: