From Tunas to Tarpon
Capt. Larry Pentel
August 7, 2017
Destin - Saltwater Fishing Report

Today was my last day in Grayton/Seagrove for 3 weeks. We are off to Indian Pass tomorrow for the annual Tarpon & Tripletail chase. Word from the guys over there is the fish showed real good several weeks ago and then thinned out with the weather we have had the past week. Tarpon like it hot, dry and calm and should show back up in force by the end of this week if the weather cooperates as predicted.
The weather has been "unsettled" the past week. That's the word one of the local prognosticators on the TV used a couple days ago and it actually was pretty accurate. It would be calm and nothing on the radar at 4 AM and breezy and pouring by 7 and then back to gorgeous a few hours later with no rhyme or reason. I ran quite a few trips, had to cancel a few and came in early a few others. The fish here didn't seem to care about the weather and the bite was really good when we fished though.
The big (30 to 40# pounds big) deal has been the Tunas showing up the past 3 weeks. My anglers have been fortunate enough to boat 5 in the past few weeks with 2 of 'em being this past week in between squalls. Plenty of King Macks to bite while we look for that Tuna and there have been some "wads" of cobia around but they all seem to be just a little short this week. Red snappers on the weekends and lots of Vermillions during the week. The occasional Black Snapper, a few Lanes and we even caught a Yellowtail Snapper while Vermillion fishing this weekend. That's the first one of those we have caught in 10 years or so. You just never know what is going to be on the other end of that line when you get the bite here !
Here's a few on my angling stars from the past week

These guys got weathered out and we had to come in at about 2 hours after dodging squalls and staying close. Pretty good catch for those conditions !

These long time regulars had a great catch with a limit of Red Snappers, a bunch of Vermillions a nice King and a TUNA !

Another long time fishing family with a great board including a Tuna that Mom caught. I can promise you that she is going to be sure everyone knows who caught it too ! She was some kinda proud!

These folks had a fine catch going but they kept talking about a Mahi...so they added one of those to a great 4 hr board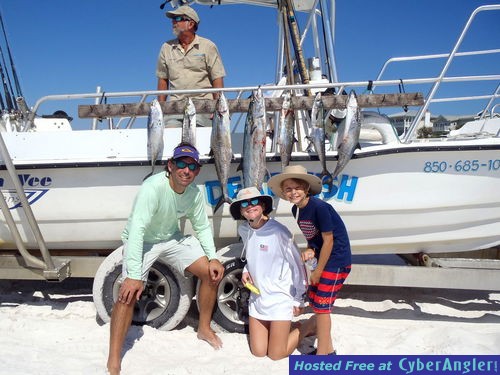 Another trip cut short by the weather that kept us in close. That young lady got the big King and she didn't care anything about the weather, she was catching !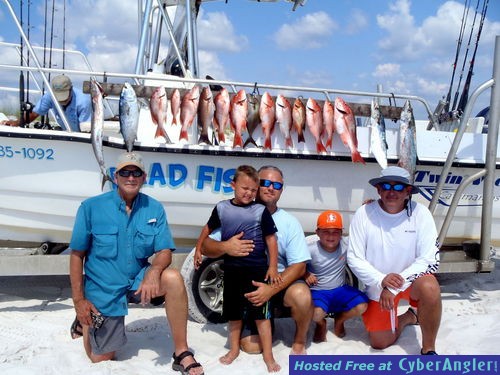 Family Fishin' with Red snappers, Kings and even a couple Black Snappers.

Long time local fishin' family with a great catch. The guys said it was the first time they had all been together in a year. There may have been a "little" competition and trash talking.....
I won't have another report up 'till the end of the month/ first of next. I don't have a computer I can download pics with at the fish camp at the 'Pass. If you want to try your hand at sight fishing Triple Tails or keeping a Tarpon on the hook as big as you are give me a call. I have 3 days still open over at Indian pass. 2 hours drive east of Grayton and I have a place for my anglers to stay ( no charge) the night prior to fishing if you want....
More Fishing Reports: