Wet N Windy
Capt. Larry Pentel
March 25, 2016
Destin - Saltwater Fishing Report

Been a wet and windy Spring this year at the beach so far. Plenty of Fish to catch when we get a pretty day but there have been a shortage of those the past couple weeks. On the bright side, the Cobia are here !! I have not got to look yet, going bottom fishing on the couple nice sunny days this past week but all the piers and several boats have caught a few. The arrival of the brown backed crab crunchers will soon be followed by the bait and the Spanish, then the Kings, Mahi, Sails and all the vast majority of finny critters that make a seasonal migration. With the fish here we just need some decent weather, I am really looking forward to few weeks of Calm and Sunny!!
Here are a few pics from the past couple weeks. I am short on pics as there were several days when we came in just ahead of a squall or front and my folks wanted to stay either dry or warm so we didn't take the time to hang fish for pictures. Better to for it to stay fun and miss a pic than ruin a great day!!

A first time Fishing Family. I think the thumbs up have 'em all ready planning another trip.

These guys were more than willing to put up with a little drizzle to fill the fish box

A long time regular fishing family with a school buddy on Spring break. They slid in a picture perfect afternoon between fronts.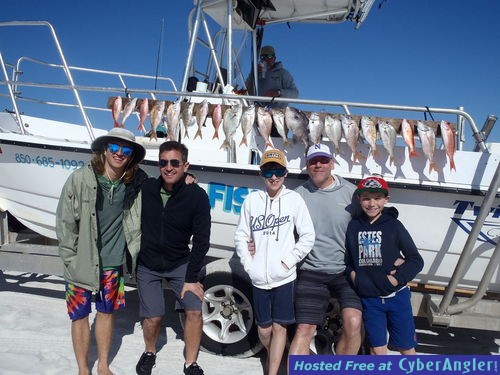 Another happy batch of first timers.
There are a few groupers around and we have been having a shot or 3 a trip on big bites as well as releasing a few shorts. The Trigger bite has been really sporadic with limit catches one day and all shorts the next. The vermilion snapper remain the "go to" to fill the box. We had a few for dinner the other night and boy, I still say those are the beast eating of all the Snappers!
Capt. Larry Pentel
DeadFish
More Fishing Reports: