Everglades Fishing is good after the Cold Blast
Capt. Becky Campbell
February 1, 2010
Everglades City - Saltwater Fishing Report

Okay here were go.....It has been one heck of a ride with the cold weather we had here in South Florida. We actually beat records set back in 1927. Okay that's a long time ago, so what do we do now. Well, Mother Nature can be really cruel sometimes and this time she did her job and did it well. You know that fishing is all a matter of personal feelings, and that's what makes every guide (person) different as it is what he/she believes in according to his/her experience on the water. Well, I believe that Mother Nature know what she is doing. That whatever she did/does she did/does for a reason. Maybe there is not enough food so she has to thin out her stock. Maybe she has a lot of weak or sick fish that just aren't going to make a strong future stock. Okay then how does she take care of this.....with Red Tide or below normal temperatures is a couple ways. I really think that because of this we will have a better, stronger stock NOW and with in the next couple years to come. Okay what did I see during these record temperatures, quite a lot of dead big snook, huge snook to say the lease, baby tarpon, and lots of small bait fish, like pinfish, silver jenneys, ladyfish etc. Oh did I say catfish....lots of dead catfish.
So, what has the fishing been like since the cold. Actually it has been pretty good. The fish are not (my opinion) in there normal places, so we just have to hunt for them a little harder. I really believe that a lot of big snook went offshore and they will be back inshore at their normal time to come inshore.
I will say that the fish have quite a appetite since the cold. We are catching Redfish, and Large Trout. Every Redfish I (customers have caught) since the cold have been keepers and are fat at that. We are catching limits on Redfish and also Trout. The cold didn't bother sheepshead or blackdrum either, at least I didn't see any dead. Haven't really caught any, but haven't tried either, as my customers have been happy with Redfish and Trout. Oh, I almost forgot there are also Gray Trout and Sugar Trout to help in the table food and fun in catching.
The weather is back to normal and it is so beautiful. Today was another chamber of commerce day with temp in the low 80's and clear sky's.
Here are some pictures taken since the cold spell so enjoy looking them over and like I always say
"What are you waiting for, pick up that phone and give me (Captain Becky Campbell) a call (239-695-2029) for that fishing experience of a lifetime cause the fishing is great and so is the weather"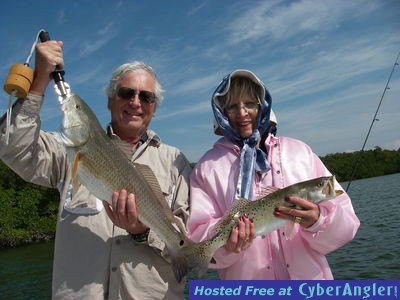 More Fishing Reports: