Northeast Snook
Capt. Rob Ottlein
March 7, 2008
Flagler Beach - Saltwater Fishing Report

Although the air temperatures are up and down during the month of March the snook fishing has been improving. I've caught snook all winter long here in the Flagler Beach/Ormond Beach area but most have been on the small side. Now that the days are getting longer and the water temperatures are increasing the larger snook are starting to become more active. Look to fish the more brakish waters as they tend to warm faster during the day. The last 2 hours of an afternoon outgoing tide are producing the most fish.If you can't get an out going tide the first 2 hours of the incomming can also produce. As the we get further into the month look for the snook fishing to just get better.Flies have been producing the most snook and have even been raising some small tarpon.EP flies (mullet imitation) in chartreuse/white work well along with the mighty minnow.The mirrolure 17mr and the rapala twitchin rap have also very effective.When it comes to live bait a live lined shrimp can't be passed up by a feeding snook.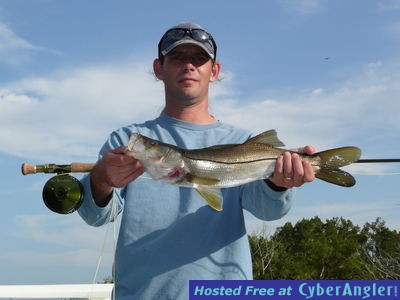 The trout fishing has been on again off again depending on cold fronts. If we have a couple of warm days in a row the fish will feed. When a front rolls through the bite will shut down.
Redfish have been difficult to find especially in the northern part of Flagler County.The red tide we had this fall has seemed to hurt this fshery which is usually exceptional this time of year.
If your not looking to target a specific species and your looking for some action you can find ladyfish, mangrove snapper, jacks and bluefish.All these fish will hit live or fresh dead shrimp and a variety of artificials.
The Flagler Pier has been producing whiting, sheepshead,redfish and some flounder. During the afternoon hours the spanish mackerel bite has also been going off.

Target Species:

snook
More Fishing Reports: