Excellent Winter Fishing in Flamingo
Capt. Scott Brown
February 13, 2012
Flamingo - Saltwater Fishing Report

The recent fishing adventures I have experienced in the past two months in Flamingo have been absolutely amazing to say the least. The fishing has been excellent with countless inshore slams and the beautiful cool mornings and warm afternoons have been an added bonus to the action.
I got a chance to film an episode with Florida Sportsman TV and we got into some of the most aggressive Snook I have ever seen in my life. Just so happens we ended up scheduled to fish on the absolute coldest day of the year. I was somewhat nervous to say the least but the weather actually played into our advantage. The cold spell drove all of these Snook that I believe were migrating from colder waters slightly north, into some deeper canals were the water temps were more stable. On this particular day we landed over 25 Snook in 2 hours on everything we could possibly throw at them. Live shrimp on ¼ oz Hookup jig heads were the party starters. After landing a dozen or so fish we got spoiled and tried our luck with some artificials. We threw Gulp jigs and even Rapala Crank baits and were nicely rewarded by quality Snook up to 12 pounds. We also landed several Redfish and some respectable Trout all on artificials.

On another trip I targeted Black Drum and Redfish and we absolutely slayed them. We landed a dozen Black Drum to 20 pounds and also caught 8 Reds and had a monster Snook break our hearts at the side of the boat. The ticket for the Black Drum is a large shrimp on a 1/4 to 3/8 ounce jig head depending on current and depth. I prefer a bright color such as Chartreuse or the undeniable Bright Pink. You will lose a couple rigs fishing the bottom of these waters but its just part of the game.


On 2/6/12 I decided I wanted to target some more Snook and Redfish so I headed to some areas that have been producing some great fish. We worked some deeper runoffs on an outgoing tide and produced a few respectable Snook and smaller Black Drum. After the tide slowed we moved to a creek mouth and I free lined a 1/4 ounce hookup jig head with a chunky Shrimp and it got hammered by what turned out to be a 37 inch Snook. After fighting it for 15 minutes on a 3000 Shimano Sustain we landed this big girl, which I estimate to weigh about 20 pounds. This Snook reminded me of the large spawning females I catch and release during the summer in the Sebastian Inlet. We finished the day working some Gulf shorelines and managed a few more Snook and Redfish along with some chunky Trout.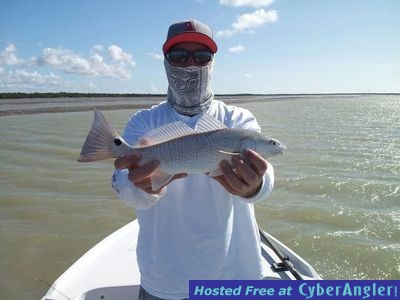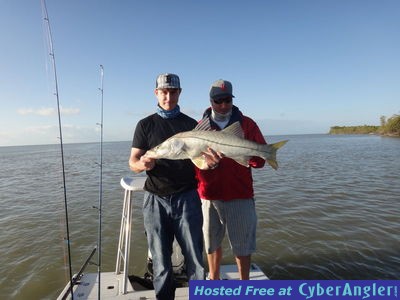 The Snook have been actively feeding in Flamingo and surrounding waters so if you are interested in some great Snook action hire a good guide and hold on. Slow down your retrieves on artificials and get some good shrimp from Don's and you'll do fine. Feel free to contact me for any info about Flamingo fishing or questions about trips. Below I listed a link to a show we shot in Flamingo to give you an idea of the action we are experiencing right now.
http://youtu.be/04Qnm2WBhcA
Flamingo Fishing Forecast:

The pattern in Flamingo is changing due to the warming water temperatures but the fishing is still great if you know how to adapt to what Mother Nature gives you. From my experiences these fish generally stay in areas that are close to waters that can provide some stable temps during a cold snap. So work flats and mangrove shorelines within the vicinity of deeper channels that provide warmth and stability to these game fish. I'm actually hoping for another short cold snap to come through because believe it or not it makes locating the fish a little easier.
Target Species:

Snook Trout Redfish Tarpon Black Drum
More Fishing Reports: