Flamingo - ADDICTED
Capt. Benny Blanco
November 3, 2009
Flamingo - Saltwater Fishing Report

What makes a good angler?... Versatility. In South Florida there are no constants, except that conditions CONSTANTLY change. I cannot remember a day in the last two weeks when the wind direction didn't change at least once or when tidal flow didn't vary from the chart prediction. Fishing in paradise has it's price... It's easy to get frustrated, but it is also easy to just make the necessary adjustment. Most of the time repositioning the boat ahead of the tide or in a better direction for the changed wind, will solve the problem. The key is having the awareness to make the changes before it's too late... spooking fish under the boat because you can't see them is a sure sign it's time for an adjustment and a sure fire way to kill a spot for the day.
Addicted
When I see Coach Tom Duffin ringing through on my phone, I immediately grab my calendar. Since we met in April, he's been on my skiff at least a dozen times and the word "Addicted" simply doesn't do him justice. He's experienced both sides of the Glades and fished everything from big spin live baiting to small tippet fly fishing... the versatility that has granted us success on every trip. Like most flats fisherman, Tom loves catching fish, but he also understands the Glades is much more than that... it's about the serenity, the hunt and the teamwork necessary for success... the distinguishing factors that separate sight fisherman from the rest and the reason we love it so much. Addicted just doesn't cut it...
His trip last week with another addicted soul, Scott Giberson, would prove to be no different... conditions and tactics changed, so we did too. We started with the long rod and shot at rolling Tarpon. He had many shots and a few strikes, but none came tight... before we changed tactics, a golden tail caught our attention. Tom laid out the cast and the Red charged his fly... his strip strike found tension and the hook buried. His first Redfish on fly was in the books.
We switched to shallower water and spin tackle with weedless jerk baits, so both anglers could fish... and I hardly had time to get comfortable on the platform before tails started popping. They struck early and often... doubling up once or twice.
Scott would later land a 15 lb Tarpon to complete his back country SLAM... his last three trips with me were very eventful... his first Slam with Snook, Redfish and Trout; his first tournament win with nearly a 100 points on 30+ Snook and several Redfish; and now his second Slam, this time with Snook, Redfish and Tarpon. You're on a roll, Scott!
Later in the week I had Tom back aboard, this time with Sam Root of Saltyshores.com for a quick half day trip. What was supposed to be clear skies and light wind, was extreme cloud cover and gusty wind for most of the morning. So, we immediately went to spin and Rapala Skitterwalks (Topwater baits)... it turned out to be the right decision. We had blow up after blow up... lots of misses, but lots of fish as well. Tom lost a very large Snook and I had one blow my skitterwalk out of the water, but it was still a blast.

Skitterwalk double...

Jeff made it back down all the way from Tampa... and of course, the wind blew hard. A couple times, while poling, I swear the wind was pushing us on plane... We managed Snook, Tarpon and Redfish, but it wasn't easy! Thanks for making it down, Jeff... it was a blast fishing with you.

Al was back for a couple days in the Park with his friend Alex... they started it off with a bang! They sight fished Snook, Redfish and Trout... it was a great having them aboard.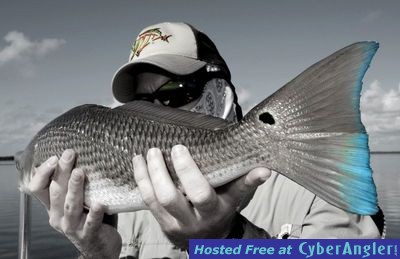 Mike put another Back Country Slam on the board and released this upper slot beauty to fight another day!... Good man.

Mac had a great time with his Son Jake, who was down for some quality time from Louisiana. They caught Redfish, Snook and Trout!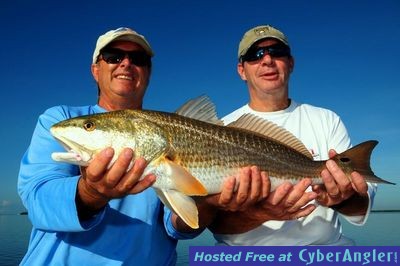 It was a great day... the wind cooperated most of the time and the sight fishing was awesome. Thanks Tom & Rick!
Until next week!

Flamingo Fishing Forecast:

Hit it while it's still hot!!! The Florida Bay flats are still loaded with Redfish, Snook, Tarpon and Trout... get out there now, before those cold fronts start rolling in!
Target Species:

Snook, Redfish, Trout and Tarpon
More Fishing Reports: