Flamingo - High Water Bite
Capt. Benny Blanco
September 28, 2009
Flamingo - Saltwater Fishing Report

If you've spent any time on the water recently you are likely wondering the same as most of us... Where did all this water come from? Certainly, high water is not generally ideal for sight fishing, but how often do you have perfect conditions anyway? In the Park it led to fewer boats on the water and while it was occasionally difficult to find the fish, it also granted many great days.
When floating grass was light, we used topwater lures like Rapala Skitterwalks and subsurface lures like Rapala Twitchin' Raps. When the grass was bad, we used weedless jerkbaits like GULP! 5" Jerk shads and Bass Assassin 4" Sea Shads. Fly Fisherman had great success with small shrimp and minnow patterns... Although, none beat the performance of the patterns Ashley of Don's Bait & Tackle tied for me earlier this month. All of the flies he gave me caught dozens of fish before they were either completely destroyed or gifted to large Tarpon that simply wouldn't give them back. Thanks Ash... great flies!
Fly Thief
I had a day on the water with good friend, Rainer Shael (www.rs-env.com) and his friend, Kohler Nordlund. Rainer and I fished together once previously, using spin tackle all day and admittedly, he had a tough time. He mentioned he was more accurate with a fly rod and is he ever... this trip was very different. He and Kohler wore out the Snook and Tarpon for a good amount of time... every time a fish would miss Kohler's Skitterwalk, Rainer would drop the fly on the fish's head for a hook-up. He was deadly with his 8 wt. set up and an Ashley fly... it was a great day.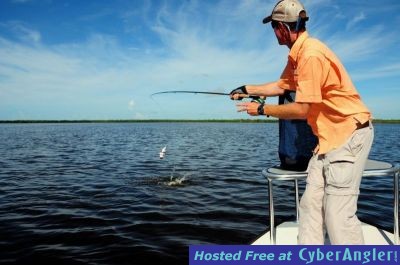 I had an opportunity to spend a day on the water earlier this month with friend, Sam Root of www.SaltyShores.com and we finally managed a good weather day. Our first stop wore us out... we must have lost nearly $200 in Rapala and Sebile lures to triple digit Tarpon. We easily jumped 10 and fought one for approximately 30 minutes before it finally wore through the 60 lb leader... we were overmatched on our 10 & 15 lb outfits. It was fun, though! Here are some of the pics Sam shot.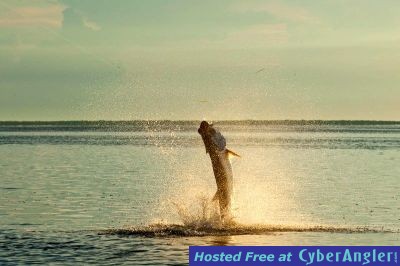 Flamingo Fishing Forecast:

Sight fishing in Florida Bay is world class in Fall... every sport fish species is active and plentiful. Don't wait, book your trip today... those cold fronts will be here before you know it!
Target Species:

Tarpon, Snook, Redfish, Trout, Black Drum
More Fishing Reports: