Tarpon Fishing the Everglades
Capt. Jim Hale
May 4, 2015
Flamingo - Saltwater Fishing Report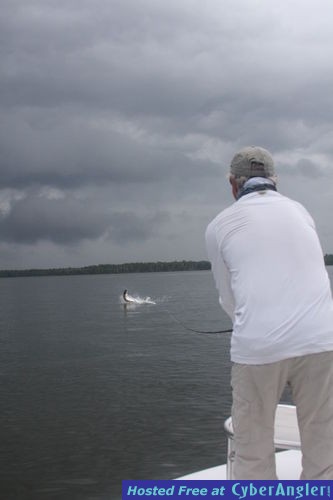 Tarpon on fly, and fishing report for South Florida, Flamingo. may, 2015
We have been fishing the White Water bay and the rivers north of Flamingo and doing pretty good.
Early morning and casting a fly just as the sun comes up has helped the fishing with the bite slowing down after 9 am when its bright with light winds. UNTIL NOW!!
I have not had much competition where I have been fishing so that also helps.
Luis St. Laurent has been fishing tarpon on fly for several more days with me,
These are his hook up ratios, , a 3 for 6 day, a bad 0 for 6 day, a 1 for 3 day
I am off several days due to bad weather or high winds.
Most tarpon back there have been averaging 70 pounds some larger fish are also around, I prefer the medium size fish you get more shots and they are more schooled together.
Last Saturday I shark Travis Bowling, Jared Hirshfield and Riley Roe from Colorado at Flamingo
I caught 9 sharks on 12 bites. Jared caught the largest a 10 ft Lemon. The other sharks were blacktips and 1 bull got away. The Blacktips were from 5 to 7 feet.
All sharks were caught on ladyfish.
Good Luck
Capt. Jim Hale
786-255-1788
www.floridasportfishingcharters.com
Flamingo Fishing Forecast:

warmer temps soon will bring in the fish
Target Species:

Tarpon,
More Fishing Reports: